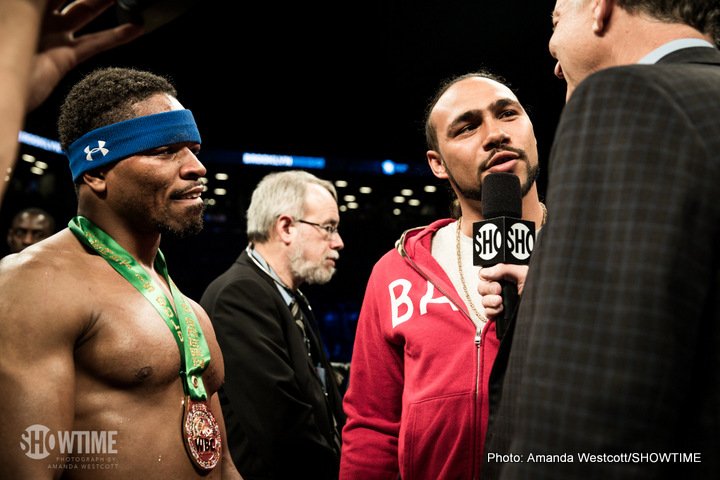 Former welterweight champ Shawn Porter fought like a man possessed last night in overwhelming a game Andre Berto, himself a proud former champ. Of course, with his relentless, thoroughly fan-pleasing style, Porter always fights with passion; but last night's fight was the key to Porter getting something he has craved since last June: a rematch with the only man he feels has genuinely beaten him, in Keith Thurman.
Thurman and Porter went to war in a great, great action fight last summer, and Porter, having dropped a close 12 round decision, instantly made it clear that he wanted a rematch. With last night's ninth round stoppage win over Berto, Porter won a final eliminator for the WBC welterweight title Thurman currently holds, along with the WBA belt.
Thurman was ringside for last night's bloody battle – both Porter and Berto suffered cuts due to the rough and tough nature of the thrilling in-fighting, with plenty of accidental head-butts on display – and he said he is open to doing it again with Porter.
"His team was adamant about the rematch, and now he's fought his way to earn that," the unbeaten Thurman said, as quoted by ESPN. "We just need to sit down and talk about it. He's hungry. You see the way he fights. It could be a great fight again."
Indeed. If the first fight is anything to go by, these two in a return will result in more can't-miss action. But can Porter get the win this time? Fans will argue over this if and when the sequel is signed. But one of the other big talking points last night was the number of fouls Porter-Berto had, with Porter's head causing most of them. Porter, 27-2-1(17) insists he is no dirty fighter.
"I got to clean up those head-butts," Porter said post-fight. "We tried to use the whole ring, but sometimes in the heat of battle, I'm a fighter and Mr. Berto is a fighter. Those head-butts were just the two of us going in and fighting. My intention is never to use my head as a weapon."
Porter, a mini-Joe Frazier, might get a little careless in fights, but his high intensity approach is what makes him so good to watch. Porter is a great fighter to look at if a young boxer wants to see what he should do when his opponent tries to hold. As he showed against Berto, Porter will not allow any fighter to hold onto him.
That rematch with Thurman, if it happens, will result in more toe-to-toe action.