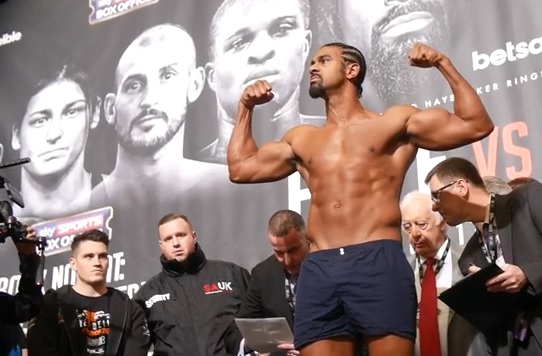 At one point quite recently it looked as though Shannon Briggs would fight David Haye, but tomorrow night the former heavyweight champ will be merely an interested observer as Haye fights Tony Bellew in their intense grudge-match. Briggs, speaking with Sky Sports, said that he still has ideas of facing Haye down the road – but he hopes Bellew scores the KO win tomorrow.
Briggs – who has started training for his upcoming fight with Fres Oquendo, which will contest a version of the WBA title – says Haye deserves to be beaten "for all the horrible, horrible things" he's been saying.
"I'd like to see Bellew pull it off because I think David is bad for boxing," Briggs said. "He's just the sort of guy who says a lot of things but just goes and does something different. He's done that to me and he's done it to Tyson Fury a couple of times. I just hope Bellew can knock him off his rhythm and beat him. I want him to knock Haye out once and for all. I am going to be a world champion soon so maybe then I could fight him [Haye], use him as a stepping stone from the 'bums of the month club.' But if it did happen , I'd just go out there and knock him out. I'd really like that because he's been saying some horrible things. If Tony or me knocks his teeth out, will he keep doing that?"
Not too many people seem to be too interested in Briggs-Oquendo, but if the 45 year-old can get himself a belt, who knows, Briggs might get himself a big fight down the road. Haye, though, is likely to target IBF champ Anthony Joshua if he beats Bellew tomorrow. Like Briggs, AJ wants to see Bellew win – in fact, with his trash-talk, Haye has alienated quite a lot of people. Even the great Floyd Mayweather, himself no stranger to both controversy and trash-talking, has said Haye has gone too far during the promotion for tomorrow's fight.
Speaking briefly with BBC Sport, Mayweather said, "Trash talking is okay but being disrespectful is something totally different," Floyd said. "I heard he was talking about the fans. He should focus on the fighter."
When Floyd Mayweather thinks you've gone too far it's really saying something.