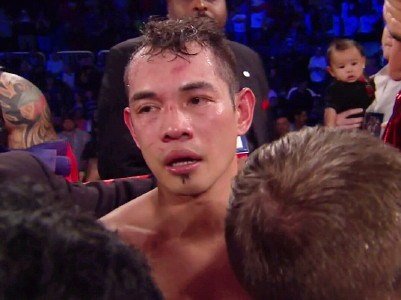 This Saturday night on Matchroom Sports "High Stakes" card from Manchester, WBA (reg) champion Scott Quigg will enter the toughest fight of his professional career when he fights former IBF super bantamweight champion Kiko Martinez.
Assuming he comes through that fight, his trainer Joe Gallagher has spoken to Sky Sports to suggest that a clash with Belfast's Carl Frampton is still a long way off after negotiations broke down recently, and that a fight with 4 weight world champion Nonito Donaire is the more realistic option for his fighter.
"If he gets past Martinez, it'll be Nonito Donaire. It won't be Carl Frampton. The problem with that is Barry McGuigan." said Gallagher.
"They can dress it up all they want but Frampton was offered 1.5 million. That's more than some of Floyd Mayweather's opponents get."
"It's all roads leading to Donaire. That's a huge fight and a name Quigg is crying out for."
Yet Gallagher is insistent that his fighter isn't looking past the job in hand on Saturday night – a job he plans on executing in style.
"No matter which way Kiko Martinez wants the fight to pan out on Saturday night, Scott has an answer for it."
"Scott has had some really top-class sparring in the training camp and he's ready to put on a scintillating performance on Saturday night."
"His attention to detail is unbelievable. He trains, sleeps, eats and that's it. He repeats for three sessions a day. His hunger and desire for knowledge is like someone who is new to the sport."
"He's not a world champion who is resting on his laurels. He wants to face the best and be the best."
Twitter @Undilutedpoison