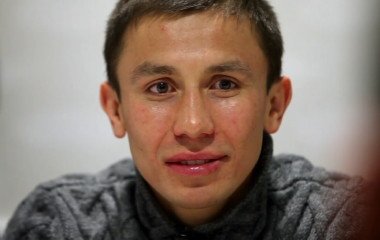 Matthew Macklin (29-4, 20 KO's) is really up against it tonight with his fight against IBO/WBA middleweight champion Gennady Golovkin (26-0, 23 KO's) on HBO. Golovkin's trainer Abel Sanchez sees this fight not lasting more than 5 rounds tops, and the rest of the boxing world pretty much sees the same thing happening.
Macklin is simply made to order for Golovkin to knockout in their fight at the MGM Grand at Foxwoods Resort, in Mashantucket, Connecticut.
Sanchez said to RingTV "Macklin's a warrior but he's going to stand in front of get blown out…I don't think the fight goes past 5. Buddy [McGirt] may need to do what he did against [Sergio] Martinez, because he's going to be taking too much of a beating."
McGirt pulled the plug on Macklin in the 11th after he'd been dropped a couple of times by Sergio Martinez last year in March. McGirt obviously realized that Macklin wasn't going to make it out of the rounds.
As far as what Sanchez says about Macklin standing in front of Golovkin, I see that happening too. At some point in the fight, Macklin will get cocky and try to trade with Golovkin and end up getting nailed with something big.
I wouldn't be surprised if we see a face down knockout in this fight if Macklin gets bold. Golovkin will nail him with a hard shot and Macklin will do down like a sack of bricks on the canvas.
It's possible that Macklin can make it past the 5th round, but only if he runs around the ring in wide circles the way that Gabriel Rosado did for 7 rounds. Rosado was badly cut up using that approach, but it at least let him see the 7th round before his trainer pulled him out of the fight when it was clear that he had become a piñata for Golovkin. McGirt will do the same thing I suspect. As soon as the tide is going against Macklin, McGirt will likely stop the fight.