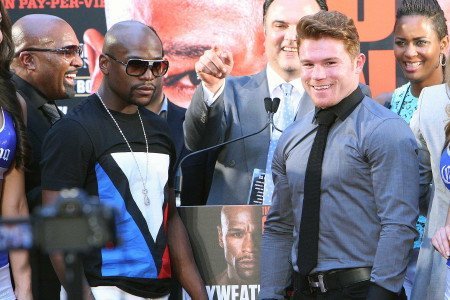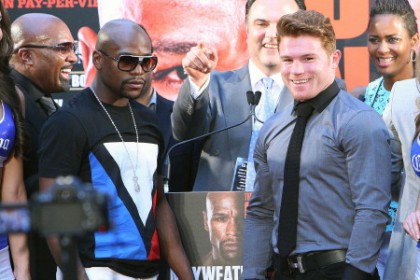 (Photo credit: Tom Casino/Showtime) Oscar De La Hoya thinks the September 14th match-up between Golden Boy promoted Saul "Canelo" Alvarez and Floyd Mayweather Jr. has a good possibility of breaking the pay per view record set between himself and Mayweather many years ago in 2007.
De La Hoya sees the Mayweather-Canelo fight being on that magnitude due to Canelo's huge popularity in addition to Mayweather's huge fan base. De La Hoya feels the mix of the two will create a huge demand for this fight on PPV come September 14th.
De La Hoya said to RingTV, "We're looking forward to this fight breaking records. I believe so. Once it catches fire, you never know how far it can go. With the star power possess, as well as Mayweather, you put that together and you've the perfect storm."
Even if the fight doesn't break PPV records, it'll establish Canelo as a PPV attraction, and that's what De La Hoya really needs because Golden Boy doesn't have a big PPV guy in their stable. Adrien Broner is still fighting on regular Showtime, Victor Ortiz hasn't fought in ages since losing to Josesito Lopez, and Danny Garcia & Lucas Matthysse are a long ways away from becoming PPV attractions, if ever.
Canelo will be Golden Boy's PPV guy after September 14th, as long as Mayweather doesn't turn him into another Ortiz by clowning him and destroying him without it even being a fight. Canelo has to be careful that he doesn't quit or do something odd like fouling Mayweather out of frustration.
One thing that Canelo must do in this fight is to throw more punches.
This situation is different from his last fight against Austin Trout last April. It's not taking place in San Antonio, Texas, there won't be open scoring, and it'll be different judges working. Canelo can't throw tiny handful of punches and be given rounds against Mayweather like he was against Trout.
Canelo was badly outworked by Trout in their fight, and pretty much the difference between the two was the 7th round knockdown. If you take that knockdown away, Trout would have won that fight, Mayweather feels, and I agree with him. Canelo has to throw punches. He can't fight for 1 minute of the round and rest for the next 2 minutes like he did against Trout.
That's not how you beat Mayweather. It might have worked against Trout in San Antonio with the Texas fans cheering for every punch that Canelo threw in that fight, as rare as they were, but it won't work against Mayweather because he brings a huge fan base to the fight as well.