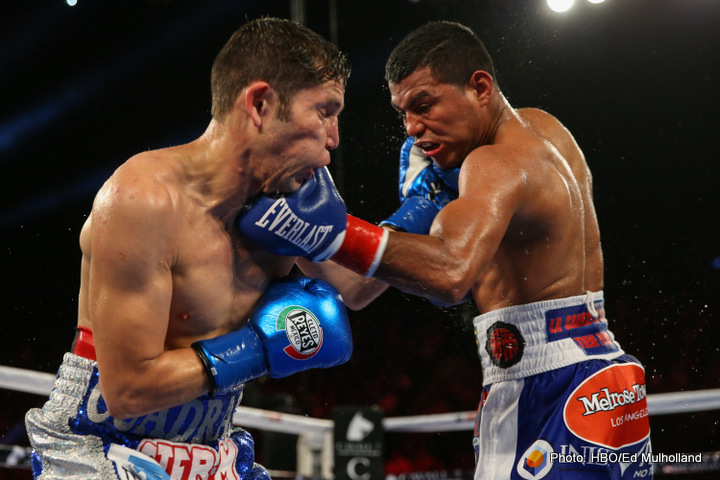 WBC super flyweight champion Carlos "Principe" Cuadras (35-1-1, 27 KOs) didn't have the engine to defeat unbeaten challenger Roman "Chocolatito" Gonzalez, (46-0, 38 KOs) in getting beaten by him by a 12 round unanimous decision on Saturday night at The Forum in Inglewood, California. Cuadras, 28, had the youth, power, weight and height to beat Gonzalez, but he didn't have the heart or the stamina.
In the end, the 28-year-old Cuadras was beaten by the smaller Gonzalez because of his inability to stand his ground and fight in an old fashioned way. When the fight called for Cuadras to stand and trade in the championship rounds, he spent it on his bicycle trying to keep away from the 29-year-old Gonzalez. When Cuadras was trapped by Gonzalez on numerous occasions in each round, he would resort to holding to stop Gonzalez from landing his shots. The judges didn't like Cuadras' fighting style and they gave Gonzalez the fight by the scores of 117-111, 116-112, and 115-113.
Gonzalez looked like he'd been through a war after the fight, as his eye was badly swollen to the point where it was starting to close. The rest of his face didn't look too good either. For his part, Cuadras was cut under his right eye in the 9th. Other than that, Cuadras looked unmarked. Gonzalez's punching power didn't;'t carry to the super flyweight division.
Gonzalez had problems with Cuadras' size, movement and punching power in the first six rounds, as he was getting hit a lot while on the outside. Cuadras throwing powerful combinations that frequently caught the smaller Gonzalez. The size difference between the two was extraordinary. It's unclear how Cuadras is able to make weight for the super flyweight division being as big as he is, because he looked like he belonged fighting in the featherweight division at the very least. Cuadras competed with Oscar Valdez in the amateur ranks and the guys are the size, but Valdez chooses to fight as a featherweight rather than put his body through the ordeal of boiling down to make super flyweight.
Caudras looked like he was spent after the 5th, and that was when Gonzalez started to attack and pressure him more and more. Cuadras spent much of the time running around the ring, tying Gonzalez frequently, and fighting hard for only the first half of each round. This was a mistake on Cuadras' part, because it enabled Gonzalez to win the rounds by finishing strong. I don't think Cuadras had any choice though. He didn't have the stamina to fight hard for a full three minutes. He was only good for a little over a minute before he'd get tired and start holding and running. One reason why Cuadras may have gotten so tired, besides him having to drain down to super flyweight, was likely due to all the movement that he was doing. It was unnecessary for Cuadras to move like that, and it had to contribute to him getting tired.
There's a chance that Gonzalez could wind up facing 23-year-old WBO super flyweight champion Naoya Inoue in a unification fight in the near future once his eye heals up.
Other boxing results on the card:
Yoshihiro Kamegai TKO 8 Jesus Soto Karass