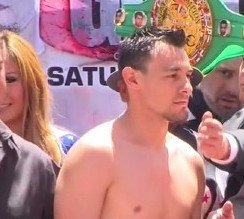 By Joseph Herron: With great speculation concerning a huge May 4th fight date with Floyd Mayweather Jr, Robert "The Ghost" Guerrero truly believes that he and his team are on the cusp of something very special.
While nothing has been officially confirmed by all parties involved, the interim WBC Welterweight Champion has been riding an incredible wave of success both in and out of the ring since winning the coveted green strap.
"Before my last two bouts, everyone counted me out and smirked at the idea of me jumping up two weight classes and dominating my opposition. Everyone thought that I would get knocked out. I just laughed it off and continued to believe in my Lord and savior Jesus Christ and continued to follow his plan for me."
"Everyone can see it unfolding every day and it's befuddling all of his detractors. They're wondering how I've moved up to Welterweight and have dominated my opposition. If you look throughout my entire career, I really haven't lost that many rounds. I've dominated fighters and champions. Through the power of Christ, nothing is impossible and nothing can stop me."
While his impressive showings against Selcuk Aydin and Andre Berto in 2012 have garnered universal respect throughout the boxing industry, most fight scribes and boxing fans feel that his inspirational winning streak will come to an end in May, if and when he faces the pound for pound king, Floyd Mayweather Jr.
The humble four division world champion feels that his activity in 2013 will make believers out of every cynical fight critic.
"I truly believe that God is putting me in this position to humble everybody in the sport; especially the ones who like to talk and are so-called experts. Most critics seem to think that a win over Floyd Mayweather Jr. is impossible. If you put Christ first in your life, nothing is impossible. People will find out the truth very soon."
"I've seen my wife battle and overcome cancer. She was about to die…and leaving our dilemma in God's hands is what truly got us through it and God's grace continues to get us through everything. I've seen God perform miracles in my life and he's not finished yet."
"People thought I couldn't travel to 147 and become a world champion, and I did it. So when the fight finally goes down and everyone is in shock at the results, I'm going to stand in the center of the ring and tell everyone I told you so…I told you so!"
Most fight critics believe that Floyd is in a completely different class than Robert Guerrero. They insist that Mayweather will be too fast, too strong, and too intelligent for the 29 year old southpaw. The crafty fighter from Gilroy, California, knows that most are discounting his abilities in the ring.
"Through faith in Christ, nothing can stop you. I'm a natural southpaw who can adapt to different styles in the ring. I'm also a lot more athletic than most realize. It's all there to defeat Floyd Mayweather Jr. I believe that God will bless my team with the guidance, strength, and wisdom to humble my opponent and perform at our best. The truth will be revealed very soon. It's only a matter of time."
More than likely, the time and place will be on Saturday, May 4th, at the MGM Grand Garden Arena in Las Vegas, Nevada.