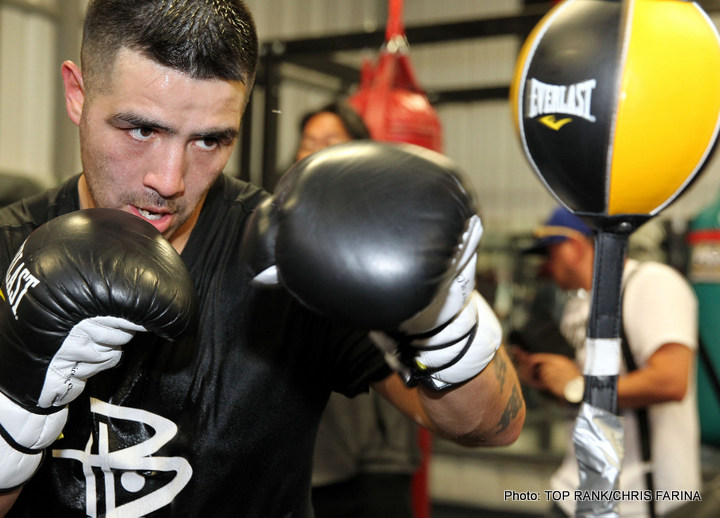 Brandon Rios came in slightly over and looked gaunt at yesterday's weight-in for his welterweight showdown with WBO champion, Tim Bradley tonight in Vegas, taking the marginal extra weight off after visiting the bathroom.
Rios weighed in at 147.2 lbs, repeating problems on the scales he has had previously in his career when down at 135, notably against Richar Abril and Britain's John Murray.
Given an hour to remove the extra weight, a drained looking "Bam Bam" didn't spare the sensitivities of Crystina Poncher when the Top Rank interviewer asked him how exactly he achieved it.
"I took a sh**"he said, sparing no blushes. "No I did! It was the only way to make the weight!
"Now I'm gonna eat and drink up!"
Rios has promised he will be seeking to draw Bradley in an attritional war, something that may be unwise given how drained he looked on the scales, and earlier reports of him being considerably over just a couple of weeks ago appear to have a ring of truth to them.
"It was hard going back into camp. Eight months out of the gym, not working, not running, being a daddy and a family man," he said. It was hard getting back the momentum. After that I got back into it, and as of today I am ready."
The Robert Garcia trained fighter is adamant that the original game plan still stands, and that no matter what Bradley has been learning in his short time with new trainer Teddy Atlas, he will not be able to resist getting drawn into a phone-box type of fight at some stage.
"Everything is perfect," Rios added. "I'm ready."
Twitter @undilutedpoison