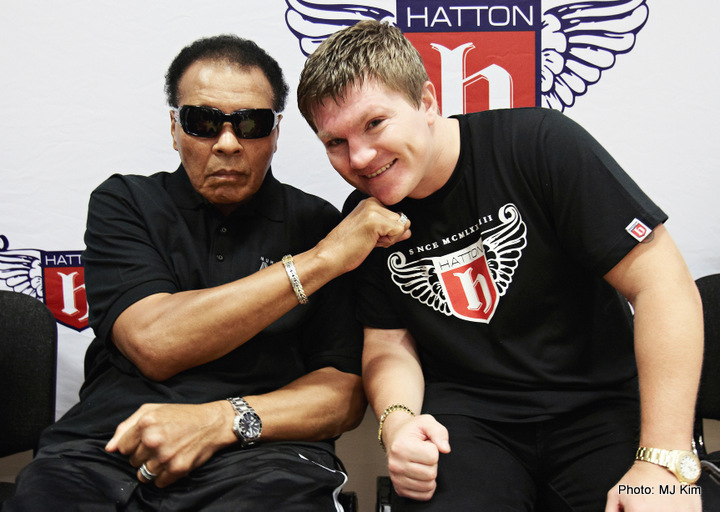 By Ricky Hatton: I was extremely saddened to wake up this morning and be told of the passing of the legendary Muhammad Ali.
It is not only a very sad loss for boxing, but for the whole of sport as he was quite simply the greatest and most iconic athlete the world has ever known.
I used to collect boxing fights on VHS as a kid and Muhammad was a big favourite for me. He had speed and timing that few heavyweights possess as well as having the sort personality that drew you in.
I was very honoured when agreed to officially open my gym, Hatton Health and Fitness, in August 2009. It was a dream come true to meet him and that day is one of the proudest moments of my life.
We took him for a walk around Hyde afterwards and the place came to a standstill. Everywhere you looked there were people pulling over in their cars just so they could get a glimpse of the man.
There's few things that have pleased me more than seeing the people of our small town so thrilled at someone's presence.
He was so nice to everyone as well. Although Parkinson's was taking its toll on him by then, he made time for people and nothing was too much for him.
Inside the ring, he was simply the greatest of all-time and I don't think we'll see another fighter like him again. Outside of it, he took on the American government and helped bring about social change so a lot of people should be very thankful to Muhammad.
My thoughts are with his family at this sad time.
Ricky
###
ECHO ARENA TO PAY RESPECTS TO MUHAMMAD ALI
Today the whole world mourns the loss of boxing legend Muhammad Ali. His boxing talent was matched only by a towering self-belief. Everyone at Queensberry Promotions are deeply saddened to learn of the passing of The Greatest.
The former Heavyweight Champion was just 42 years old when he was diagnosed with Parkinson's disease in 1984. For three decades, Ali waged public battle against Parkinson's – making brave appearances and carrying out endless charity work.
In his fight against Parkinson's, Ali became the face of the debilitating disease. His toughest battle came outside the ring against an opponent that even he couldn't knock out.
In light of today's tragic loss Queensberry Promotions will be releasing a limited number of seats for tonight's World Championship Boxing Event held at the Liverpool Echo Arena. Each seat will be sold on a first come first served basis (entrance before 8PM) and will be priced at just £5 with all of the money raised from these tickets sales being donated to the Parkinson's UK charity in memory of Ali.
Before tonight's World Championship Boxing event, headlined by Liam Smith and Predrag Radosevic, boxing will give it's traditional ten bells salute in remembrance of the great Ali.
Parkinson's UK drives better care, treatments and quality of life for those suffering with the disease and their family members. As well as providing care for those suffering with the disease, Parkinson's UK provides expert information on every aspect of Parkinson's so that people affected by the condition can stay in control of their lives.
To find out more about Parkinson's UK and the work they do visit www.parkinsons.org.uk or call their confidential helpline on 0808 800 0303.