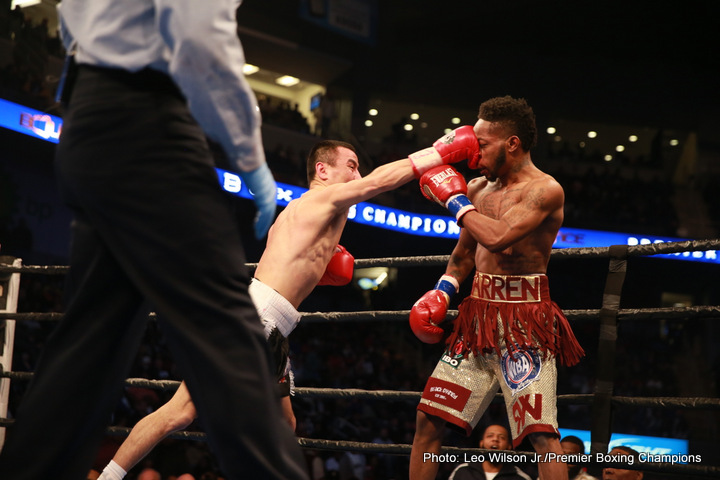 Fighting with his Ricky Hatton-esque style, Zhanat Zhakiyanov (27-1, 18 KOs) defeated WBA World bantamweight champion Rau'shee Warren (14-2, 4 KOs) by an impressive 12 round split decision tonight at the Huntington Center in Toledo, Ohio. The fight was pretty one-sided. There was no reason for the contest to be a split decision, because Zhakiyanov punished the 29-year-old Warren with power shots from rounds 2 through 12.
Warren looked great in the 1st round in knocking Zhakiyanov twice with nice shots. But after the 1st round, Warren was in the retreat mode after suffering a bloody nose in the 2nd round. Warren did not have any heart for fighting Zhakiyanov. Warren reflected that by electing to hold Zhakiyanov excessively in the last 11 rounds.
The referee showed great patience in letting Warren hold without disqualifying or penalizing him, but he probably should have at least take two or three points off for the holding. The referee did not have a good fight. He blew a call in round 3 by missing a knockdown that Zhakiyanov scored after he dropped Warren with a right hand. The thought it was a slip, but it was a right hand from Zhakiyanov that caused Warren to go down.
The judges scored the fight 115-111, 116-110 for Zhakiyanov and 115-111 for Warren. Just what fight the referee was watching that scored it for Warren is anyone's guess. There was no way that Warren deserved to win the fight tonight. If he had stood and fought Zhakiyanov instead of holding and moving, you could agree that he deserved the win. But Warren did not look like he wanted to fight tonight.
Warren wasn't throwing his jab after the 1st round. Warren's jab was an effective tool for him in the 1at round in helping him knock Zhakiyanov down twice. If Warren had kept using his jab and throwing power shots, he would have had a decent chance of winning. I still don't think Warren would have won the fight thought, because Zhakiyanov hit too hard and was putting Gennady Golovkin-like pressure on Warren in each round or should I say Hatton-like pressure. Zhakiyanov was putting unrelenting pressure on Warren from the 2nd round on, and he did not seem to like it one bit.
It's hard to understand what happened to Warren after the 1st round. He was so dominant in that round. If he kept fighting like that, he probably would have knocked Zhakiyanov out in round 2. I think what changed the tide of the fight was the way that Zhakiyanov came out for round 2. He looked like he wanted to tear Warren's head off with every punch.
Zhakiyanov landed a right hand in the 2nd round to the head of Warren that seemed to drain his will to fight. From that point on, Warren looked like he wanted no part of Zhakiyanov, and who can blame him. Zhakiyanov punches more like a light welterweight than a bantamweight. The guy has massive punching power. Warren had no answer for the power shots that Zhakiyanov was hitting him with. The only thing that Warren seemed to want to do was hold, move and constantly dab at his bloody nose.