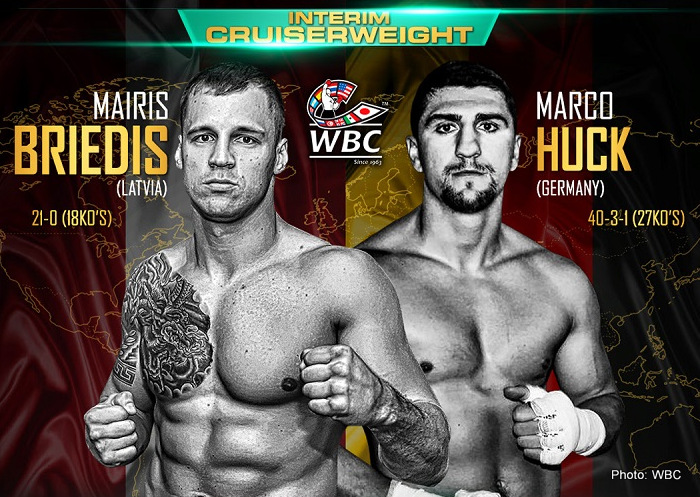 Mairis Briedis (22-0, 18 KOs) took the game but limited Marco Huck (40-4-1, 27 KOs) to school tonight in pounding out a dominating 12 round unanimous decision to win the vacant World Boxing Council cruiserweight title in front of a large crowd of Huck supporters at the Westfalenhalle in Dortmund, Germany.
Briedis has too much speed, power and talent for the 32-year-old Huck to deal with tonight. No matter what Huck tried to do in there, Briedis was better at it. Briedis was faster and surprisingly he was the stronger puncher of the two. That might have been the main reason why Huck chose to play it safe and not make his normal all out assaults like he normally does. That kind of approach wasn't going to work for Huck as he saw immediately in round 1 when Briedis hit Huck with a powerful right hand to the head when he attempted to blitz him with a flurry.
The judges scored the fight 116-111, 117-110, 118-109. Boxing 247 scored it 120-108 in favor of Briedis. We couldn't give Huck one round in the fight. It's not that he didn't have his moments in each round. It's the fact that Briedis had a lot more moments in the fight, and he dominated the action. The only round that you could make an argument for Huck winning was the 8th. That was a round where Briedis let his foot off the accelerator briefly. Briedis still landed the best shot in the round when he hit Huck with a huge right to the head.
In beating Huck, Briedis captures the vacant WBC cruiserweight title, as well as the IBO belt.
The fight wasn't that exciting like most boxing fans expected to be. Both guys were ramming heads a lot and doing a lot of holding and mauling on the inside. Briedis was doing more of the fighting, while Huck frequently held on to try and shut down the offense of the Latvian fighter. Briedis was on another level than Huck tonight. You can argue that Briedis would have beaten Huck at any point in his career. He looked more skilled than Huck.
In the 11th and 12th, Huck started to rough Briedis up with rabbit punches to the back of his head. Briedis even went down in the 11th after getting hit with a clubbing rabbit shot while his back was turned. But those tactics failed to unnerve Briedis. He fought back hard and controlled both rounds in landing the better shots, and surprisingly initiating most of the action. Huck did not attack Briedis like he normally does against his opponents. He fought like he wasn't mentally motivated.
As good as Briedis was tonight, it would have likely ended badly for Huck if he had attacked him, because he was too fast for him and too powerful. When Huck would attack, Briedis was catching him with quick shots to the head. Huck couldn't do what he normally does no matter how hard he tried.
Briedis is now the WBC cruiserweight champion. Former WBC champion Tony Bellew has the option of facing Briedis in the future if he so chooses.
It'll be interesting to see where Huck goes from here. Does he retire or does he take his chances against one of the other champions. I think Huck would have problems with IBF champion Murat Gassiev. He might be too young and powerful for Huck. WBA champion Denis Lebedev would be an option for Huck, as would Beibut Shumenov. Huck already beat Lebedev earlier in hsi career, albeit by a controversial 12 round decision.