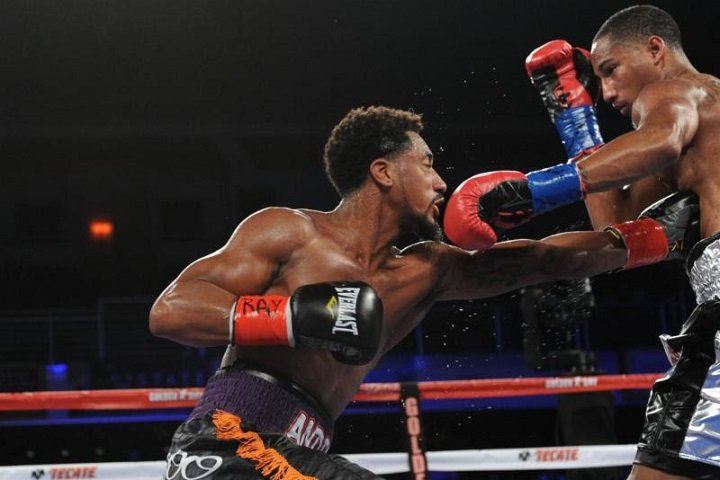 Two-Time undefeated world champion Demetrius Andrade made a successful debut as a middleweight by winning a dominant 12-round unanimous decision over previously undefeated Alantez Fox at The Turning Stone Resort Casino.(Photo Credit: Emily Harney / Banner Promotions) – The bout was the co-feature bout of an HBO Boxing After Dark® tripleheader
In round one, Andrade rocked Fox with a blistering straight left hand. Fox was wobbled badly, and Andrade jumped on Fox. After landing several hard follow up shots, Fox was able to hold on and get out of the first frame. Andrade was dominant as he continued to land swift combinations at will. That opening flurry caused Fox to engage very sporadically during the fight
In round seven, Fox was awarded a dubious knockdown when Andrade slipped on the wet canvas. Television replays showed that Fox did not even land a punch during that exchange.
That was the only blemish for Andrade, as he controlled the action by using his superior skills on both the inside and landing crisp and sharp punches on the outside and he cruised home to the victory. Compubox punch stats showed the dominance of Andrade as he outlanded Fox 158-52 over the 12-round bout with Andrade winning the power shots by a 132-29 margin.
Those stats were evident in the scoring as Andrade of Providence, Rhode Island won by scores of 118-110, 118-109, and 116-111 to push his perfect mark to 25-0.
Fox loses for the first time, and the native of Forestville, Maryland is now 23-1-1.
ANDRADE QUOTES
"I did what I had to do in there. I think I did very well, but I will look at the fight and then give myself a grade after that," said Andrade.
"I did everything I needed to do. It was a great experience to go 12 rounds at this weight. Fox is a tough kid, and after I hurt him early in the first round, he recovered well. He wasn't sloppy and he knew how to survive, so that is why I did not finish him."
"I took my time and I needed the 12 rounds. I knew I could hurt him and had the pop to do it."
"I will go back and work on putting a little more pop on my punches and I feel that I can do a lot of damage."
"He was a big test. Nobody would step up and face him, and I did. This is why I am the best, because I am willing to face anybody. Fox is a good fighter and he will do damage down the line, but like I told everybody before the fight, Look out It's me again!."
In non-televised action, Ruben Villa remained perfect by winning a six-round unanimous decision over German Meraz in a featherweight bout.
Villa controlled the action against the 100 fight veteran Meraz. Villa won by shutout margins on all cards by the scores of 60-54 which made Villa of Salinas, California raise his mark to 9-0. Meraz of Agua, Prieta, Mexico is 54-45-1.
The card opened up with Michael Dutchover beating down and eventually stopping Anthony De Jesus Ruiz in round four of their six-round lightweight bout.
Dutchover landed heavy blows throughout the contest and had Ruiz in trouble several times before the bout was stopped at 2:42 of round four.
Dutchover of Santa Fe Springs, California via Midland, Texas is now 7-0 with five knockouts. Ruiz of San Luis Potosi, Mexico is now 2-4.
The Andrade – Fox bout was promoted by Banner Promotions, Joe DeGuardia's Star Boxing and A-Team Promotions, in association with DiBella Entertainment.
The Villa – Meraz & Dutchover – Ruiz fights were promoted by Banner Promotions and Thompson Boxing.
Demetrius Andrade – Alantez Fox outdraws main event on HBO Boxing After Dark®
White Plains, NY/Philadelphia, PA — Demetrius Andrade, two-time and undefeated world champion, showed that he has the drawing power to go along with his unquestioned ring talent as his bout with undefeated Alantez Fox outdrew both the main event and opening bouts in the ratings last Saturday night by over 90,000 viewers on HBO Boxing After Dark®.
The Andrade – Fox bout peeked at 685,000 viewers. That number outdrew the main event, the WBA World Super Featherweight title bout between Jezreel Corrales & Alberto Machado. That is an impressive number considering the sports viewing competition was incredibly strong. That competition was headlined by Game 7 of the American League Championship Series (New York Yankees – Houston Astros) as well as two high-profile college football games featuring Penn State and Michigan as well as Notre Dame and USC.
Those games were all still going on when Andrade and Fox walked to the ring but were well over by the time the main event started.
"To have Demetrius pull in that viewership going against The Yankees, Penn State, Notre Dame, Michigan and USC just shows the interest in an American boxer who can be considered one of the best out there. Those above mentioned teams are most iconic programs and teams in American sports," said Artie Pelullo, President of Banner Promotions.
Joe DeGuardia, President of Star Boxing said, "I am very pleased with the ratings. It is an anomaly when the co-feature bout does a higher rating than the main event. Additionally, considering that Demetrius' fight competed with significant live sports competition, including game 7 of a fantastic Yankees-Astros series and major college football games, it shows fans are interested in a talented American boxer with US Olympic pedigree."