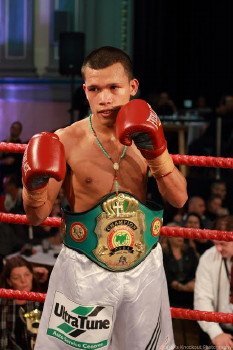 As a young teenager Randy Petalcorin was touted as a future World Champion by none other than Manny Pacquiao. Later this year the once beaten twenty two year old from General Santos City hopes to fulfil that prediction when he challenges for the WBA light flyweight title.
Now based in the Melbourne suburb of Yarraville, the current WBA number 2 is gearing for a bout on March 28 at the Malvern Town Hall against Thailand's Lookrak Kiatmungmee, as he applies for Permanent Residency in Australia.
Standing 5'3, Petalcorin is like his idol and friend Pacquiao, a southpaw. He began boxing at age twelve and turned professional in 2009 after an outstanding amateur career, having over 100 fights and being a National Champion in The Philippines.
He's long been regarded as one of the countries best young prospects.
That was questioned by some when after five knockouts to start his career, he suffered a second round stoppage to countryman Marlon Tapales, now rated 9 by the WBO as a bantamweight on the Carlos Tamara-Brian Viloria undercard in January 2010.
"I took the fight on short notice but thought it was a chance to get exposure. It (the loss) made me realize I had to be fully prepared every fight" he said. "It only made me more determined to become a champion".
"A lot of young fighters would not have recovered from that loss but Randy has only gotten better. It proves he has the temperament to become a world champion" added current manager, Melbourne based Peter Maniatis.
Since, he's been a winner each time out except for a technical eight round draw with countryman Rene Patilano in February last year in which he suffered a cut on his right eye lid by an accidental butt. After letting the cut heal, he stopped Samransak Singmanasak in his Australian debut in November, to take his record to 20-1-1, 15 KOs.
Randy says his best win came when he claimed the PABA 108 pound belt with a unanimous decision over Thai Olympian Samartlek Kokietgym in April 2012.
"He was an experienced boxer who'd fought some good opponents. I was able to knock him down three times and control the fight. My power and my speed were too much."
A year before, Kokietgym had beaten Muhummad Rachman, the former WBA/IBF minimumweight champion who recently won the IBO light flyweight title.
Petalcorin has adapted to the "Aussie lifestyle".
"I miss my family and my friends but I'm here to win the world title. I like Australia. I've been sparring Omari Kimwari and Mark Quon and can focus more on my boxing. I get a lot more sparring in The Philippines but it's very humid and it's always busy. Because it is cooler here I can run a lot longer distance. I have made many new friends in the Filipino community here and I do my running with (welterweight) Tim Hunt who is like my best mate here. "
Added Maniatis: "The first time I watched Randy I knew he would become a world champion. He's good natured, very likable and has all the attributes it takes. Boxers from the Philippines tend to develop physically late. I believe Randy will end up a bantamweight and he can certainly win titles as he moves up in weight. It would be great for boxing both in Australia and The Philippines."