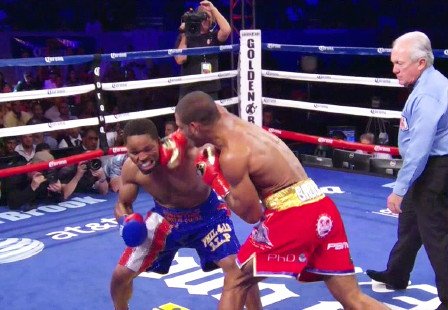 Shawn Porter (24-1-1, 15 KOs) lost his IBF welterweight title last night in losing by a 12 round majority decision to visiting fighter Kell Brook (33-0, 22 KOs) at the StubHub Center in Carson, California.
Porter, 26, says he wants a rematch so that he can avenge his defeat and recapture his title. Porter doesn't think Brook did enough to take his belt based on his performance last night. Porter thinks Brook did an awful a lot of holding during the fight to prevent him from getting his shots.
"I still think I'm the champion, and I don't think he beat the champion tonight," Porter said after the fight to Showtime's Jim Gray. "With that being said, I'm 24 and 1, and I have to go back to the drawing board. I thought I was effective with my attack. He was ready for my attack and he did hold a substantial amount tonight throughout the rounds. I'm giving no excuses at this point. He did take my belt tonight. I want the rematch. I'm going to come and find wherever he is and come and take it from him. Tonight, we didn't get it all right, but we will come and get it right next time. We'll come back stronger and win the next one."
Porter is going to have a difficult time trying to get a rematch with Brook, because his promoter Eddie Hearn is talking about wanting to have him make a defense in November, and then go after a big name like Amir Khan, Floyd Mayweather Jr or Manny Pacquiao in 2015. By the time Porter gets another crack at Brook, he may no longer have his IBF title and the main reason for fighting him again will have been lost.
It's hard to disagree with Porter about Brook having held a lot. Brook was holding more 10 times per round, and it similar to watching one of IBF/IBO/WBA/WBO heavyweight champion Wladimir Klitschko's fights, which are frequently filled with a great deal of clinching by Wladimir. Fortunately for Brook, the referee working last night's fight let Brook hold.
Things might have been a little different if the referee Vic Drakulich had been working the Brook-Porter fight last night. Drakulich penalized welterweight Diego Chavez a point in the 3rd in his recent fight against Brandon Rios. At the time that Drakulich took a point away from Chaves, he'd only clinched 9 times in the 3rd round after clinching 2 times in the 1st and 3 times in the 2nd round.