By Paul R. Jones!  Washington, DC — Over the weekend, Jordan "Shortdog" White (15-1, 11 KOs) took on durable challenger, Jose Edgar Garcia (13-5-3, 9 KOs), in a 10-round Super Featherweight Bout, which served as the main event of Davis Boxing Promotions' inaugural card at the Entertainment & Sports Arena in the nation's capital. Here's my recap of the action from Saturday night (Nov. 4):
White vs. Garcia
White, fresh off an explosive one-punch knockout of Eridson Garcia (a KO the Year candidate), entered the bout with a reputation to uphold. And with patience and a precise jab, White skillfully chipped away at Jose Edgar Garcia's high guard from the outset to build an early lead on the scorecards. Of note was White's precision and efficiency, which were on full display with the DC Native wasting few punches in his offensive attack.
In the second round, White continued to dominate, dictating the pace and taking control of the fight by landing crisp punches that left Garcia reeling.
White wasn't content with just headshots, however. He also began to pepper Garcia's body with hard right hands to wear down his tenacious opponent.
But in the third round, Garcia fought back, shifting his tactics to become the aggressor. A solid headshot from Garcia rocked White, leaving a trickle of blood flowing from White's nose. Although it was Garcia's lone round of triumph, he proved that he was one tough hombre. And White could attest to that.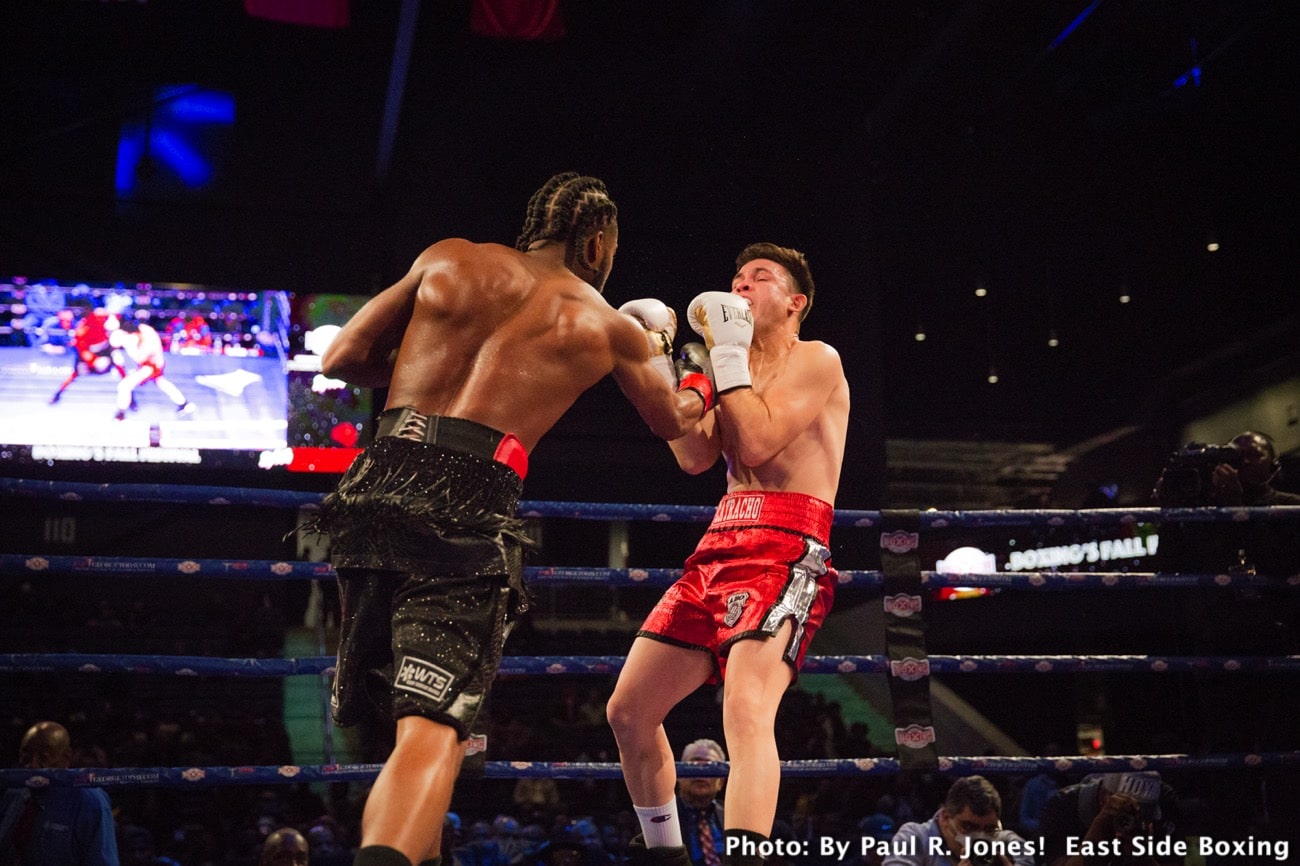 "Kudos to Garcia, man. A tough opponent with. . . a hard head, hard body, and a helluva f*****' chin," said White in our post-fight interview.
"I hit him with everything under the kitchen sink," White added with a chuckle.
By the middle rounds, White regained control, perplexing Garcia with a mix of pressure and sharp counters, which allowed him to pull away from Garcia on the scorecards. White's strategy forced the Texas-based Honduran into an uncomfortable tempo, which helped to widen his lead.
In the penultimate round, White delivered his crowning moment, dropping Garcia to one knee with a turbo-charged punch.  Despite Garcia's protest, the referee awarded the knockdown, securing a 10-8 round for White.
In the final round, both fighters unleashed their fury, but White's lead was insurmountable for Garcia. As the scorecards confirmed, White would earn a wide unanimous decision win, securing another impressive victory for the DC native.
Although White fell short of another knockout, he remained content and upbeat. "Every 'W' is a great 'W'," said White. "If the knockout comes, it comes," He added. "That's what we go in there and look for. Sometimes, that's what you get in the sport of boxing. Everybody ain't got that one-punch chin."
All things considered, this performance marked another step in White's journey, currently ranked 11th in the WBA Super Featherweight rankings. With each fight, he has continued to refine his skills and demonstrate improved defensive awareness. Metaphocially speaking, it's as if he's entering his own version of the boxing matrix.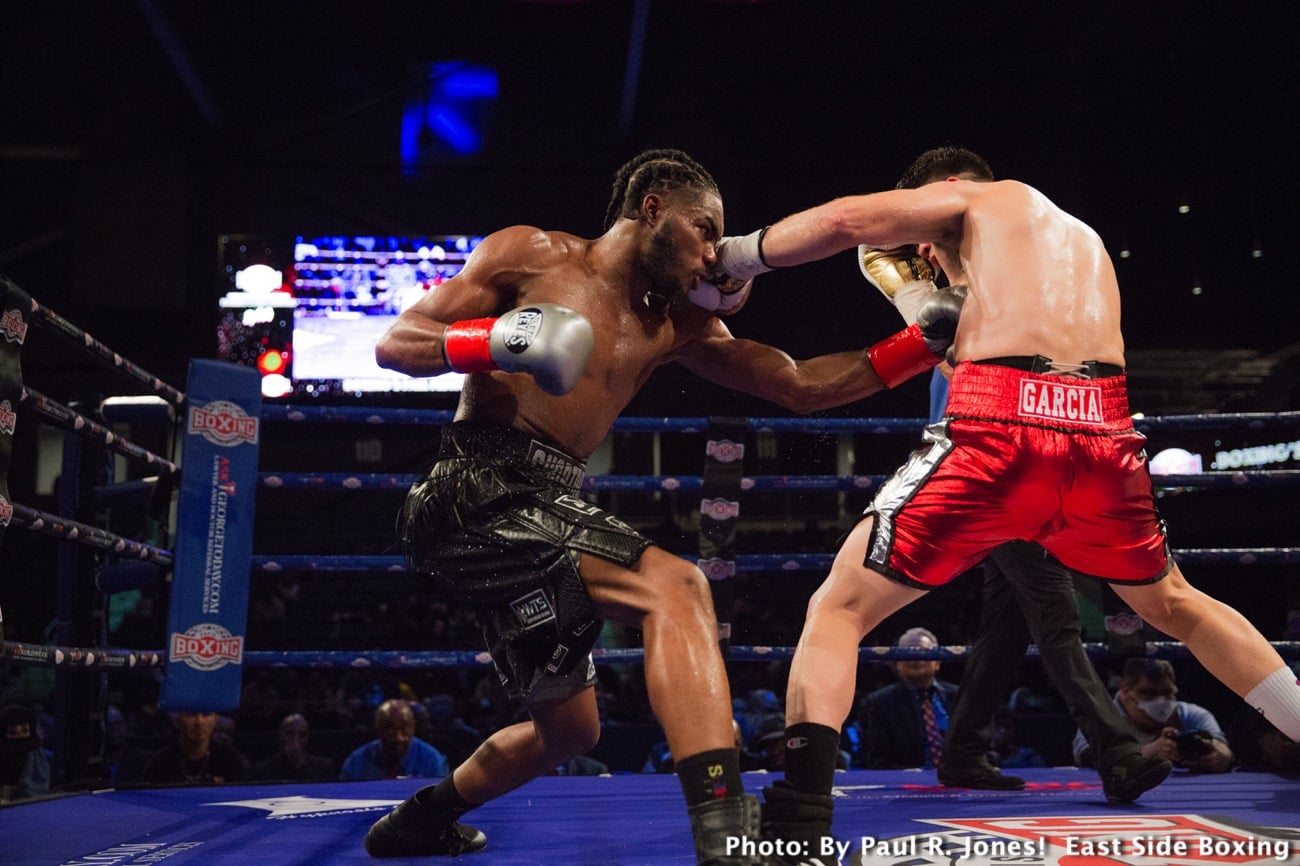 Looking ahead, White expressed his openness to facing tougher opponents and increasing his activity level. But he's not calling out any names. Instead, White's leaving his boxing future to a Higher power.
"Whatever God's got in store for me, that's what's gonna happen next," White proclaimed.
Result: White UD10 Garcia (scores: 100-89, thrice [White])
***
Other notable results from on the card:
Holmes Jr. UD6 Poe: In the co-main event, DWayne Holmes Jr. (6-0, 4 KOs) outpointed Donnell Poe (3-1, 1 KOs) in a fierce battle of unbeatens. Homes beat back a spirted comeback from Poe to pull away late in the fight.
Result: Holmes Jr. UD6 Poe (scores: 59-55, twice and 58-56 [Holmes])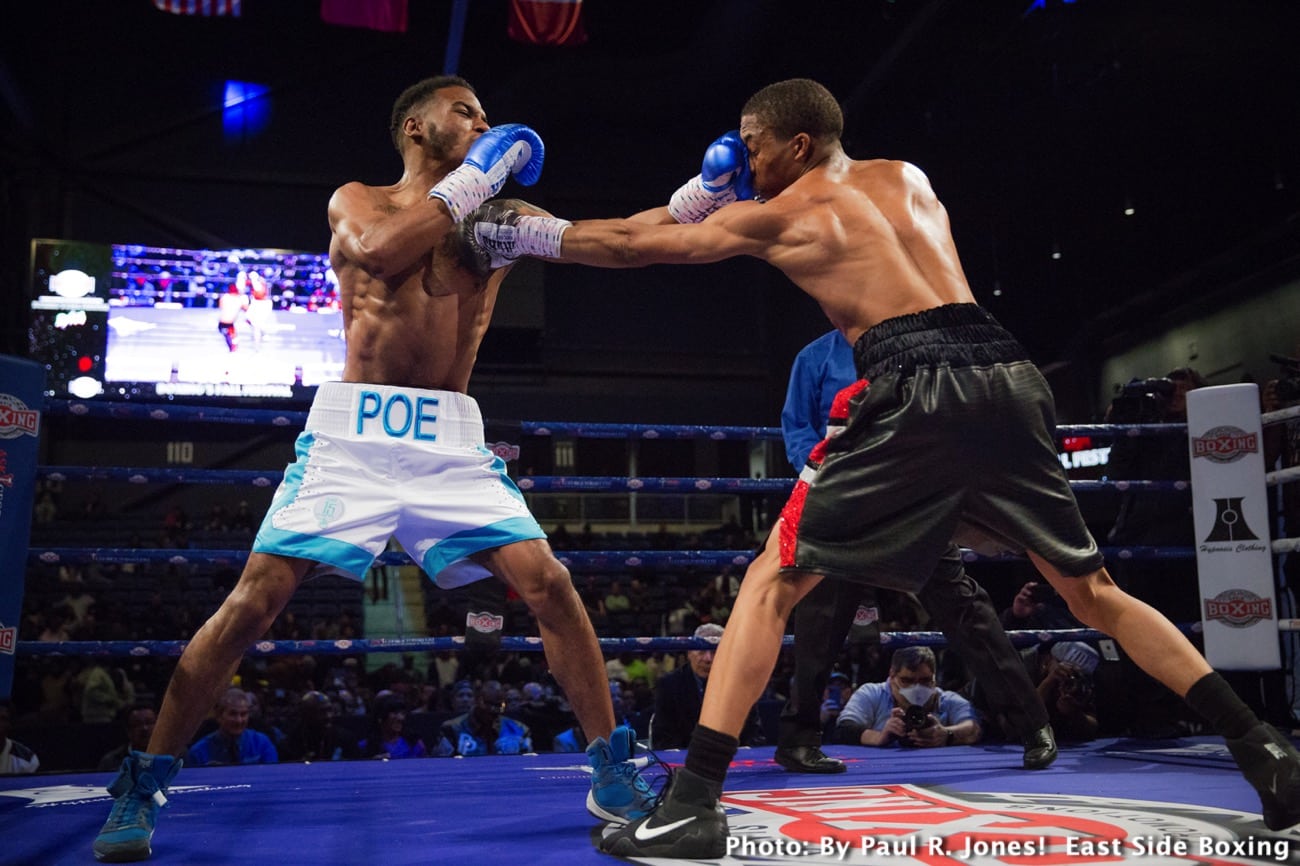 The card also featured two promising prospects: Deric "Scooter" Davis (2-0, 2 KOs), who made quick work of Christopher Thomas (0-2, 0 KOs) with a first-round knockout, and Nasheed "Sugar Sheed" Smith (1-0, 1 KO), who impressed in his debut by obliterating Jawan Jackson (0-2, 0 KOs) in a single round.
Both young fighters are now officially on our prospect watch list moving forward.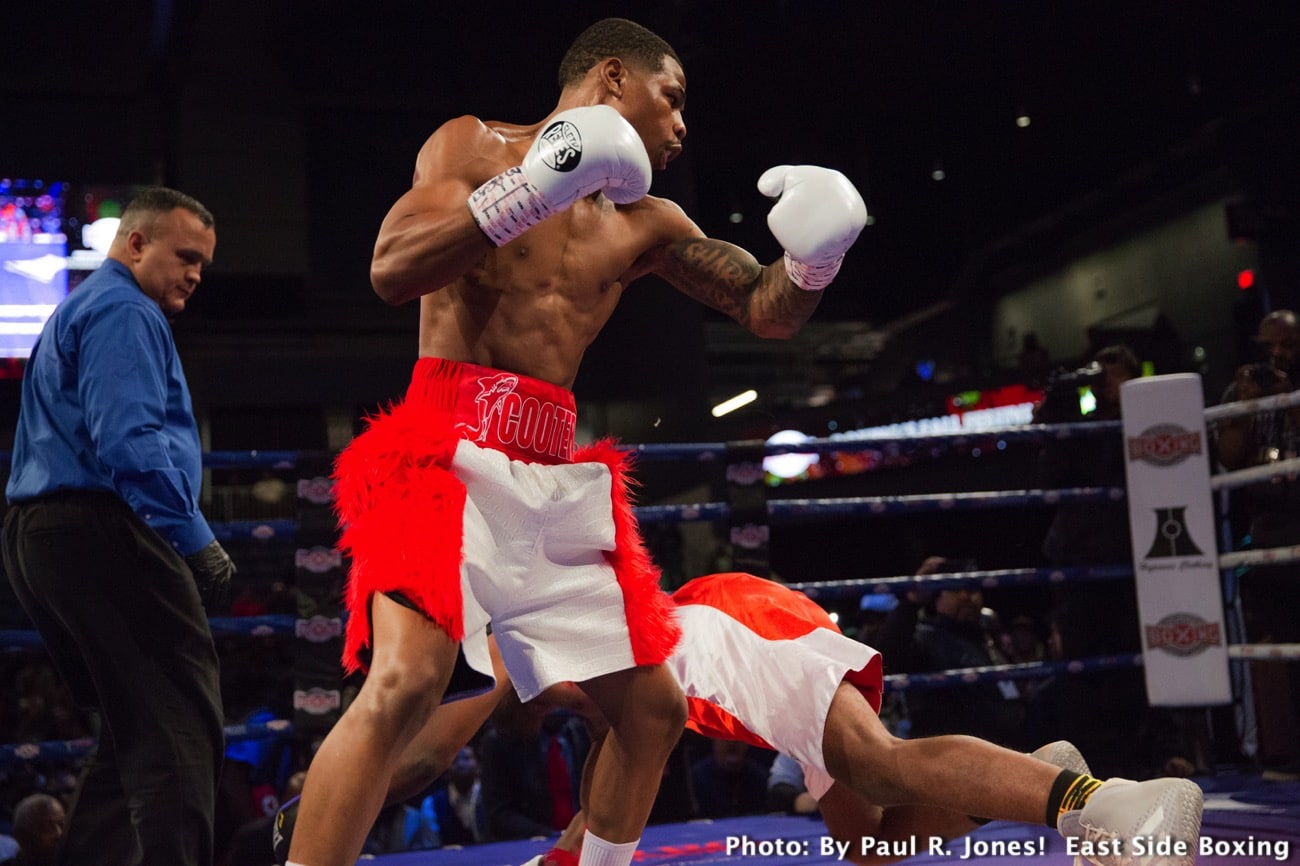 Final flurries:
Also in attendance were former undisputed Women's Super Middleweight World Champ, Franchón Crews-Dezurn (8-2, 2 KOs), and standout Lightweight Contender, Chris Colbert (17-1, 6 KOs) who were taking in all the action on the White vs. Garcia card.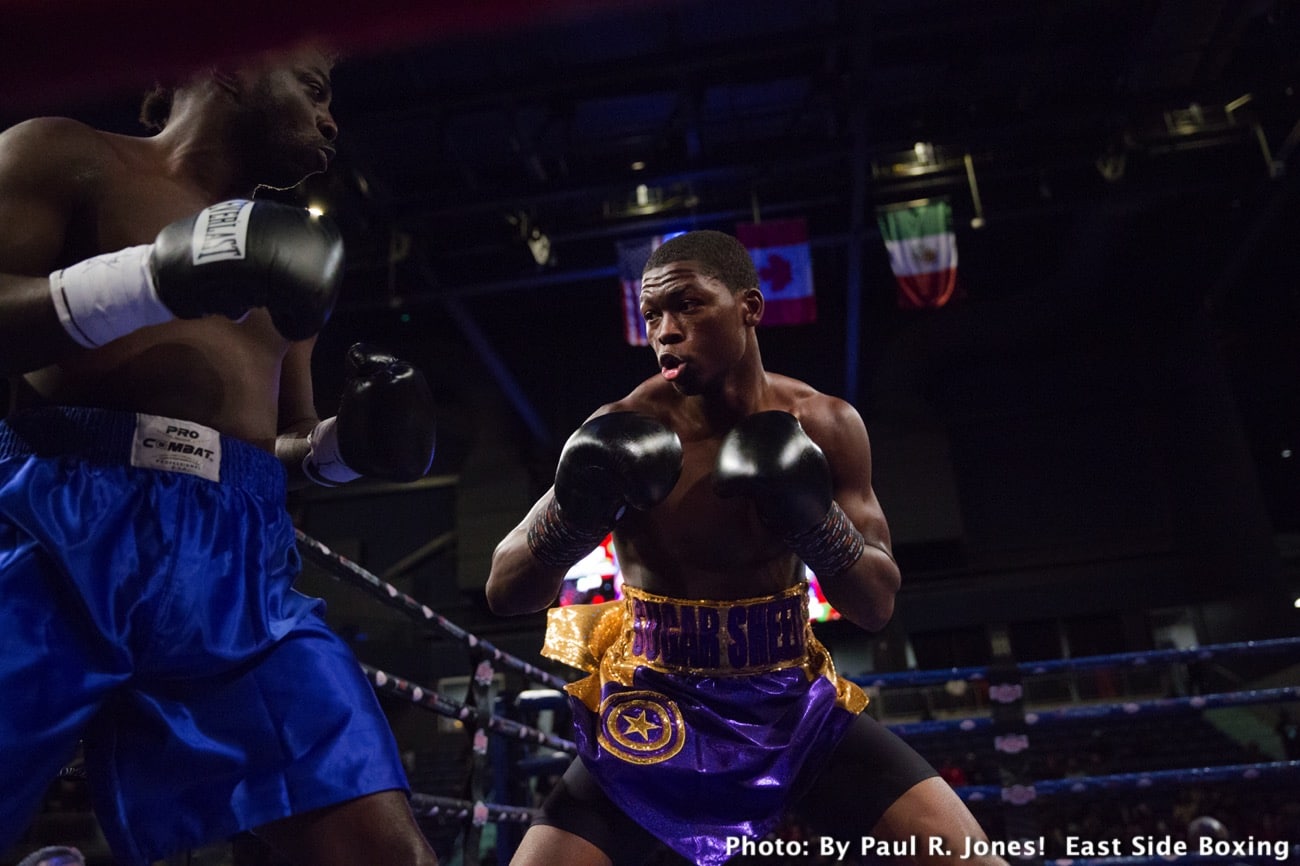 ####
Help Spread the Word!
Please share this article on Twitter and Instagram, it would mean a lot to us.
About the Author: 
Paul R. Jones! is a longtime boxing writer and ringside photographer. His articles, photographs, and commentaries have appeared online, in print, and in scholarly journals. Follow him on Twitter and Instagram @boxingepicenter. You can also email him at prjones1@hotmail.com.