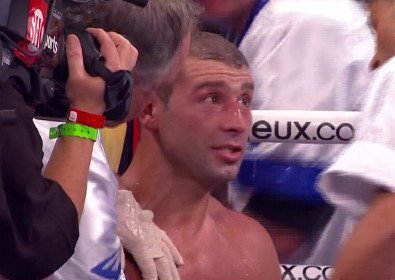 By Jeff Sorby: Former WBO/WBC middleweight champion Kelly Pavlik isn't too happy about losing out on his fight with WBA/WBC super middleweight champion Andre Ward, who had to pull out of his scheduled February 23rd fight after hurting his right shoulder in training.
Pavlik could be in the process of getting a much more winnable fight against former IBF super middleweight champion Lucian Bute in March or April next year. Pavlik's manager has been in talks with Bute's promoter Jean Bedard and thus far it's looking good.
Both Pavlik and Bute are badly in need of a big win right now. Pavlik has done little with his career since losing to Sergio Martinez in 2010 by a 12 round decision in 2010. Pavlik has fought sparingly since then, mostly against C level opposition. Pavlik passed up the chance to fight Bute last year and instead chose Antonio Lopez, who almost beat him. Since then, Pavlik has really downgraded his opposition and has done a lot better.
Bute was stopped by Carl Froch in the 5th round earlier this year in May. That fight was a huge blow to Bute's career, because it was pretty one-sided the entire time. Bute did come back in his last fight to defeat Denis Grachev last month by a 12 round unanimous decision, but it wasn't an impressive performance by Bute. He made the same mistakes that he did in the Froch fight, and he looked really timid much of the fight. Bute only fought with confidence in the 12th round when he was able to land a number of really nice left hands.
A fight between Pavlik and Bute might be what Bute needs to get his confidence up for a rematch against Froch, because right now Bute doesn't look like the same fighter he was before the Froch fight. The loss really sapped the confidence from Bute and he looks kind of like a shell of his former self.
If Bute can beat Pavlik, it might help him a little for rematch with Froch later on in 2013. I doubt that Bute can beat Froch, but it's possible with the fight being held in Montreal, Canada rather than Nottingham.