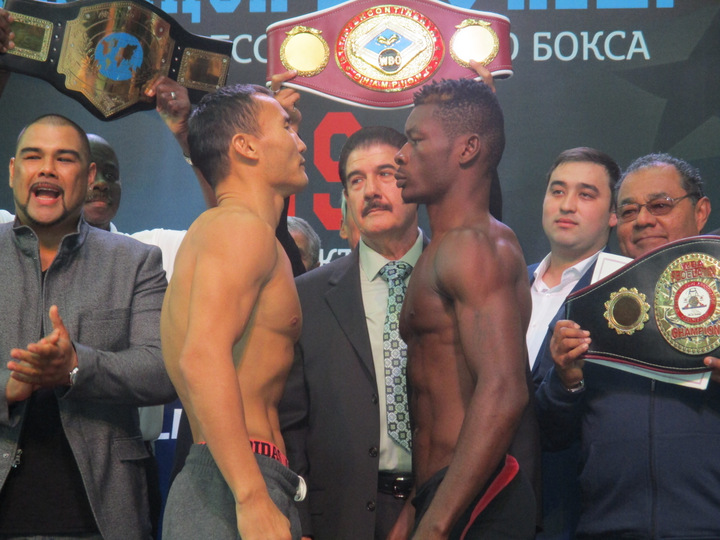 Weights from Almaty Arena, Almaty, Kazakhstan
Kanat Islam 154 v Patrick Allotey 154
Zhanibek Alimkhanuly 169 v Milton Nunez 171
Zhankozh Turarov 145 v Issac Aryee 145
Ruslan Myrsatayev 218 v Nuhu Azuma 227
Ali Akhmedov 171 v Ali Mammadov 169
Aidar Sharibayev 132 v Juan Ocura 130
Zhuma Zhumabekov 138 v Ivanou Uladimir 138
Promoter: Nelsons Promotions, Raynelo Promotions
TV: streaming www.nelsonspromotions.com 10 am Sat, Oct 29
Ghanaian boxer, Patrick Allotey (34-2, 28 KOs) left Accra last night with his trainer, Ofori Asare to Kazakhstan where they face undefeated home favourite, Kanat Islam (21-0, 18 KOs) next Saturday in a fight for three vacant titles in Almaty.
Allotey won 30 straight fights at the beginning of his career before suffering two straight defeats to Zimbabwe's Charles Mayuchi in Zambia and Brazilian Patrick Teixera in the US in 2014 and 2015 respectively.
But after racking up four straight victories in Ghana since returning in late 2015, the former Ghana and WBC International Silver Welterweight champion believes he is ready to overcome the challenge of Islam when they clash for IBO International, WBA Fedelatin and WBO Inter-Continental super welterweight titles on October 29.
"We have worked very hard technically, tactically, physically and psychologically for this fight because we know it's not going to be easy fighting someone at his backyard but we also know that nothing is impossible," Allotey's trainer, Ofori Asare said before their flight yesterday.
Coach Asare is also confident his ward will not be intimidated by the expected hostile home crowd in Kazakhstan citing Allotey's previous stoppage of Patrick Bogere in Stockholm, Sweden back in June 2013.
"Winning this title will mean a lot to Patrick's career, it would be like restoration of a hero. You know Patrick once went all the way to Sweden to knock out his opponent at his own backyard so history can repeat itself again for him and especially for the titles at stake it will be great," Coach Asare intimated.
"We ask for the continued support of our fans and all Ghanaians. We love them all and promise we are going there to put up the best and nothing else, stay blessed and keep your fingers crossed and hopefully we bring the titles," he added.