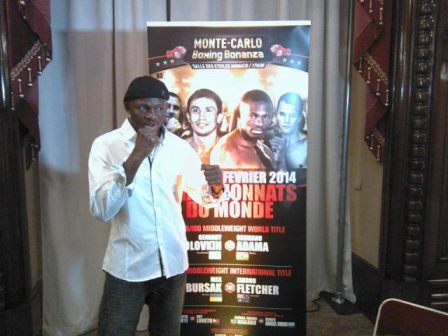 He may have lost a second world title fight in two years but Ghana's Osumanu Adama insists all is not lost and he can still realise the childhood dream of becoming a boxing world champion.
Adama,now 22-4, 16 KOs suffered the most annihilating defeat of his 12 year professional career last Saturday night in Monte Carlo following a round 7 technical knockout loss to IBO and WBA Super Middleweight king, Gennady Golovkin.
It was also the first time the Ghanaian nicknamed Machine Gun has ever been stopped in the ring but Adama remains unfazed, steadfastly maintaining his belief of claiming world championship glory before he retires.
"It was a disappointing loss but I will be back and I know I can get a world title shot again, I have agood feeling it will happen. I lost but it's not the end of the world, I can still become world champion. I have to fulfill my dream," Adama told this writer exclusively from his Joliet, Chicago base early Monday morning.
Adama, nicknamed Machine Gun is quick however to acknowledge the qualities of the man he so lopsidedly lost to in France on Saturday, the undefeated Gennady Golovkin.
"He is very strong, to be honest he is very strong. He came all out in the first round and he hit my eyes which nearly blinded me. In the beginning I respected him but I soon realised I have to stand up and fight him. It was so hard because my eyes kept bleeding and paining me," Adama confessed.
The Ghanaian also bears referee Luis Pabon no grudge for stopping the fight when he did.
"I wanted to continue but the referee said no because of the bleeding from my eyes. He is the referee and has the final say. The first time that I went down like this, it was very hard, very hard," Machine Gun stated.