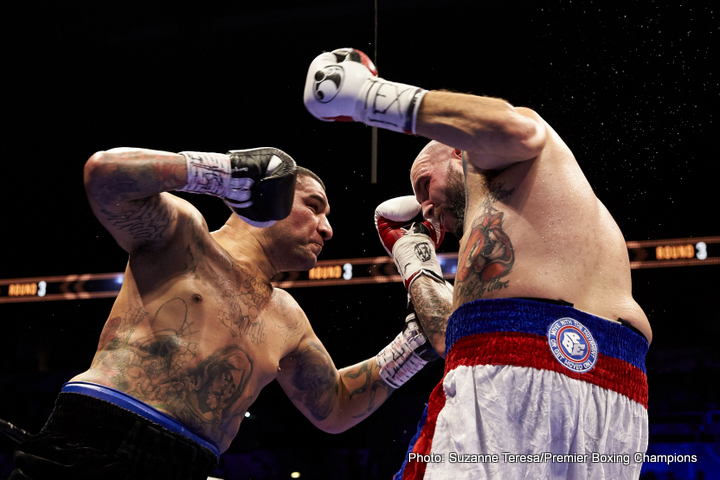 Undefeated Omar "Panterita" Figueroa (26-0-1, 18 KOs) won an intense slugfest over former world champion Antonio DeMarco (31-6-1, 23 KOs) in primetime Saturday night on Premier Boxing Champions (PBC) on NBC from the AT&T Center in San Antonio.
Figueroa earned the unanimous decision in an action-packed battle that saw the south Texas-native throw over 1000 punches across 12 rounds. Figueroa dominated the first six rounds of the fight, throwing numerous combinations and taking minimal damage from his opponent.
The Mexican veteran DeMarco saved his best for the second half of the fight and was able to frequently land clean power punches against the offensive-minded Figueroa. In the 11th-round, DeMarco staggered Figueroa with a series of headshots and appeared to have him in serious trouble. Figueroa recovered enough to survive the round and win the final stanza in the eyes of all three judges.
Combined the fighters threw 1160 power punches against just 519 jabs. Figueroa landed 48 percent of his power shots while DeMarco connected on 45 percent of his. The 1092 to 587 punch output advantage for Figueroa could have proved to be the difference as he out-landed his opponent 414 to 225.
The final judges' scores were 116-112 and 115-113 twice.
In the co-featured event, Chris "The Nightmare" Arreola (37-4-1, 31 KOs) earned a split-decision victory over Travis "My Time" Kauffman (30-2, 22 KOs) in a 12-round heavyweight showdown that lived up to the pre-fight trash talk between the former sparring partners.
Arreola started out strong, winning the first two rounds on all three judges' scorecards. In the third round, Kauffman delivered a sensational combination to the head and body that put Arreola on the mat.
The knockdown slowed Arreola down as Kauffman won five rounds between rounds three and nine while displaying excellent footwork and body punching. After a low blow by Kauffman in round nine, Arreola took several minutes to recover before the referee continued the action. The extra time appeared to give Arreola a second wind as he finished strong and closed the fight with an impressive performance in the last three rounds.
The split decision was about as narrow as it could be with two judges' scoring the bout 114-113 for Arreola and the other judge with the same score for Kauffman. Arreola out-landed Kauffman 216-206 in total punches and connected on 57 percent of his power shots.
Headlining the NBCSN telecast prior, former world champion "Vicious" Victor Ortiz (31-5-2, 24 KOs) returned from a yearlong layoff to stop Gilberto Sanchez-Leon (31-15-2, 13 KOs) in the eighth round of their welterweight bout.
Ortiz was coming back from a broken wrist suffered at the end of his last bout in December 2014 and was able to land 50 percent of his power punches. The stoppage came at 2:57 into the eighth round in a bout scheduled for 10.
San Antonio-native Mario Barrios (14-0, 8 KOs) impressed in front of his hometown fans on his way to stopping Manuel Vides (18-5, 11 KOs) 31 seconds into the sixth round. Barrios showed lethal accuracy, landing 54 percent of his power punches and 46 percent of his total punches.
In NBCSN action that followed the primetime broadcast, 2012 U.S. Olympian Terrell Gausha (17-0, 8 KOs) kept his perfect record intact, defeating Said El Harrak (12-4-2, 7 KOs) in a 10-round middleweight fight. Gausha recorded a knockdown in the second round and cruised to a 100-89 decision according to all three judges.
OMAR FIGUEROA
"These are the kind of fights I love to be in. A little rougher than I would have liked and my face shows it. It was a good fight. I wish I had done better but I always do the best I can.
"My determination is what helped me win this fight. I'm not going to lose a fight. I don't have that in me. I've had every injury. I could have a missing arm but I'm still going to find a way to win the fight.
"It was a great atmosphere. I could hear the fans cheering me on and it's a great feeling. I know the people here were backing me up and I just wanted to give it my all.
"It was all heart and guts out there. That's what I rely on when all else fails. We do our best to come out with the victory.
"I want to fight in the 140-pound weight class. Some things happened that were out of our control and we just wanted to put on a show for the fans. My body is getting bigger but I want to do some things at 140-pounds before I move up. We're doing our best, we're learning how to do things right. We're in the learning process.
"My hands feel really good. They look like hands. Which is nice. My face looks like a face, just a beat up face.
"Antonio gave me a lot of respect after the fight and he told me that 'family is the most important thing.' We all sacrifice in training camp and we're just so grateful that we get to fight.
"I have no quit in me. I've fought with injuries and adversity. It's just not in me to quit."
ANTONIO DEMARCO
"I thought I got a draw out of the fight, but he's here in his home state, with his home crowd, and I respect the decision.
"He was just too big. No excuses, but I know that was why he was able to last the full fight with me.
"He was just pushing me forward, pushing me forward and using his body weight, but he never hurt me at any time."
CHRIS ARREOLA
"I wasn't hurt from the knockdown, it was more of a flash knockdown."
"I pulled it out in the championship rounds. I was in great shape and that was the difference in my winning.
"I had to show him a little different look tonight and not just bull rush him. He came to me, which made it easier for me. Conditioning was the deciding factor tonight."
"Yes, I would give Travis Kauffman a rematch. Any time, we can do it again.
"I have to earn a world title fight and have to win convincingly. If I fight Deontay Wilder, I have to be in great shape.
"I'm going to take a little vacation with the family then I plan on being back in the gym right after New Years."
TRAVIS KAUFFMAN
"I'm not the only one that thought I won the fight, the entire crowd thought I won the fight. I fought a great fight. I came here to win. I'm not a slouch, I'm a fighter. I've been doing this my entire life.
"I didn't get the victory that I deserved tonight, but I was able to win over the crowd and I won over America.
"The crowd came in cheering for Chris. They left cheering for me."
VICTOR ORTIZ
"He was a really tough fighter. He got some good shots in. I don't like making excuses. In three years, I've only fought twice. There was a lot of rust. But I'm just happy to get back in the ring.
"I feel no pain whatsoever. I'm happy for that and ready to move forward.
"My past is in my past. I want to go for it. Any of the top welterweights, I want them.
"This camp was incredible. Not just Joel Diaz, but the whole team has been with me 24/7 and they've been awesome. It's a great asset to have these kind of people in my corner.
"In the past, I always found myself jumping the gun. These coaches have helped me slow down. This is definitely a step forward.
"I'm my own worst critic. There's a lot to improve on. My reflexes were good but my timing was off. Probably due to inactivity. I'm so thankful for this opportunity and I have a whole new chance to reach my goals."
MARIO BARRIOS
"I'm just happy to have been able to put on a great show for my family and friends. Right now I'm feeling great. I couldn't be any more excited.
"We start with a game plan that revolves around working off our jab and picking our shots. He tended to work up the middle and that's how we found openings.
"At any point I was ready to sit there and brawl with him, but that wasn't the plan for this fight. The plan was to be smarter and that's what we did.
"My height and size is something we always work on and use to our advantage."
TERRELL GAUSHA
"I'm very happy with my performance but I still have a lot of improvements to make in the gym."
"I caught him with some good body shots and that was the difference.
"We don't target anyone, but I'm ready for someone in the top 10. I'd like to fight again in February if possible."
Omar Figueroa Jr W 12 Antonio DeMarco
Chris Arreola W 12 Travis Kauffman
Victor Ortiz W TKO 8 Gilberto Sanchez-Leon
Mario Barrios W KO 6 Manuel Vides
Lanell Bellows W 8 Michael Gbenga
###
Fighters competing on Saturday's Premier Boxing Champions (PBC) on NBC and NBCSN cards hosted a media workout before they enter the ring on December 12 in San Antonio at the newly renovated AT&T Center.
Omar "Panterita" Figueroa, Antonio DeMarco, Dominic "Trouble" Breazeale, Chris "Nightmare" Arreola, "Vicious" Victor Ortiz, Mario Barrios and Brandon Figueroa were all on hand to workout and speak to the media at Jesse James's Leija's Champion Fit Gym.
Figueroa and DeMarco square off in the evening's main event on NBC while Breazeale and Arreola will compete in separate heavyweight bouts. Ortiz, Barrios and Figueroa are slated to appear on the NBCSN portion of the telecast.
Here is what the fighters had to say Wednesday:
OMAR FIGUEROA
"Training camp has been phenomenal. I don't think it could have gone any better. Considering everything I've been through this year, it's such a breath of fresh air to be able to actually train and train to my fullest.
"I think I'm definitely getting better. We never stop improving and if we do, that's when our careers end. We always try to learn and see what we can do better and where we can progress. It's a journey that we're not even halfway through.
"I don't think I had the best performance against Ricky Burns in May. Considering I had a fractured hand through camp, I couldn't really train in camp. I beat a former world champion and I did it without training as much as I'd like.
"To me, a fight is a fight. I enjoy fighting. I love being in the ring. I'm excited for it. I can't wait. I just want to perform and see how I feel.
"I think Antonio DeMarco is a perfect fit for my style. He's really tough but he has flaws. He leaves the body open and that's something I think we can exploit. If all goes to plan, we'll come out victorious."
ANTONIO DEMARCO
"I'm coming back for the love of the sport. I want to show everybody that has wrote me off, that I'm still here and dangerous. They're going to eat their words Sunday morning.
"I had previously retired due to personal reasons, but boxing is such a big part of my life. It brought me out of the streets and given my family a good life. I've been able to help my sister who has battled cancer but is now healthy. I couldn't leave a sport that has helped so many people.
"I'm back with my old trainer, who has helped me reach the best moments of my career. Romulo Quirarte and I are working hard to get back to that level.
"I have a lot of respect for Omar. He's undefeated and he's done some really good things in this sport. It's a hard fight, but it's a hard fight for both of us. It's not going to be easy for Omar.
"I want the fans to see a great fight. It's going to be a war. Two Mexicans, with Mexican blood is always a great fight. I've trained for a war and I'll show everyone that I'm ready when I step into that ring."
DOMINIC BREAZEALE
"Training camp went great. We had a good nine or 10 weeks of camp with a diverse group of sparring partners. I actually dropped about 10 pounds so I feel strong and healthy.
"It's huge to finish up the year on NBC at the AT&T Center. I couldn't ask for much more.
"I'm looking forward to fighting for belts. Line them up. I want to fight top 10, top 5 guys consistently. Let's get it done.
"I've worked really hard on correcting flaws and improving at my craft. As a fighter you that's what you want to do. I always ask to be tested and that's what I'm looking forward to."
CHRIS ARREOLA
"I know I have a tough test in front of me. My opponent has a lot of amateur experience and he's been a good pro. I have to make this one count. You never know when it's going to be your last chance.
"I looked bad in my last two fights and you're only as good as your last fight. I think my opponent sees me as a fighter on his way down and that fires me up. He's going to wish he never fought me.
"I've always thought of myself as an elite fighter. My main concern is Travis Kauffman. I have to beat him convincingly. I need to beat him to the point where everyone wants me to fight for a title. I want to earn my title shot.
"This is the beginning to a title run. I want to cement myself as a top heavyweight in the world. I'm a heavyweight to be reckoned with and I'm going to prove that to everyone. I need this fight for my career."
VICTOR ORTIZ
"I've had my ups and my downs, but I just want to out there and entertain the fans again. I don't think fans have ever been disappointed in how much action there is when I fight.
"My prime is still here. I'm going to take full advantage of it. The Hollywood scene is cool, it doesn't hurt as bad, but I prefer being a world champion. I want to get back to that level.
"I've been pushing myself the whole camp. I'm just here to put in the work. We're ready to go put on a show. I know my opponent is going to come hungry and I'm ready.
"I've made big changes to my career and I think it'll be for the better. I hope everyone tunes in. I'm ready to go to war."
MARIO BARRIOS
"Finishing up the year with a fight like this in my hometown, it's the best thing I could ask for. I'm excited to be back home fighting in front of family and friends.
"I've improved greatly as a fighter this year. I've learned a lot about how to maintain composure in the ring. These are things that I've been able to gain with experience. I want to stay active and keep getting better.
"Training camp has been great. We went out to Houston for a week of our training to work with Miguel Flores and came back last week to finish up in San Antonio. I feel strong and ready to put on a great show Saturday.
BRANDON FIGUEROA
"I feel really good. My team and I have been doing things rights and I'm ready to get in the ring December 12.
"My first fight was also on a big show with my brother headlining. I'm not saying I'm used to it. But I'm not really an emotional person so I won't get fazed by the stage.
"I'm happy to be part of this show. There are so many great fighters and it's a blessing to be part of this event.
"My brother and I both like to brawl and give fans a show, but I'd say I'm a more technical fighter. I like to keep my distance. When it comes down to throwing punches and trading, that's what we like to do.
"My opponent is taller than my past opponents and he has some amateur experience. I'm going to try to box him, stay on the outside and hurt him with body shots."
###
Undefeated star Omar "Panterita" Figueroa hosted a media roundtable Wednesday at a packed ChampionFit Boxing Gym in San Antonio as he prepares for his Premier Boxing Champions (PBC) on NBC primetime battle against Antonio DeMarco taking place Saturday, December 12 from the newly renovated AT&T Center.
Also in attendance at Wednesday's event was Omar's brother and bantamweight prospect Brandon Figueroa and undefeated San Antonio prospect Mario Barrios who are competing in separate undercard bouts to be features on NBCSN.
PBC on NBC coverage begins at 8:30 p.m. ET/5:30 p.m. PT and features two exciting heavyweight battles leading up to the main event. 2012 U.S. Olympian Dominic "Trouble" Breazeale (16-0, 14 KOs) faces "Prince" Charles Martin (22-0-1, 20 KOs) in a 10-round contest and hard-hitting Mexican-American Chris "The Nightmare" Arreola (36-4-1, 31 KOs) takes on Travis "My Time" Kauffman (30-1, 22 KOs) in 10-rounds of action.
Tickets for the live event, which is promoted by Leija Battah Promotions, are priced at $220, $112, $85, $58 and $31, not including applicable fees, and are on sale now. Tickets can be purchased online by visiting www.ticketmaster.com, www.attcenter.com or by calling 1-800-745-3000. Tickets can also be purchased by emailing m@leijabattahpromo.com or calling (210) 979-3302.
After the media event, Figueroa attended the San Antonio Spurs game at AT&T Center and was interviewed during the local broadcast. Here is what the participants had to say yesterday:
OMAR FIGUEROA
"Fans are going to see what they always see from me on December 12. I'm going to go out and give them a great show.
"Mentally, knowing that my body feels good, it makes everything better. I sparred for the first time in two years yesterday and I felt great. I almost cried I felt so good. It was a good feeling.
"I am hoping that 2016 is a healthy year and that I get big fights because I know I'm going to be a lot better next year.
"This is a really solid matchup. It's typical Mexican fighters, we both like to brawl. He's more of a boxer and I know he'll try to keep me on the outside. My job is to get on the inside, rough him up and make it my kind of fight."
MARIO BARRIOS
"Fans should expect a very exciting fight on December 12. I'm so happy to be fighting at home and it motivates me to go out there and put on a great show.
"My strengths are definitely my reach and the range I can keep people at. Combined with speed and power, it's dangerous.
"2015 has been a great year. I've been really busy and I'm happy with the way my career has gone this year.
"We're improving in camp with every fight and working on everything we can. My team is tremendous."
BRANDON FIGUEROA
"It's a real honor to fight on a card headlined by my brother. I've always looked up to him and now as I start my pro career, I can see what he's accomplished and try to live up to it.
"I want to be known as an exciting fighter like my brother. We aren't afraid to leave it all in the ring. I'm going to give everything I have to put on a great show.
"Hopefully I can be successful on December 12 and end the year on a high note. It's going to be a big 2016 for the Figueroa brothers."
JESSE JAMES LEIJA, Texas Boxing Legend & Promoter
"This fight just makes sense in San Antonio. The fans here support big fights and they love boxing.
"I've always believed that Mexican-Americans carry the sport of boxing. That's our passion. We just love to watch good fights. Fights like these are why we started promoting fights. We want to bring even more big fights to San Antonio.
"There's nothing like watching a live fight in person. This fight could be anywhere in the U.S., but it's right here in San Antonio. I know when I fought here and when other huge fights have happened here, the reaction from fans has been great.
"I am who I am because of what the sport of boxing gave to me. Now that I'm able to give back to the sport, we want to bring the best fights to San Antonio. I'm proud to be a part of this event."