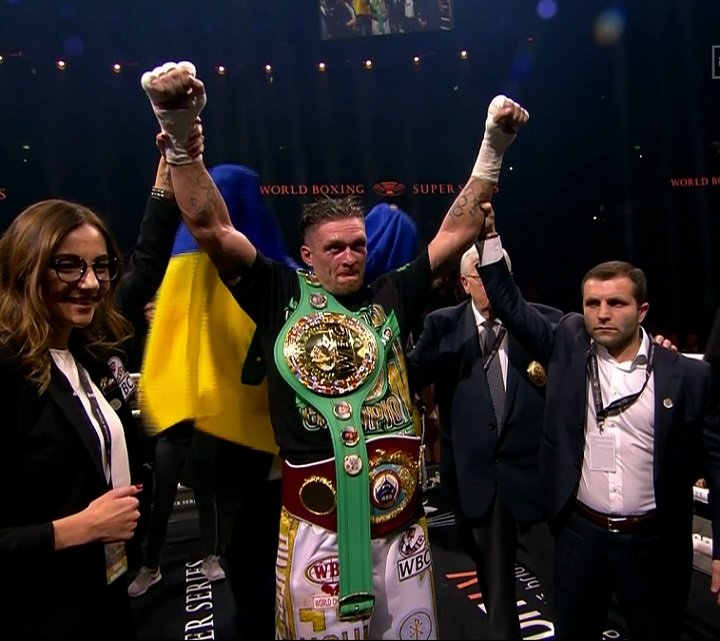 If undisputed cruiserweight king Oleksandr Usyk is not the finest fighter in all of boxing right now, and many fans and experts say he is, then he is almost certain to be recognised as this year's Fighter Of The Year. Usyk, who has achieved so much in such a short time – just 16 pro bouts, boxed over five years exactly – has had an incredible 2018.
Not only has the gifted southpaw from Ukraine made boxing history by becoming the very first man to have held all four major world titles at 200 pounds: WBC/WBA/IBF/WBO, he has also won The World Boxing Super Series tournament, he has beaten two undefeated fighters, Mairis Briedis and Murat Gassiev, and he has just capped off his year with a tremendous KO over another top contender in Tony Bellew. And, added to this is the fact that Usyk, 16-0(12) has done it on the road, away from home.
If this is not enough, in fact more than enough, for Usyk to pick up the FOTY award, then what on earth is? Usyk is a tremendous talent, a tremendous fighter, and if he decided to stay where he is, fighting at cruiserweight, chances are great no man would ever beat him. At age 31 (32 in January) Usyk is bang at his peak right now and he has thoroughly cleaned up his current weight class. So Usyk wants more.
If the man from Kiev has had a stellar 2018, and he has indeed, he could have an even greater, even bigger 2019. The heavyweight title is now firmly in Usyk's cross-hairs and though he says he will wisely take his time and is in no rush to achieve this, another lofty goal, Usyk has to be given an excellent chance of winning at least a portion of the heavyweight crown next year. But Usyk wants to fight the best, either Anthony Joshua or maybe, if he's still on top when the time comes, Deontay Wilder.
At 6'3" Usyk is tall enough but it remains to be seen how he packs on the additional weight he will need to be able to realistically do battle in the land of the giants. Again, with all he has achieved, Usyk could "play it safe" and stay at cruiserweight and busily defend his titles against whoever there is out there capable of challenging him. But no, Usyk, very much a throwback fighter in some ways, wants to be great.
Some would say he has already achieved it, but Usyk wants the ultimate. He can now take a break (how many other elite world champion fighters have three fights a year these days?) and reflect on a simply superb 2018.