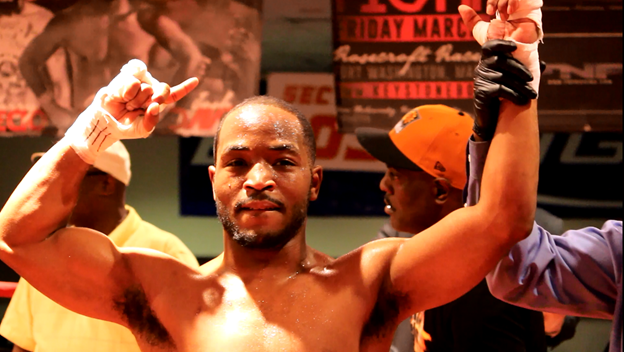 Share the post "Mike "Yes Indeed" Reed Eyes National Spotlight on Saturday's Top Rank Card — Glen Tapia, Russell Jr., More!"
By Paul "Paparazzi" Jones & Justin Jones – Capitol Heights, MD – This Saturday, Junior Middleweight Glen "Jersey Boy" Tapia(20-1, 12 KOs) headlines a Top Rank card against Keenan Collins (15-8-3, 10 KOs) at Bally's in Atlantic City (NJ). Tapia is determined to rebound with an impressive showing after being stopped by James Kirkland (32-1, 28 KOs) last December in a fight of the year candidate. While the stakes are high for Tapia, perhaps no one on the fight card has more to gain than unbeaten Junior Welterweight prospect Mike "Yes Indeed" Reed (9-0, 6 KOs).
Reed, 21, who fights out of Waldorf, MD, will be facing the hard-charging Nicaraguan Alberto Morales (11-3-1, 1 NC, 8 KOs) in a 6-round undercard bout. The contest marks one of the rare occasions that Reed will fight outside the confines of the Rosecroft Raceway (Fort Washington, MD).
Against Morales, 25, Reed will be facing a taller (5'9") and more experienced opponent. Morales is also a durable, pressure fighter who comes to fight.
According to Reed, Morales' style is well-suited for the DC native. "I'm an aggressive counter-puncher and I can box and I can bang," said Reedin a recent interview with Eastsideboxing's Paul "Paparazzi" Jones. "With him coming forward, the opportunity to do both will be there and I'm looking to capitalize on it."
Unlike other developing fighters in this era, Reed has not been coddled by matchmakers and his management team. For instance, his opponents' combined record is 42-27-8, a winning percentage well above .500.1
"I've come up the hard way and it humbles me," Reed said. "At the end of the day, I can say I worked for everything. Nothing was actually given to me and I pride myself on that. When they would look for opponents, I would turn down nobody because I believe in my ability."
Training with high profile boxers from the DC-Maryland-Virginia area also bodes well for Reed in his upcoming scrap. "I work with LamontPeterson(32-2-1, 16 KOs) and Anthony Peterson(32-1, 21 KOs) on the regular," Reed said. "Adrien Broner (28-1, 22 KOs), I work with him anytime he's in town."
"Gary Russell Jr.(24-0, 14 KOs) has a major fight coming up [vs. Vasyl Lomachenko (1-1, 1 KOs)] and I was actually called to be his main sparring partner," Reed added. "Unfortunately, [the opportunity] fell through, but I was able to work with him a couple of times and it was amazing. I've pretty much worked with everyone around [DC]."
Despite these experiences, Reed is fighting for the first time backed by a major promotional outfit and he remains unsigned. "It's still like an audition," said Reed. "Top Rank has given me the same opportunity that [promoter] Keystone Boxing has given me, a one fight contract. So if I continue to impress, then we'll look into signing a multi-year deal with Top Rank or any big promotional company."
Indeed, Mike Reed must put on a stellar performance this Saturday if he is to maintain his climb up the Jr. Welterweight rankings and garner national attention. If he continues his winning ways inside the ring, we presume that it will only be a matter of time before boxing fans become more familiar with this talented and humble fighter. ■
Author Contact:
Justin Jones: Justinjones2112@gmail.com, @jusjones29
More from "Paparazzi"/ Justin Jones:
Miguel Cotto: Puerto Rico's Shining Star
OPEN MIC: Peter "Kid Chocolate" Quillin Discusses Golovkin, Mayweather Jr., Stevens, and More!
Adrien "The Problem" Broner Holds Media Workout—Photos and More!
"The Alien" vs. "Superman" Coming Soon to a Theatre Near You?
Footnotes
1 This calculation is based on Reed's opponents' combined record at the time or their respective fight and includes data from Alberto Morales.