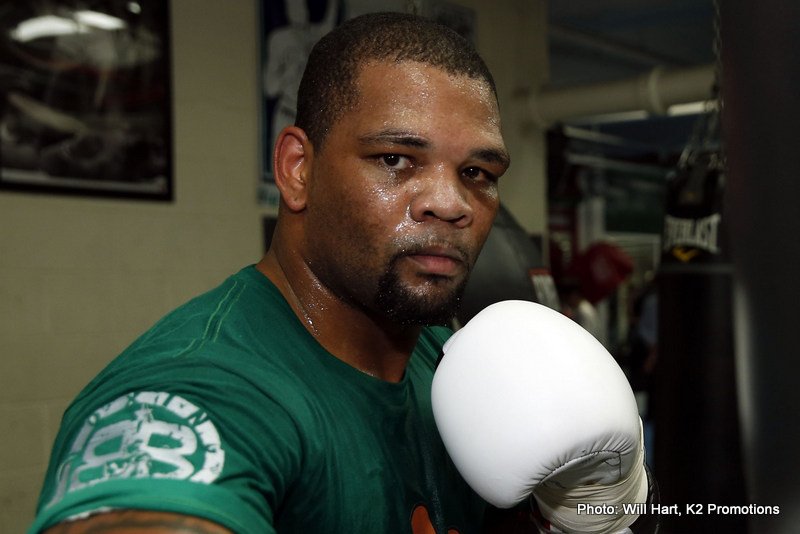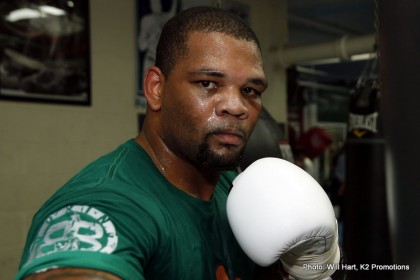 Irish-based former heavyweight contender Mike Perez is raring to go tomorrow night, when he will box his cruiserweight debut. Tipping in at a ripped and ready 198-pounds – an incredibly low poundage when we recall how, as a heavyweight, "The Rebel" fought well into the 240s – Perez, 21-2-1(13) will box for the first time since his unexpectedly quick (1st round) stoppage loss to Alexander Povetkin in May of 2015.
The 31 year old southpaw will face late replacement foe Viktor Biscak of Slovakia tomorrow night in Belfast, Northern Ireland. Perez is looking forward to both putting on a great show and to making a run at his new weight. Biscak is 10-0(7) but a closer look at his shining record reveals the fact that the 32 year old has been matched incredibly soft throughout his near 3-year pro career – Biscak having just one win to his name over a fighter with a winning record.
Tomorrow's fight, though, is all about Perez, and how he looks as a cruiserweight. We've seen heavyweights drop back down in weight before, look great on the scale but then fight like the proverbial empty shell – Chris Byrd being a reasonably recent example of this. Perez does look fit, strong and conditioned at 198 pounds, but has he dropped too much weight too soon?
It's likely Perez will be too much for Biscak tomorrow even if he has come down too low in weight, but if he fights as good as his physique looks, Perez might take his man out in brutally short order. Perez has suffered his share of demons, brought about after the sad events surrounding his November 2013 battle with Magomed Abduslamov; who sadly suffered permanent injury in the fight. How is the Cuban's state of mind today?
Hopefully, Perez can put the bad times behind him and make a great run as a cruiserweight. Looking at him standing on the scale, one has to wonder if cruiserweight is the weight class Perez, at 6'1," should have been fighting in all along. Let's see how he gets on tomorrow night.