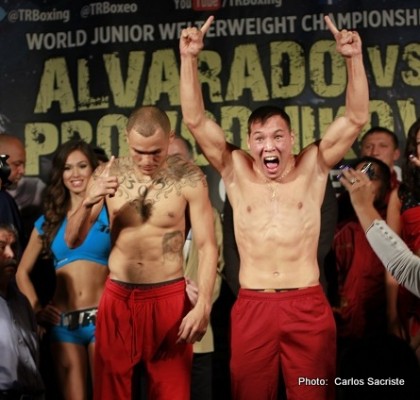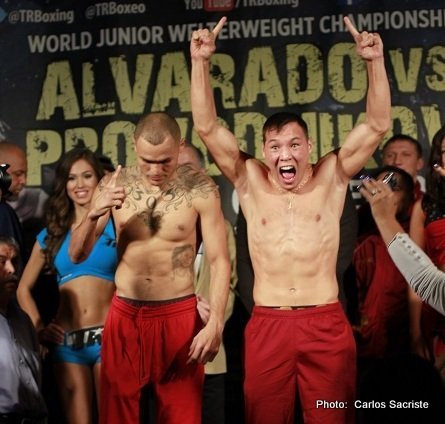 Ruslan Provodnikov – 139.8 pounds
Mike Alvarado – 139.8 pounds
This Saturday evening, the city of Denver, Colorado, will be throwing a party, and the current WBO Junior Welterweight Champion, Mike Alvarado (34-1, 23 KOs), will be the guest of honor.
It's been a long time coming for the nine year fight veteran.
After paying his dues and climbing up the pugilistic ladder, "Mile High Mike" is finally reaping the benefits of his hard labor. His unique brand of intelligent brutality has endeared him to fight audiences around the world, and HBO, as well as promoter Top Rank Inc, feels that Alvarado is quickly developing into one of the biggest stars of the sport.
After showing his grit and physical durability in his big victories over Breidis Prescott, Mauricio Herrera, and Brandon Rios, the hard working Colorado native has seemingly earned his spot as an HBO headliner.
It's a nearly perfect scenario for the 33 year old fighter…except for the fact that he still has to defend his title against one of the hardest pound for pound punchers in the sport, Ruslan Provodnikov (22-2, 15 KOs), this Saturday night on HBO's World Championship Boxing.
If the scales are any indication of focus and discipline, then Ruslan ostensibly has the mental and physical edge going into tomorrow night's main event.
Mike originally weighed in at 141.1 pounds this afternoon, and had to shed the additional weight to keep his status as the WBO Junior Welterweight Champion. After a substantial amount of time had elapsed, the defending title holder weighed in once again under the Junior Welterweight limit of 140 pounds with an official weight of 139.8 pounds.
So this Saturday night, Alvarado will be indeed be defending his title against a very hungry and determined challenger.
Although most fight scribes and knowledgeable fight fans view this match-up as a 50/50 pairing, the brass at Top Rank are hoping that Mike's ability to adapt and overcome, as displayed in his three most recent victories, will prove to be the winning factor at the 1st Bank Center in Denver, Colorado.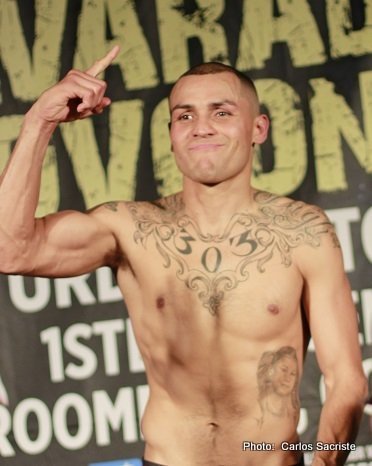 While Mike has shown a world class beard against big punchers in previous outings, will he be able to absorb clean shots from one of the hardest pound for pound punchers in boxing? After struggling to make fight weight, it's very hard to predict how Mike Alvarado will fair against Ruslan Provodnikov.
The dramatic storyline will reach it's climax this Saturday night in Denver, Colorado!!
"Alvarado vs. Provodnikov" will be broadcast live on HBO World Championship Boxing, with a start time of 9:45 PM EST/PST.
Video by Carlos Sacriste