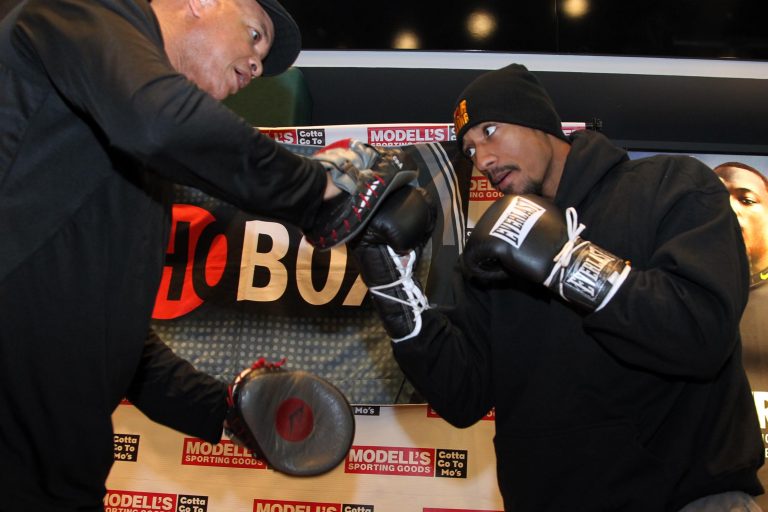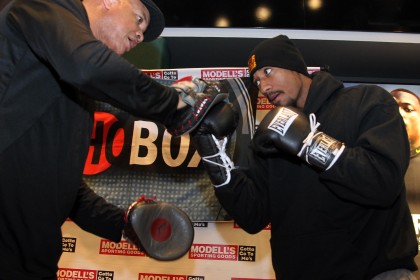 Demetrius "Boo Boo" Andrade (19-0, 13KOs), the 2008 U.S. Olympian and one of the most decorated American amateur pugilists, will get his long awaited opportunity at a world title after several delays and opponent changes, when he takes on the former 2004 Olympian, Vanes "Nightmare" Martirosyan (33-0-1, 21KOs) on November 9th in Corpus Christi, Texas, for the vacant World Boxing Organization`s ("WBO") Junior Middleweight Championship.
Andrade was supposed to fight former WBO champion, Zaurbek Baysangurov last July; however, the Russian pulled out of the bout due to an injury, causing him to be stripped of his belt, leaving the title vacant for the two top rated WBO 154 pounders, respectively, Andrade and Martirosyan.
Their fight will be on the undercard of an HBO tripleheader featuring a rematch between super bantamweights, Nonito Donaire and Vic Dorchinyan and super featherweights, Mickey Garcia and Roman Martinez, fighting for the WBO Title.
"I`m going to win this fight because I`m the superior boxer in every manner and the delay in me fighting for a world title has only made me a more improved and complete overall boxer," said Andrade.
Martirosyan garnered victories over Joe Green and Kassim Ouma and had a draw with Erislandy Lara. The 25 year old southpaw from Providence, Rhode Island, defeated Grady Brewer and in his last fight, Freddy Hernandez. The only common opponent between the two undefeated fighters is Angel Hernandez, who Martirosyan won a ten round unanimous decision in 2008 while Andrade won by a second round knockout, last year.
"Every since I laced up my boxing gloves at the age of six, I dreamed of being a world champion, defending my world title for several years, becoming the best fighter in the world and retiring undefeated and after I defeat Martirosyan, I`ll accomplish my first of many goals as a professional and be in the position to achieve my other objectives, " said Andrade.
His professional success, thus far, should come as no surprise after his stellar amateur career where he accomplished just about everything there is to do as an amateur. Andrade was the 2005 and 2006 U.S. Amateur Boxing Champion, National Golden Gloves Champion in 2006 and 2007 and a Silver Medalist in the 2007 Pan American Games, where he lost a very debatable decision to Brazil`s hometown favorite, Pedro Lima, in the gold medal match, 7-6.
He was the 2007 World Amateur Boxing Champion and was on the 2008 U.S. Olympic Team where he won his first two bouts before losing an extremely controversial decision to South Korea's Kim Jung – Joo by an 11-9 score. He was the number one amateur boxer in the world in the 152 pound division from 2005 to 2008.
"It was an unbelievable experience being a part of the U.S. Boxing Team during the Olympics and it made all the hard work and dedication that I put into the sport for so many years worth it," said Andrade. "I`m going to continue to strive to get better and better each fight and use my unrelenting motivation and desire to be the best in the world to achieve even more success in the pros than I did as an amateur. "
Andrade has defeated everyone he has faced in the professional level and has rarely been tested. While he has not faced the best competition, he`s stepping up his opposition in his last couple of bouts and will be facing his most significant opponent in Martirosyan. Andrade has great fundamental skills because of his vast experience as an amateur, great speed, active in throwing punches, good jab and defense and powerful punching power. His talent and work ethic will certainly give him the opportunity to be boxing`s next big star.
"I waited my entire life for this moment, so I`m fully focused for this bout. After I`m victorious, I want to fight the best boxers in the 154 pound division like Canelo Alvarez, Miguel Cotto or Floyd Mayweather," said Andrade. "I`m going to become the next American boxing star and if individuals don`t know me, they will, after November 9th when I set the stage for my stardom."
He`s trained by his father, Paul and co-promoted by Joe DeGuardia of Star Boxing and Artie Pelullo of Banner Promotions. For more information on him or his Fight to Walk Charity which supports America`s first clinic stem cell trial, visit his website at boobooboxing.com and twitter @boobooboxing.com.