Mike Alvarado (34-3 23KO's) faces Texan born Brandon Rios (32-2-1 23KO's) at the 1st Centre in Colorado on the 24th January. Both fighters vow to make the third fight that little bit more spectacular, which bodes well as their last two meetings produced fireworks.
Alvarado won their most recent bout in March 2013 by unanimous decision. He threw a colossal 860 punches with 260 connecting. As of recent Alvarado's focus remains questionable after a string of events unfolded. He was arrested on the 3rd January when a hand gun was found in the glove box of his hummer. With the distraction undoubtedly going to take its toll, there's still the strong case that it could well spark the fuse to Alvarado, packing every punch that bit harder.
Brandon Rios is searching for the drive he had in their first encounter that saw him win by TKO in round 7. Brutal upper cuts and body shots triggered referee Pat Russell to take action. Since then, Rios has failed grossly to make a mark in the welterweight division. A crushing defeat to Pacquiao on points in November 2013 hurt him badly. A remarkably poor showing followed against Diego Chaves in August 2014, which he won by DQ in the 9th.This left a heavy uncertainty over his future in the sport.
With each fighter knowing what rides on this hugely anticipated bout, Rios has made it pretty clear he's leaving everything in the ring. "For both of us it's do or die. If I lose this fight I may just call it a day as a fighter. I've been at this a long time."
Having the fight in his backyard close to his hometown Denver, Alvarado will leave no stone unturned. Mutual respect between the two has been prominent throughout their rivalry. "Fighting Brandon has and continues to be an honour. This is a trilogy fans will remember for a long time."
A pulsating night awaits for the core of boxing fans, who'll be hoping to see the third and final meeting erupt.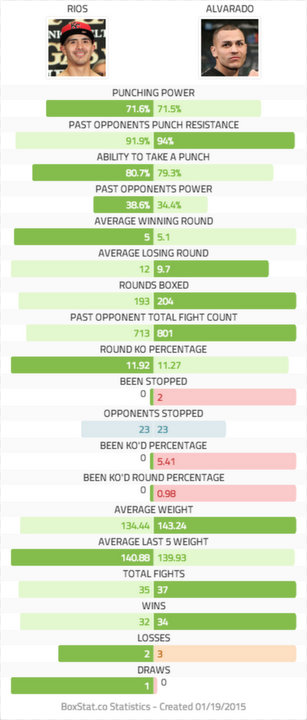 stats courtesy of BoxStat.co