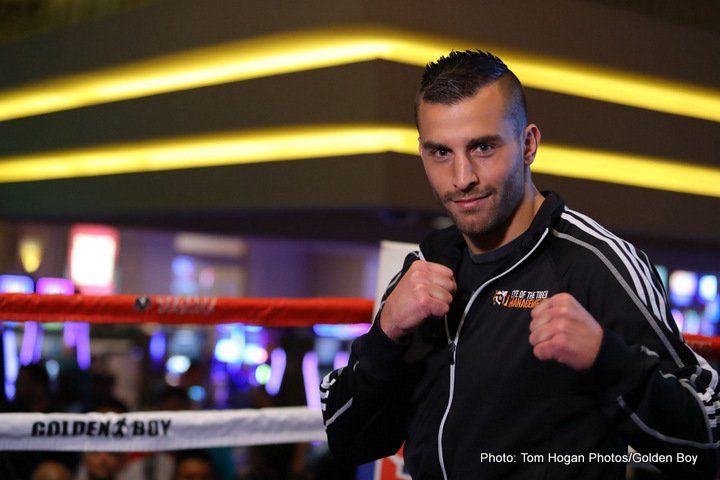 It's possible the fight has been overtaken somewhat in terms of hype and fan attention (an understatement if ever there was one!) but Miguel Cotto will face Yoshihiro Kamegai on August 26; the night Floyd Mayweather and Conor McGregor meet up in what is either a joke fight or a genuinely fascinating crossover fight (depending on your own view).
And as good an action fight as Cotto-Kamegai could be (Freddie Roach has gone on record saying he anticipates his fighter being involved in a "war"), we could be in store for a real bombs away encounter on December 2. According to a piece on RingTV.com, plans are afoot for Cotto, who is closing in on retirement after having had a a great career, to fight in December should all things go well with the Kamegai 154 pound title fight. One name being suggested for the date – to be held in New York with HBO to televise – is former middleweight titlist David Lemieux.
According to a source's info, RingTV.com reports, how Cotto, 40-5(33) will fight again before the end of the year as long as he both wins on August 26 and picks up zero injuries in the upcoming fight.
Needless to say, a Cotto-Lemieux fight would be an attractive one, and maybe it will be four-division king Cotto's farewell fight. Lemieux is almost always involved in exciting fights and he has the natural ability to turn an opponent's lights out with a single punch at any time during a fight (see his chilling KO over Curtis Stevens back in March). At this stage in his long career, Cotto, aged 36, would be risking quite a bit by agreeing to get it on with Lemieux.
Cotto is more skilled than the Canadian and he has an excellent chin, but on the flip-side, he has slowed a little and he can be hit. Again, with Lemieux it only takes one. Still, when Cotto last fought, in November of 2015 against Canelo Alvarez, the Puerto Rican fought very well, appearing to push Alvarez close only to lose a wide decision. Cotto would likely be a pretty big favourite to beat Lemieux but the fight would be no formality.
Neither is the Cotto-Kamegai fight, and to look too far ahead is to do the tough and determined warrior from Japan a disservice. Can Cotto put two impressive and exciting wins together as he winds down his illustrious career?