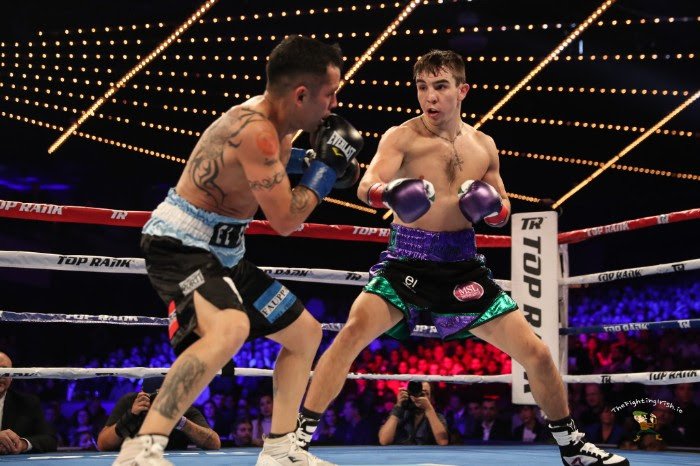 Michael Conlan will make a step up in opposition in 2018, according to MTK Global co-founder Matthew Macklin, following the Belfast featherweight's latest victory in New York last Saturday night.
Former world amateur champion Conlan moved to 5-0 (4KOs) as a pro with a comprehensive six-round points win over Argentina's Luis Fernando Molina at Madison Square Garden's Theater.
Fighting on the undercard of Vasyl Lomachenko's successful WBO world super-featherweight title defence over Guillermo Rigondeaux, 26-year-old Conlan featured in the chief-support bout ahead of his fellow Olympic medallists.
The Irishman headlined at the same venue on his pro debut last March and the MTK Global-managed fighter will return to MSG once again on another Top Rank-promoted bill on St Patrick's Day 2018.
"I think Paddy's Day will be the next fight, so he'll go home and enjoy Christmas and the new year, rest up and build up towards Paddy's Day," said Macklin, who predicted that 2018 will be a big year for Conlan.
"The first year with his pro debut was huge. They [Top Rank] have kept the ball rolling since. He's had massive hype and he's had a year in the gyms here, sparring with the likes of Oscar Valdez and Jessie Magdeleno.
"He knows what the pro game is all about now. I think next year they'll start stepping him up. He's got six rounds under his belt – that will stand him in good stead and who knows, Paddy's Day could be an eight-rounder.
"Maybe they'll go six [rounds] again, we'll see, but I think certainly the one after will be an eight-rounder and we'll look at stepping up the opposition slowly but surely."
Conlan delivered an impressive switch-hitting display to dominate all six rounds against durable 29-year-old Buenos Aires native Molina, who carried a 7-3-1 record into the fight.
Boxing as a southpaw for much of the fight, the Irishman cruised to a shut-out 60-54 victory on all three judges' cards.
"I think that's the best he's boxed so far in his pro career," said Macklin. "There's big pressure on him in the sense that he's getting these great slots and great exposure, which is what you want, but you have to remember they're only his first few professional fights.
"He's been a little bit too eager at times… but I think in this fight he really settled down and found a rhythm and his distance.
"His shot selection was really good and I thought he boxed really well from the southpaw stance," added the MTK Global fight adviser.
While Conlan eased to victory, the bout marked the first time that the Falls Road fighter has gone six rounds as his previous four paid wins came via early stoppages.
However, Macklin was happy to see the Manny Robles-trained fighter bag rounds and pro experience.
"It's nice to get stoppages, but to be honest, Mick's not really a one-punch concussive heavy hitter," said the former world middleweight title challenger. "That's not his style. His style is that he's very clever, he has a good judgement of distance and a good variety of shots.
"He's almost a bit of a counterpuncher when he's at his best and he was treading shots through the middle, finding gaps, setting traps and using his feints.
"He used the ring and his upper-body movement was good. I think that's the best he's boxed so far," added Macklin.
Meanwhile, MTK Global-managed Seán Turner and Archie Sharp both recorded wins on Saturday night in Europe.
Dublin heavyweight Turner (12-1, 8KOs) recorded a career-best eight-round knockout win over Arnold Gjergjaj in Basel, while Welling super-featherweight prospect Sharp (11-0, 6KOs) defeated Rafael Castillo over eight rounds in London.
###
Belfast featherweight Michael Conlan defeated Argentina's Luis Fernando Molina over six rounds on the undercard of Lomachenko-Rigondeaux
Michael Conlan has boosted his pro record to 5-0 following a dominant points victory over Luis Fernando Molina at New York's Madison Square Garden Theater.
(Photo credit Ricardo Guglielminotti/The Fighting Irish)
Belfast featherweight Conlan featured in the chief-support bout to Vasyl Lomachenko's world super-featherweight title win against Guillermo Rigondeaux.
Returning to the scene of his paid debut last March, the 26-year-old Irishman recorded a 60-54 shutout on all three judges' cards over 29-year-old Buenos Aires native Molina.
Delivering an impressive display of boxing skills, former world amateur champion Conlan switched from orthodox to southpaw with ease and looked comfortable throughout his first paid bout to last six rounds.
"I'm happy enough and I was happy to get the rounds," said Conlan. "I thought I was going to get him out of there, but it wasn't really unfortunate because I want to move up to eight rounds next time, so it was good to get the six in.
"I thought it was a nice and clean performance, I didn't really take any shots… it was probably more like my style of fighting, on the back foot and slick boxing. I'm happy enough and looking forward to the next one.
"Sometimes I think I'm a better southpaw than orthodox! But I showed that I can switch it up and I can confuse opponents, so I think I did that tonight.
"I felt comfortable," continued the Falls Road fighter. "I just needed to make sure I was getting ahead and I didn't take any punishment or any shots that I shouldn't be taking.
"It's all a learning process at the end of the day and I need to keep learning to progress as a professional fighter. That's six rounds in the bank now and we can move up to eight next and look forward to a big night on St Patrick's night next year."
The Irishman – a two-time Olympian – revealed after the bout that his left hand was sore following his victory, but insisted that it would not impact on his training plans.
"It was just a bit of bruising around the knuckles," said Conlan. "It's no problem. The guy had a tough head! I hurt him a few times, but he survived and fair play to him," continued the Belfast native, who will return to Madison Square Garden on St Patrick's weekend in 2018.
"I'll have three weeks off [over Christmas] maybe because I've been in camp all year and it's been a fast, hard year," said Conlan. "Five wins, four KOs – I'd have liked if it was five KOs, but unfortunately not! I'm happy anyway and looking forward to a big 2018."