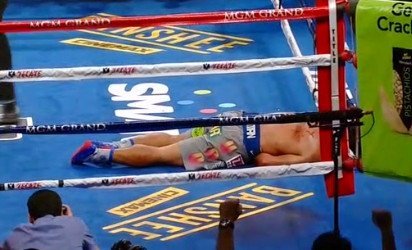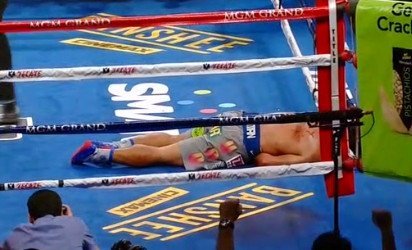 Floyd Mayweather Jr. wasn't bashful about giving his opinion about Manny Pacquiao in Mayweather's press conference with WBA/WBC junior middleweight champion Saul "Canelo" Alvarez in San Antonio, Texas this week. Mayweather told the fans that he saw Pacquiao as an over-the-hill fighter, and he then complimented Juan Manuel Marquez seemingly for a job well done in knocking Pacquiao out last December.
Mayweather said "Pacquiao's a has-been; his career is over. [Juan] Manuel Marquez is a legend. I commend him."
Mayweather seemed a little annoyed because one of the fans asked him make a fight with Pacquiao. I guess Mayweather wasn't feeling up to playing Mr. nice guy on this day and this is what his response was in giving a dire prediction of Pacquiao's future.
In fairness to Mayweather, we really don't know what the future holds for the 34-year-old Pacquiao. He was just knocked out in the 6th round by Marquez last December, and that knockout defeat was especially brutal with Pacquiao getting knocked out cold.
There are already a number of top ex-fighters like Bernard Hopkins who doubt whether Pacquiao can come back from this type of knockout. It was pretty brutal, and it could be tough for Manny to come back from that kind of defeat. He's facing a tough opponent for his first fight back from the KO in his scheduled fight against Brandon Rios on November 23rd, and that's probably not the ideal guy for a person who was knocked out like Pacquiao was to be fighting in his first fight back.
Pacquiao also didn't look good in losing his previous fight to Timothy Bradley by a 12 round majority decision last year. The fight was close, but Pacquiao looked old and sluggish in that one.
One thing is for sure and that's if Pacquiao can't beat Rios, then he probably is past his prime and should think about retiring. It would be sad to see Pacquiao continuing to fight and taking more and more losses. His promoter Bob Arum has some guy that a younger Pacquiao would do well against, but I'm not so certain that the soon to be 35-year-old Pacquiao will do well against them.