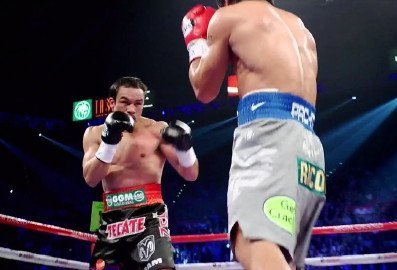 By Carlos Ortiz: In a fight that would surely catch the imagination of the boxing world, there is a possibility that 42-year-old Mexican star Juan Manuel Marquez (57-7-2, 42 KOs) could return to the ring for a huge fight against 35-year-old middleweight Miguel Cotto (40-5, 33 KOs) in 2016.
Cotto's trainer Freddie Roach likes the idea of Cotto fighting Marquez. It's a fight that makes sense on many levels. Cotto was just beaten by a much larger Saul "Canelo" Alvarez last November, and there are no real big money fights for Cotto right now. What Cotto is looking at is a lot of difficult fights against younger lions that wouldn't give him the kind of money that he received in his fight against Canelo.
However, if Cotto were to fight Marquez, it would be a fight that would attract attention, give Cotto a big payday, and put him in the position where he would be a solid favorite.
"[Marquez] has never closed the door [on fighting again] and he's made no decision to retire from boxing," Nacho Beristain said to Fox Deportes. "I have not spoken with Juan Manuel for three months, but I know him and he's never had any problems with inactivity."
Marquez has been inactive since beating Mike Alvarado two and a half years ago in 2014. Marquez suffered a knee injury in that fight, and the injury has been slow in healing. Marquez has turned down big money fights against Manny Pacquiao, who he knocked out in six rounds in their fight in 2012.
"I do not rule out [this version of Marquez] being capable of fighting against Cotto. If [Marquez] returns to the ring, I don't think it is unreasonable to do it with an opponent of that level. It would be a good fight, given their styles," Beristain said.
Cotto and Canelo will very likely face each other in 2017 in a rematch. There's too much money on the table for them not to face each other a second time. However, in the meantime, Cotto needs to stay busy and pick up a solid victory over a big name. Marquez gives Cotto his best chance of achieving that goal. If Cotto were to face one of the better known middleweights like Peter Quillin, Andy Lee or Daniel Jacobs, there would be a good chance of him losing to those fighters due to their size advantage over him.
Even if Cotto were to drop down to 154 to take on the likes of Erislandy Lara, Demetrius Andrade or Jermall Charlo, the chances of him losing to those fighters would be equally high. The problem is Cotto is really little more than a pumped up light welterweight, and he doesn't have the size at 5'7" to be fighting the quality big guys at 154 and 160. It's a testament to Cotto's talent that he was able to find success at 154 and 160. Never the less, Cotto would be better off fighting Marquez next rather than any of the above mentioned fighters. A win over Marquez would be the perfect tune-up to get Cotto ready for a second fight against Canelo.