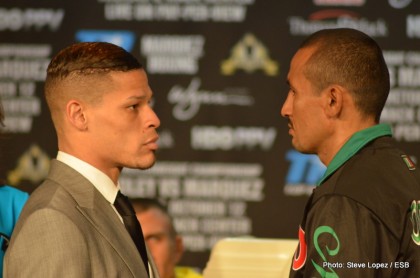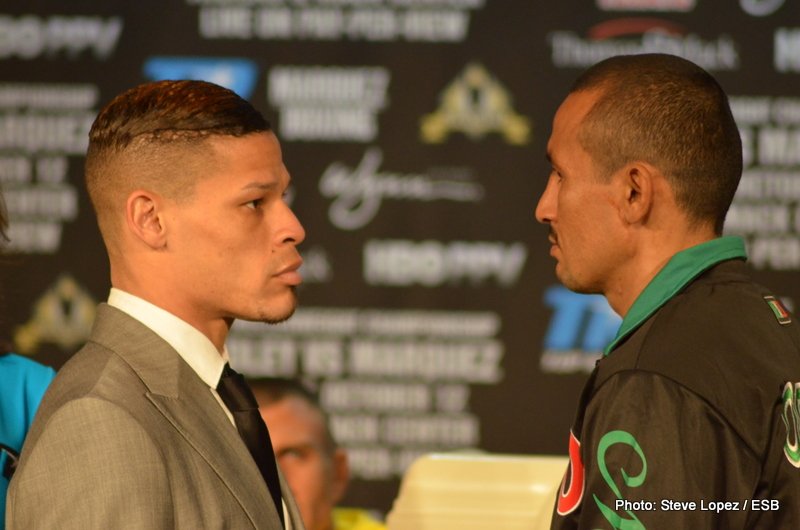 The Final press conference for the undercard fights on the Marquez-Bradley welterweight showdown took place on Thursday in Las Vegas.
In a battle of Orlandos, the co-main event features another Puerto Rico Vs. Mexico face off: Orlando Cruz and Orlando Salido. At stake for both fighters is the vacant WBO Featherweight title. Salido, the Mexican bulldozer inside the ring, is aiming to bounce back from his defeat against Mikey Garcia. After having successful fights against Puerto Rican fighter Juan Manuel Lopez, Salido is no stranger to fighting and defeating Boricuas. He comes to this fight with confidence of scoring another victory and recapturing the title.
Two victories are in the mind of Orlando Cruz. One of those victories has already been achieved: a personal victory with himself. Months ago, Cruz openly admitted to being a member of the gay community. Having already found comfort with himself, Cruz is aiming to become the first recognized openly gay champion in boxing. The task against Salido will not be an easy one as the Mexican fighter has constantly shown determination in all of his notable fights, even in defeat.
Other supporting bouts for the HBO PPV telecast are Jose Ramirez Vs. Ukraine's Vasyl Lomachenko as well as Anthony Smith Vs. Sean Monaghan.
Lomachenko finds himself in a unique situation as he makes his professional debut while fighting for the international version of the WBO Featherweight title. It's uncommon for professional debuts to have a title at stake. Lomachenko is sure to relish the opportunity and make a name for himself as part of the telecast. Jose Ramirez will be the one to welcome him to the professional stage.
The weigh-in for all of the fights in this Top Rank card is scheduled for Friday afternoon at the Wynn Las Vegas.
Here are some notable quotes and visuals from the undercard press conference.
BOB ARUM
"This is a special kind of Mexican because this Mexican was world champion who went to Puerto Rico who defeated and knocked out one of the most popular fighters in Puerto Rico, Juan Manuel Lopez. Not once, but twice. So this Mexican has become a legend in Puerto Rico."
"If I would've put on a fight with him (Orlando Cruz) back then (early years of promoting in the 60's), there would be 1,000 protestors outside protesting the match and saying that people should boycott it because it involved a boxer with a different sexual orientation. So the world has changed and it's changed for the better."
ORLANDO SALIDO
"For Orlando Cruz, I just want to wish him luck. May the best win on Saturday. I'm prepared for everything, for a war inside the ring. You know me. I'm a warrior"
ORLANDO CRUZ
"I'm going to make history. I'm very happy, excited. Six months training. Hard training three times a day."
"I'm ready. I respect Salido and Team Salido. But it's my time. It's my moment. Thank you everyone. Saturday I will be world champion."