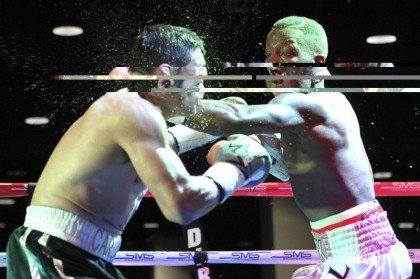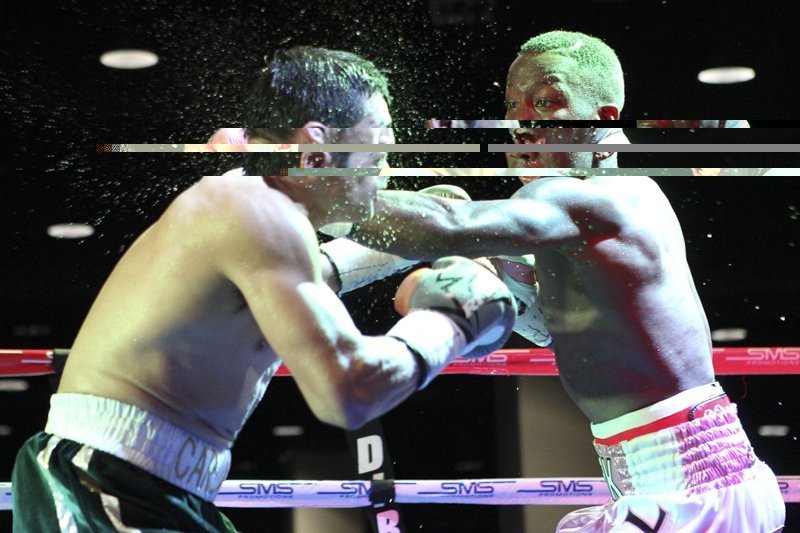 Earlier tonight, Curtis "50 Cent" Jackson's SMS Promotions and Lou DiBella's DiBella Entertainment presented an exciting seven-bout card before a loud and vibrant crowd at the beautiful Resorts World Casino in Jamaica, Queens. Hot 97's DJ Carmelo created a party-like atmosphere mixing it up from the DJ booth and the special Monday night of boxing also featured three separate live performances from three of 50's G-Unit rap artists including Tony Yayo.
Headlining the card was SMS promoted undefeated junior lightweight contender Mark Davis taking on the always-dangerous Carlos Vinan.
From the outset, it was apparent that Davis was the much quicker of the two, as he fired off lightning-fast combinations that dazzled the crowd. In the second round, Davis even took time to acknowledge his promoter 50 Cent, who was sitting ringside, asking him what he wanted, before firing off another blistering combination that seemed to daze Vinan.
Round after round saw more of the same, as Davis was able to control the action from the outside, using beautiful footwork. To his credit though, Vinan hung tough and kept coming forward, taking a number of heavy shots in the process. In the end, Davis was just too fast and too accurate for Vinan, winning by scores of 99-91, 98-92, 97-93, improving his record to 18-0, 5KO's.
PAGAN DOMINATES IN HIS RETURN
Making his DBE and SMS co-promotional debut was the five-time NY Golden Gloves champion Shemuel "The Chosen One" Pagan, who, like Galeano, recently signed an exclusive co-promotional agreement with the two promoters. Pagan got things started fast in his junior welterweight matchup, landing a huge overhand left from his southpaw stance, just moments into the first that sent his opponent Calvin Smith crashing to the canvas. Smith was able to survive the round, but it was evident he wasn't in the same league as Pagan.
A big left hook to the body dropped Smith again midway through the third and he looked as though he would be counted out on his knees. Somehow, though, he was able to rise to his feet and once again make it out of the round.
Looking to close the show in impressive fashion, Pagan came out on fire in the fourth, throwing caution-to-the-wind, and throwing everything he had at Smith. Huge shots had Smith on unsteady legs for most of the round, but amazingly he was able to once again survive. In the end, Pagan was awarded the dominant four-round unanimous decision, winning by scores of 40-33, 40-33, 40-34, improving his record to 3-0, 1KO in the process.
In his professional debut, former #1-rated amateur and National Champion Christopher "Golden" Galeano was upset, losing a unanimous four-round decision to 1-0 David Rohn. Galeano, who like Pagan just recently signed a co-promotional agreement with DBE and SMS, was dropped almost immediately from a check right hook from the southpaw Rohn. It was a flash knockdown, as Galeano was up at the count of one and seemed to control the rest of the round.
Galeano came out much more determined in the second, scoring with hard combinations, mixing in a vicious body attack in the process. The third round saw more of the same from Galeano, as he seemed to be breaking down Rohn, who was breathing heavy after absorbing a number of hard shots to the body.
With Galeano in control a short right uppercut from Rohn dropped him again in the fourth frame. Once again, the knockdown was a flash knockdown, but nonetheless the judges scored the round 10-8 for Rohn.
In the end, all three judges scored the bout in Rohn's favor, 38-36, 38-37, 38-37.
Rising middleweight contender Lamar Russ defeated Philadelphia's extremely tough and even more awkward Latif Mundy. Mundy spent most early rounds dancing and clowning around as Russ easily outworked his shorter opponent.
The action picked up in the middle rounds as Mundy stopped moving as much and began exchanging. Russ showed good poise though, keeping his distance and scoring from the outside.
To his credit, Mundy hung tough, and had some success at times, but in the end, Russ was just the much busier of the two, winning by scores of 79-73, 79-73, 77-75. With the win, Russ improves to a perfect 14-0, 7KO's, while Mundy drops to 10-8, 4KO's.
DBE's light heavyweight prospect Travis Peterkin improved to a perfect 9-0 pitching a six-round shutout over Michael Wilmer. Peterkin pressed the action throughout, walking Wilmer down round after round behind a heavy jab. By the third round, it was evident Wilmer was just looking to survive, as the southpaw Peterkin continued to stalk him around the ring, landing hard shots with both hands, particularly his straight left.
Fighting in front of a large contingent of fans, Far Rockaway's pro-debuting Joseph Williams came out firing and never stopped. As soon as the bell sounded, Williams stormed out of his corner and began landing hellacious shots against his opponent Joseph Powers (1-1, 1KO). The NY Golden Gloves champion Williams never let Powers into the bout as he was all over him, dropping him three times before the referee called a halt to the contest at 1:23 of the very first round.
In the opening bout of the night, SMS's pro-debuting Ryan Martin destroyed Darus Somieri (0-1) scoring a devastating second-round TKO. The amateur standout Martin was very impressive, displaying blistering speed and landing vicious combinations to both the body and head from the outset. In the second round, a huge overhand right sent Somieri down hard. Somieri was able to beat the bout, even displaying a smile upon the action resuming, but the end was near as Martin jumped all over his opponent, trapping him against the ropes and unleashing a barrage of unanswered blows. With Somieri taking heavy punishment the referee had no choice but to jump in and call a halt to the contest at 1:42 of round number two.