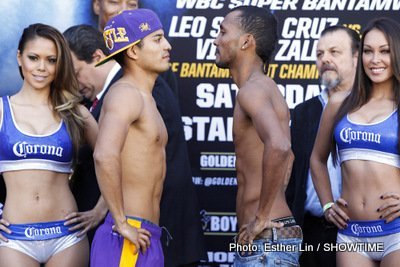 By Corey Quincy – This Saturday live on Showtime's World Championship Boxing series we will see Anselmo " Chemito " Moreno ( 33-1-1 ) face off against Mexican brawler and WBC World Champion Abner Mares ( 24-0-1 ) in a key match up for total Bantamweight supremacy. And I believe it could turn out to be very interesting.
The fight is making many regular boxing viewers highly enthusiastic as it features a strong contrast of that Boxer against brawler style that often leads to highly entertaining fights.
Mares is the WBC World Bantamweight champion and is well known for retaining his title by out-brawling his opponents in fan-friendly battles. His shots are often " telegraphed " and his style is pretty basic but his youthful stamina and relentlessness rarely gives even his top opponents times to act on his flaws. Moreno will have to disregard these difficult patterns and not allow Mares to trap him and set his shots off like he manages to do often with other opponents.
Moreno is the exact opposite. A counter-punching southpaw boxing expert moving down from the Super Bantamweight division where he had captured the WBA World title. He is known for having a less active work rate in the ring but throwing much more effectively compared to Mares. This could be a real kryptonite stylistically for Mares, As it is for many fighters going up against awkward styled boxers like Moreno.
If Mares is thoroughly prepared for the fight he might be capable of putting his relentless pressure fighting and great power punch consistency to his advantage against Moreno. And with luck he may potentially, and in my views quite triumphantly win the difficult contest with either a late stoppage or hard-fought decision. He has the heart of a champion and will need to use every bit of it to be able to defeat one of his greatest foes since winning his title this Saturday.
Otherwise it is highly possible that with Anselmo Moreno's commendable and slick boxing skills, that some actually compare to the great Pernell Whitaker, can thrive him past the stern challenge the gritty Mares presents. After all, we have seen often in boxing how talented boxers like Moreno can mentally trick one-dimensional warriors like Mares.
Will the pattern of boxing repeat? or the Mexican warrior prevail? Tune in LIVE on the Showtime Network's World Championship Boxing live from the Staples Center in Los Angeles to see who takes the title on Saturday.