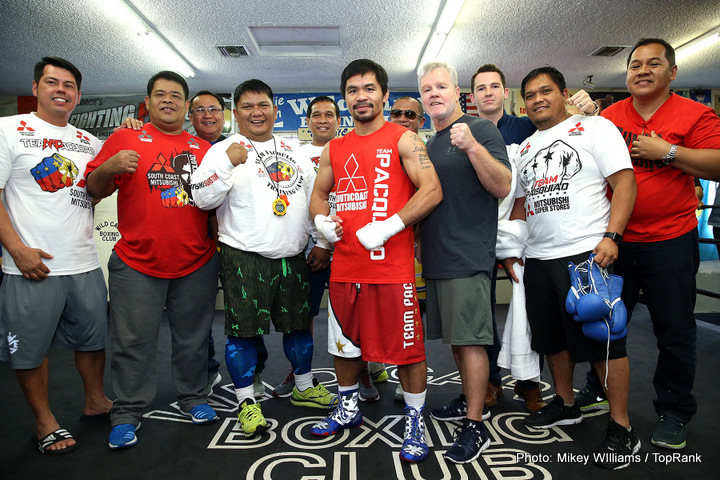 The Manny Pacquiao-Lucas Matthysse fight is not going away. In fact, it's headed to Malaysia on July 8. As per a news report from RingTV.com, a verbal agreement has been reached for the fight to go ahead in Kuala Lumpur and Matthysse's version of the WBA welterweight belt will be on the line.
It's still not clear if Freddie Roach will be involved in training his one-time star fighter, but Pac-Man says Bob Arum is welcome to attend the fight.
"[Arum] is invited and there's no problem," Manny told media in Manila. "I think after my fight with Matthysse, we will talk regarding the possible Pacquiao[Vasyl] Lomachenko fight in the future. That is a good fight because he is a champion and I'll be challenged to become a champion again. At the same time, I don't want the people to say that's just a tune-up fight."
Top Rank Arum was far from convinced this fight would happen, yet according to Manny, it's on. What can we expect, and is Pacquiao serious about wanting to fight pound-for-pound king Lomachenko? Both Pacquiao and Matthysse are past their best, yet at the same time both men still have a fair amount to offer. And of course, Pacquiao and Matthysse remain big names, big draws; Pacquiao especially and especially in Malaysia.
Pacquiao has not won a fight in some time, not since he widely decisioned Jessie Vargas in November of 2016, while in his own most recent outing, in January (against the largely unknown Tewa Kiram, Matthysse scoring his second comeback win following his stoppage loss to Viktor Postol; Matthysse winning the regular WBA belt) 35 year old Matthysse only looked good in scoring the KO. Pac Man, pushing close to his fortieth birthday, still has speed, while Matthysse still has power – which wins in July?
Oscar De La Hoya, who promotes Matthysse, says the fight has Fight of The Year potential, and it is indeed hard to imagine a dull encounter between these two – Pacquiao and Matthysse having a combined 74 KO's. Manny actually stated how he sees himself as the underdog in this fight. While many fans will not agree with that logic, the fight does have the look of an interesting one, and a Matthysse win cannot in any way be ruled out.
Pac-Man says he likes Matthysse's style of fighting:
"I like [Matthysse's] aggressive fighting style," the superstar said. "That's what I want, to entertain the boxing fans."
If Pacquiao does win this one, he will be back as a "world" champion, while if the all-time great loses, it will likely mark the end of his thrilling ring career. Manny says he's looking forward to the challenge.