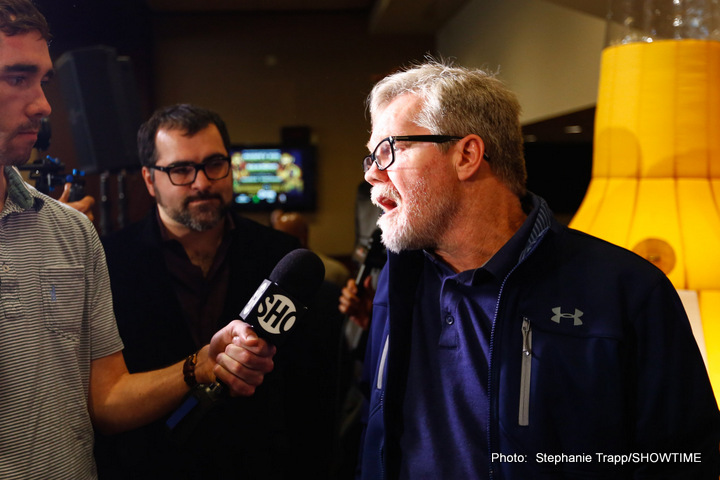 The last time Manny Pacquiao and Freddie Roach worked together, Pac-Man was upset by Jeff Horn in Australia. The last time Manny fought, he was without Roach for the first time in almost an age. Pacquiao parted ways with Roach after the controversial decision loss to Horn and he went on to defeat Lucas Matthysse in his most recent fight, for which he was cornered and trained by his good friend Buboy Fernandez.
But now, as confirmed by a news story from Sports illustrated, Pacquiao will have Roach back in his corner for his upcoming January 19th fight with Adrien Broner:
"Manny reached out directly," Freddie told S.I. "We sat together one-on-one. I'll be in his corner Jan 19th."
Roach will work alongside Buboy, with Freddie to be in a "supervisory capacity" for what really is a must-win fight for the soon to be 40 year old future Hall of Famer. After the shock loss to Horn it seemed this long-running and hugely successful partnership had reached its end, and somewhat unceremoniously that that. But now the two have evidently sorted out any differences they had (Freddie was hurt when Pacquiao "fired" him after the Horn defeat, though not in a face-to-face manner; this after the two had worked together for over 15 long years).
Pacquiao may need Roach with him if he's to beat Broner. Pacquiao might be the general favourite in the fight in the opinion of most fight fans, but Broner is both the younger and naturally bigger man. Lose and Manny can forever say goodbye to that big revenge rematch with Floyd Mayweather. Ever since that May 2015 loss, both Pacquiao and Roach have craved a second go at Floyd. Now they are back together, maybe the fighter and the trainer can get that far.
Broner, though, despite his flaws, will not go easily. Broner has spoken about the fact that Pacquiao has been stopped three times and how he himself will "dismantle" Pacquiao. Manny meanwhile, laughed a little over the physical appearance of Broner at this week's two pressers. "He looks a little fat," Pacquiao said of "The Problem."
Both fighters must train diligently for the January fight.