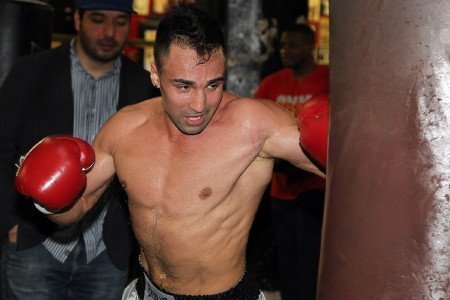 By Ed Patrick: Golden Boy Promotions CEO Richard Schaefer is looking to match 41-year-old former three division world champion Shane Mosley (46-8-1, 39 KO's) against WBA World welterweight champion Paulie Malignaggi (32-4, 7 KO's) on April 27th for Malignaggi's next title defense, according to RingTV.
Schaefer said to RingTV "Paulie Malignaggi…and it might be, if we can get it done, what is being discussed is the return of Sugar Shane Mosley."
This isn't the big fight that Malignaggi was hoping to get against Ricky Hatton, but this is probably the best that Malignaggi can get in terms of a well-known opponent that the casual boxing fans are familiar with. Malignaggi obviously wants to keep his World Boxing Association 147 pound title for a little while longer, and that's not going to happen if they match him against a decent welterweight. Malignaggi almost lost to what was supposed to be a very beatable Pablo Cesar Cano last October.
The fight turned out to be much more difficult for Malignaggi than he imagined it would be, and he found himself on the canvas late in the fight when Cano knocked him down with a scorching right hand to the head. Had Cano a little more hand speed he'd have won this fight. As it is a lot of boxing fans swear that Cano was ripped off in that fight and should have won it. I had Malignaggi just barely winning, but it wasn't impressive stuff from him. Erik Morales took Cano apart last year in stopping him in the 10th round.
Mosley has lost three out of his last four fights, and looked poor in all of them. Mosley lost to WBC junior middleweight champion Saul "Canelo" Alvarez by a 12 round unanimous decision last May in a fight where Mosley took a terrible beating.
Malignaggi doesn't have the power to give Mosley a beating like Alvarez did, but I think he's a good enough boxer to win this fight because Mosley has had problems pulling the trigger in his last four fights. He's not throwing many punches and he's getting beaten because of it.