Promoter Lou DiBella predicts that Teofimo Lopez won't get $5 million for his title defense against his IBF mandatory challenger George Kambosos Jr when the smoke clears from this week's purse bid on February 18th.
Top Rank promoter Bob Arum was unable to negotiate the purse for Teofimo's fight against Kambosos Jr (19-0, 10 KOs), so he let it go a purse bid.
Arum will let the different bidders decide what Teo's title defense against Kambosos Jr is worth, but he's already told Teofimo it's a non-marquee fight.
The Australian Kambsosos is uneaten, but he's not well known in the U.S, and he's not expected to give Teofimo any problems.
If Kambsoso Jr had a chance of beating Teofimo, the boxing public would be a lot more excited about seeing this fight than they are right now.
Kambosos coming to win
"I promote Geoge [Kambosos], and let me tell you something; George isn't going into this fight to lose," said DiBella to Secondsout. "George isn't going into this fight like it's some kind of mismatch that he can't win.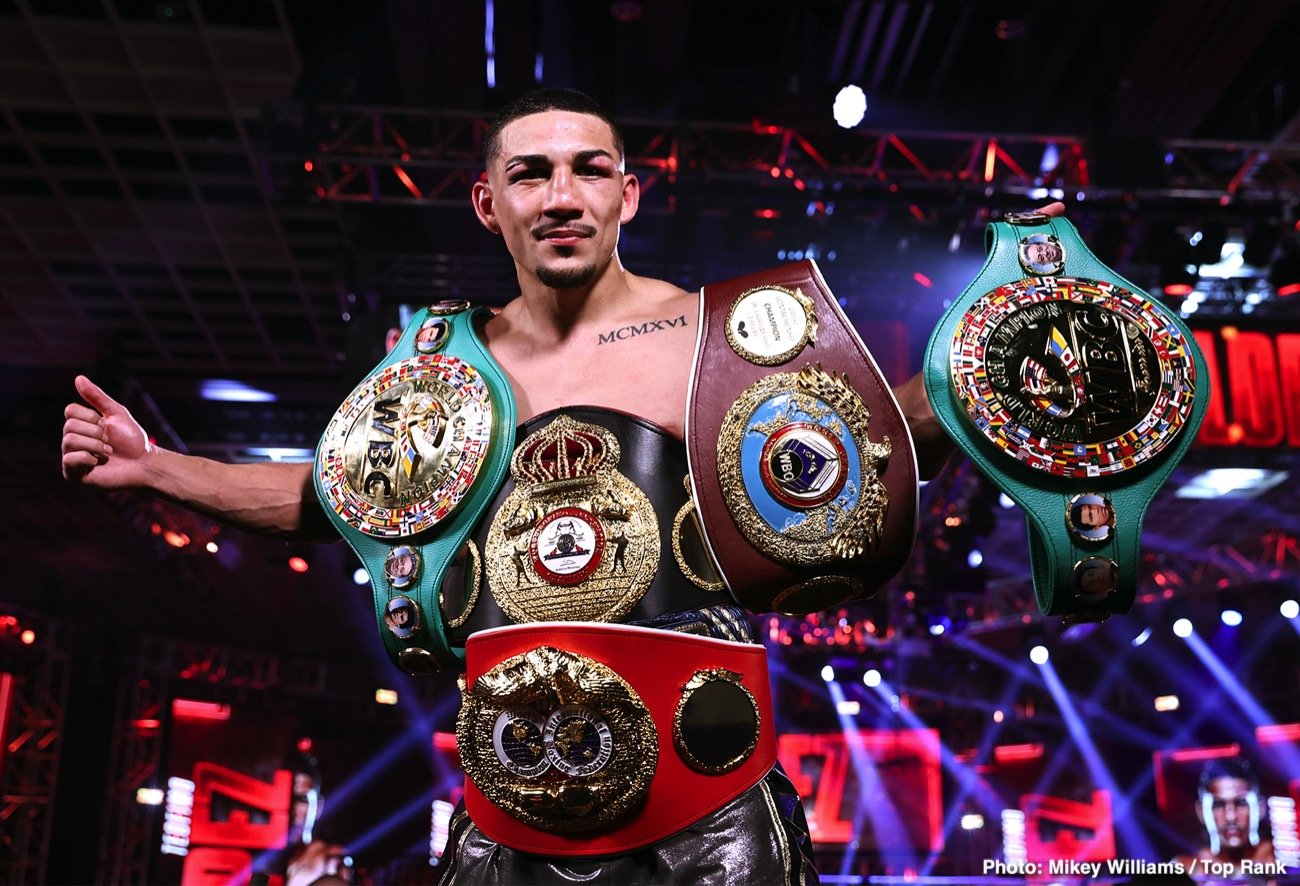 I've never seen a kid so confident and excited to get in the ring with another young stud to prove he's on another level. George feels very, very strongly that he's on the level of the Haneys and the Lopezs and the Ryan Garcias, and he belongs in those discussions.
The only way he can prove it in the ring. He's not going to give up his opportunity as the mandatory. In fairness to George, and this is lost on many boxing fans, this is a legitimate mandatory.
I mean, the kid has fought, if you look at George's record, I've not babied him. He doesn't have a Chris Lovejoy record of opposition. He's fought some decent quality lightweights, and in his last fight, he fought Lee Selby in the UK.
I mean, Lee is a terrific fighter, a guy with a pedigree and a track record and resume. I thought George clearly beat him on Lee's home turf, and he earned that opportunity," said DiBella.
It's good that Kambosos Jr will be coming to win against Teofimo, but the fighter that we saw struggle to beat Lee Selby and past his best 37-year-old Mickey Bey, won't do well against him.
Kambosos Jr is a good B-level fighter, but he's nowhere near A-level, but you can't expect him promoter DiBella to tell it like it is about his limited ability.
Teofimo wants to fight Kambosos so badly rather than face the far more dangerous threat in a rematch with Vasily Lomachenko because he knows he can beat him.
He clearly doesn't know if he can beat Loma in a second fight. If Teofimo did think he could beat Lomachenko, he would have readily agreed to a rematch.
Arum doesn't give a f*** now
"I know Teofimo is not going to want to give up a belt [IBF]," DiBella said. "He loves being undisputed. He doesn't want to give up a belt, so I think it will be a Kambosos fight.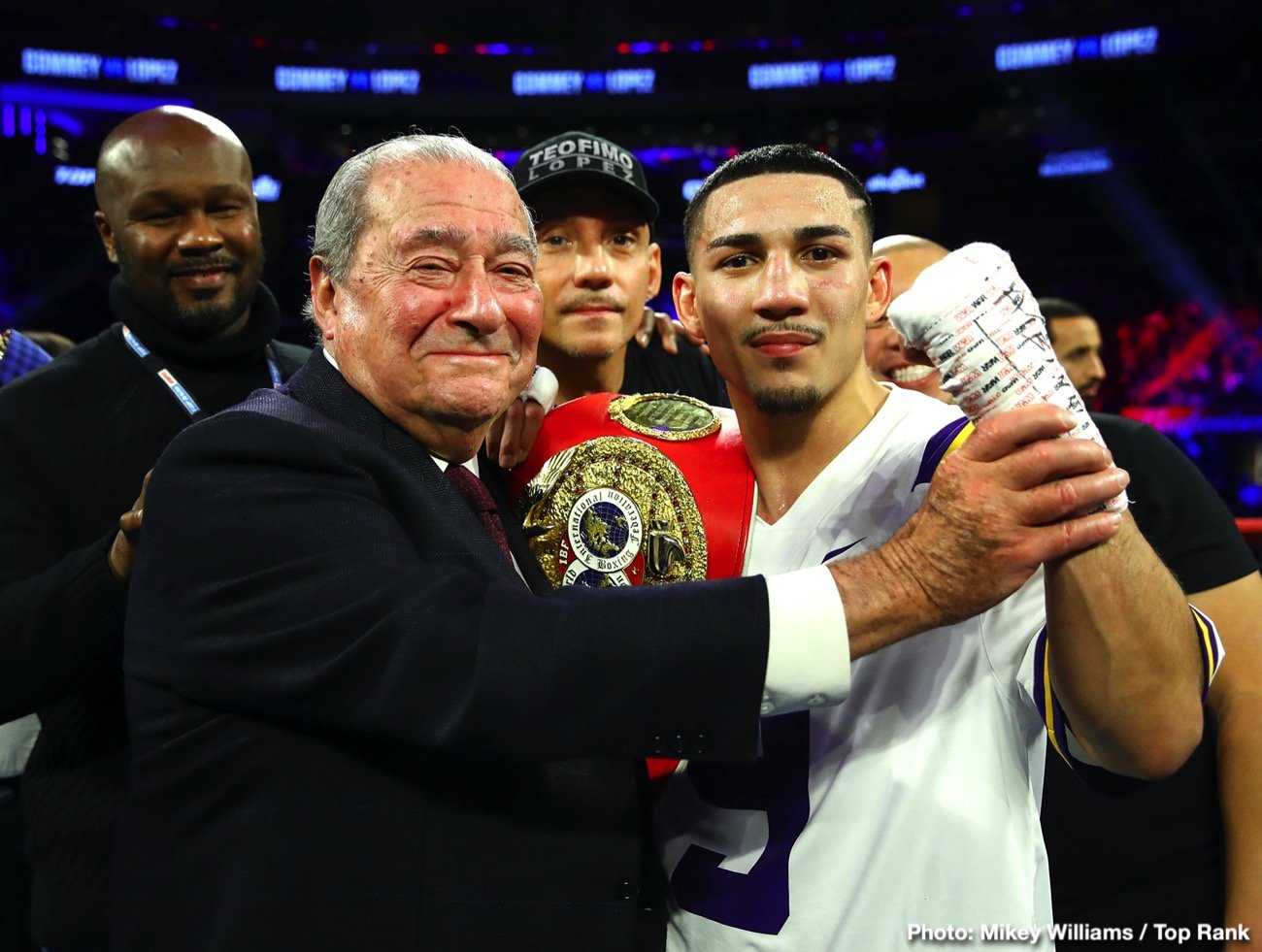 "But let me ask you a question. Are you going to see a Ryan Garcia fight now? No. Are you going to see a Haney fight now?
"No. Are you going to see a Gervonta Davis fight right now? No. The kid [Teofimo] just fought Lomachenko, so I think it's a perfectly fine fight [Teofimo vs. Kambosos Jr].
"I think my kid is an obvious underdog, but he's not a dead underdog. He's a live underdog. I just hung up with Bob Arum two minutes before I got on the phone with you.
"He's negotiating with his own fighter, said DiBella about Bob Arum letting the Teofimo vs. Kambosos fight go to a purse bid. "I've known Bob forever.
"This is one of the things that's become endearing about Bob at 89-years-old. He doesn't give a flying f*** about what he says.
"Bob has no filter right now, and I think he's earned the right to not have a filter. With that being said, it's probably not made his relationship any better with Teofimo, but he has no filter.
"These are economically trying times for everyone in boxing, including with the promoters and the managers, even including the networks and the streaming platforms.
"It's a difficult time during a pandemic. So it's not shocking to me that an 89-year-old man, who is one of the most accomplished promoters in history, doesn't give a s*** about what he's saying. That's where Bob is right now," DiBella said.
Teofimo's obsession with holding onto his IBF title will put him at the mercy of the winner of the purse bid because he'll end up likely agreeing to a number that is far, far less than what he originally wanted.
If it were less important for Teofimo to hold onto all four of his titles, he would do the smart thing and vacate the IBF strap and go in the direction of a bigger payday against Devin Haney or a rematch with Vasily Lomachenko.
Ultimately, Teofimo could hurt his career earning power if he chooses to unify titles and make many defenses against weak mandatory challengers with no name recognition or popularity.
But perhaps Teofimo isn't as confident that he can win fights against the best as he makes himself out to be.
Teofimo isn't insisting on $5M
"There's so much bull s*** by fighters on social media right now about what they're entitled to X-number of millions of dollars," continued DiBella.
"Behind the scenes, I don't know where the kid [Teofimo] is at, but I don't think he's insisting necessarily for $5 million or his next fight, but I don't know.
"I think the kid is more reasonable than that, and he's with McWater and Split T management. They know the business, so I don't think they're going to hold out.
"They're never going to get $5 million for anybody to fight Kambosos, and frankly, if they were fighting Devin Haney right now, they wouldn't get $5 million because it's not a pay-per-view fight. Does he regret [saying that?].
"Lately, I've seen less of that from him [Teofimo] publically, and I hope he keeps it that way. I don't think anyone enjoys seeing fighters bantering around crazy numbers on social media.
"When I see Spence and Crawford out there talking about who's the A-side and how many tens of millions they're going to make, I shrug my shoulders and say, 'That's why the fight is probably not going to happen,'" said DiBella.
As long as Teofimo is willing to agree to fight for far less than $5 million for his title defense against Kambosos Jr, there shouldn't be any problems.
Some believe that Teofimo might only get $2 million for the Kambosos Jr fight when the winning bid is revealed or the February 18th purse bid.
If Teofimo is still under the delusion that he rates $10 million or even $5 million, he's liable to do anything when he discovers that the winning bid is only one-fifth of that number.
Arum getting ahead of himself
"Yeah, but Bob [Arum] says a lot of things," said DiBella about the Teofimo vs. Kambosos Jr fight possibly taking place at MSG in New York on June 12th.
"I don't think anything is happening at Madison Square Garden in June. I also think that Bob knows better than I how he calculates his economics, and I don't know if he's had discussions with the Gardens.
"But it's impossible to foresee more than a 25% kind of crowd at the Garden in June, and how do you justify the expenses.
"With that being said, it's pretty cheap to get hotel rooms right now and everything else.
"But I still don't see the economic sensibility of going to the big room at Madison Square Garden with 25 percent of people. So I think that's a long shot," said DiBella.
Arum assumes that crowds will be allowed back into venues in New York by June, but that might not happen.
The vaccine rollout will need to speed up significantly for enough people to be inoculated in the next four months for there t be a crowd for Lopez vs. Kambosos Jr on June 12th in New York.
Australia still a possibility
"I think there's a chance," DiBella said when asked if there's a possibility of holding the Teofimo vs. Kambosos fight in Australia this summer.
"I think one of the reasons why the fight wasn't negotiated earlier, had there been; there's no COVID in Australia petty much.
"I think their reason is one of the reasons they don't have COVID in Australia right now is because they haven't eased travel restrictions.
"So the travel restrictions that exist in Australia were an impediment to making this fight happen in a way that would be most financially satisfying to everybody. But you can't do anything about that.
"It is what it is. May or June" said DiBella asked when he thinks the Teofimo vs. Kambosos fight will take place. I think it's up in the air where it would happen.
"I think it could happen if something changes in New York if things change here rapidly enough to where it could happen in the Garden, I would be thrilled because it would mean that I could reopen my business basically.
"But I'm not too optimistic about that. I think if things change in Australia, that could become a possibility after the purse bid [on February 18th].
"It's also possible it might happen in The Bubble in Las Vegas if things haven't moved past the 25% realm. I don't think that's out of the question.
"I think everyone involved from Arum to our side to Teofimo and his people, I think they prefer to do the fight in front of people," said DiBella.
If Arum schedules the Teofimo vs. Kambosos fight far enough into the summer months, Australia will definitely be a possibility.
Staging it in that country would supposedly result in the match taking place in front of a huge crowd.
The projections of a large group turning out to watch a non-star like Kambosos Jr challenge Teofimo may be terribly off. Kambsoso isn't a huge name in Australia, and neither is Teofimo.
If the promoters bring the fight to that country, they could regret it.