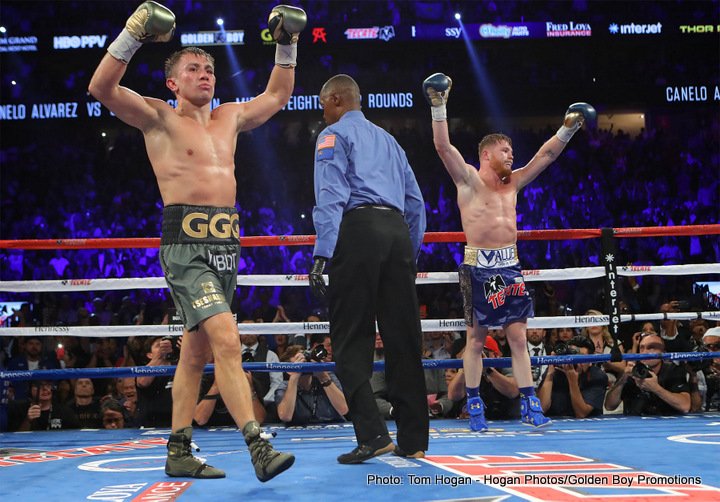 Tom Loeffler of K2 Promotions is optimistic that he can put together a rematch between middleweight champion Gennady "GGG" Golovkin (37-0-1, 33 KOs) and Saul "Canelo" Alvarez (49-1-2, 34 KOs) for May 5 on Cinco de Mayo next year.
Loeffler says Canelo and Golovkin both wants the fight, so he feels there's a good chance that it takes place next year.
Canelo wants to show the boxing world that he's the better fighter than GGG after the two of them fought to a 12 round draw on September 16 at the T-Mobile Arena in Las Vegas, Nevada. 2 of the judges scored the fight in a questionable way, and that tainted the fight. If the judges had scored it one or another, it would have been better.
"I think it's a good possibility because it was a very successful event and I know Gennady wants it as his priority so I think Canelo will do it. I mean, we owe the fans the rematch because they want to see the two great fighters in the ring again," said Loeffler to Fighthub. "Yeah, I started last week — I had a conversation with Eric Gomez and so we're going to do everything we can on our side to make the rematch happen."
It would be a shame of the Canelo-GGG fight doesn't get made in 2018. Someone will be blamed if the rematch isn't put together for next year. You can imagine that some of the hardcore boxing fans will smell something fishy and suspect that Canelo is kicking the rematch down the road to age the soon to be 36-year-old Golovkin some more. Golovkin had to wait over 2 years to get a fight against Canelo last month on September 16, and he fought well enough to deserve the victory in the eyes of a lot of the press row that watched the fight live at the T-Mobile Arena in Las Vegas.
"We thought Gennady won the fight pretty clearly but both guys are great ambassadors for the sport," said Loeffler. "The fans want to see a rematch, so we're going to work, we're going to do our best to do a rematch with Canelo in May. Hopefully we can work it out and the fans will get to see it again."
Loeffler wants to stage the fight in New York or Texas if possible. Golden Boy wants the rematch in Las Vegas, which could lead to more controversy if another strange set of scores are turned in by the judges in the rematch. It would be nice if the Nevada State Athletic Commission selects some good judges that can do a good job of judging the fight so that there's a second fight tainted by controversy. It would be bad for Canelo's career if he's viewed as someone that is saved from defeat by controversial scoring. This was Canelo's fourth controversial decision in his career in his fights with Golovkin, Miguel Cotto, Austin Trout and Erislandy Lara.