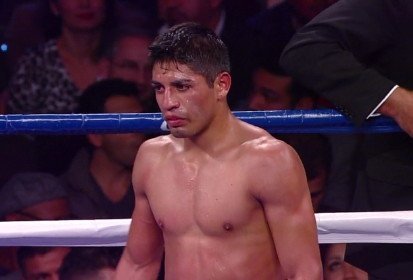 A fight between former three division world champion Abner Mares (28-1-1, 15 KOs) and WBC super bantamweight champion Leo Santa Cruz (28-0-1, 16 KOs) is a possibility for April of 2015, according to Steve Kim. This would be a good fight, and it would partially make up for Santa Cruz's mismatch against Jesus Ruiz (33-5-5, 22 KOs) on January 17th at the MGM Grand in Las Vegas, Nevada.
Ruiz is ranked #14 WBC in the featherweight division. Ruiz appears to be an easy mark for Santa Cruz after his last easy fight against an overmatched Manuel Roman last September.
Mares, 29, has won his last two fights since being stopped by Jhonny Gonzalez in the 1st round last year. Mares has beaten Jose Ramirez and Jonathan Oquendo. He reportedly wants to move back down to super bantamweight, which would explain why he would want to face Santa Cruz.
Santa Cruz recently talked about wanting to fight WBA/WBO super bantamweight champion Guillermo Rigondeaux. However, that's obviously not going to happen because Santa Cruz doesn't make his fights.
His adviser makes his fights for him, and that's perhaps why we're seeing Santa Cruz vs. Jesus Ruiz rather than someone that could give him a real test. The one positive about Santa Cruz being matched against Ruiz rather than a quality contender is that the chances of him losing are about zero, so the Mares fight will be there if it's a legitimate fight.
It's hard to tell with Santa Cruz, because he was mentioning Rigondeaux recently and that got some boxing fans excited about a potential fight between them. Rigondeaux even volunteered to fight Santa Cruz on January 17th, even though Rigondeaux has a fight on December 31st against Hisashi Amagasa. Rigondeaux figured to make easy work of Amagasa and then turn around and take the fight with Santa Cruz. When Rigondeaux said he was willing to fight Santa Cruz on the 17th of January, things went quiet until Jesus Ruiz was mentioned as Santa Cruz's next opponent.