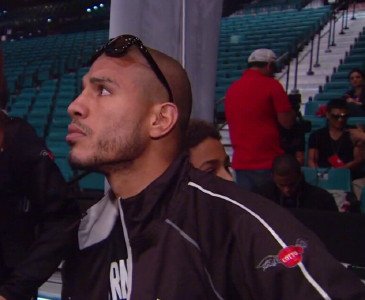 WBC middleweight champion Miguel Cotto may end up vacating his WBC title rather than facing interim WBC 160lb champion Gennady Golovkin. Cotto's adviser Gaby Penagaricano talked recently about Tim Bradley being a bigger fight for Cotto than Golovkin. If that indeed is the direction that Cotto will be going in if he can get by Saul "Canelo" Alvarez in May, then we could see Cotto either vacating or having his WBC title stripped from him by the WBC.
Of course, the WBC may end up not enforcing the mandatory and letting Cotto take additional optional defenses besides Canelo, who isn't ranked in the top 15 in the middleweight division.
Golovkin's trainer Abel Sanchez said that if Cotto chooses not to face Golovkin and instead vacate his WBC title, then his legacy will suffer for it with the boxing fans. It's unclear if Cotto's legacy will suffer though because he's accomplished a lot, and wins over Sergio Martinez, Canelo, and Antonio Margarito will mean a lot, even though Martinez and Margarito looked to be less than 100% when Cotto beat them.
"If Cotto fights Canelo and gives up the belt and does not fight Golovkin, then I think his legacy will be tarnished. Is he [Cotto] willing to live with that? Who knows?" Sanchez said to Dontae's Boxing Nation.
To be sure, Cotto can get bigger fights than Golovkin. There's no doubt about that at all. However, it's going to look really bad if he fights Canelo at a catch-weight after beating Sergio Martinez at a catch-weight last June. If Cotto chooses to vacate his title rather than fight Golovkin, it'll make Cotto look like a paper champion giving up his title rather than facing a real test instead of facing an old guy with a bum leg or a junior middleweight who had already been exposed by Erislandy Lara and Floyd Mayweather Jr.
Cotto fighting Tim Bradley would look really bad if the WBC middleweight title is on the line, and if Cotto chooses to bypass the Golovkin fight for the smaller Bradley. It's probably going to look bad anyway if Cotto fights Bradley, but it will look far worse if the World Boxing Council lets Cotto defend his WBC 160 pound title against a welterweight. It would mean that Cotto defended his WBC title in back to back fights against non-middleweights and then WBC let it happen rather than putting their foot down.