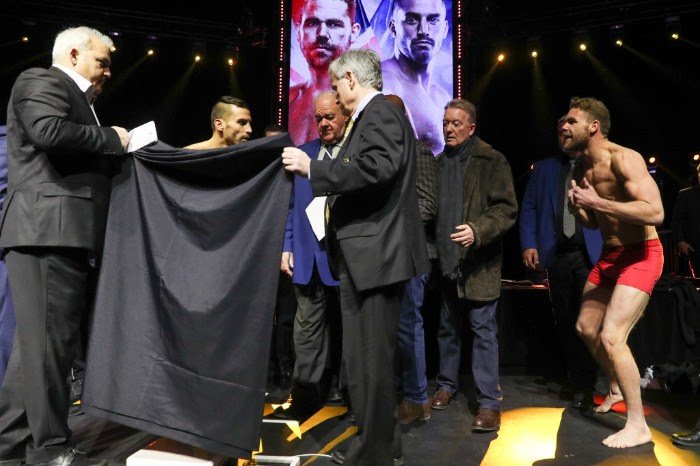 Billy Joe Saunders believes he has already won a battle of mind games with David Lemieux following a fiery weigh-in ahead of their WBO world middleweight title showdown in Quebec.
Champion Saunders (25-0, 12KO) and challenger Lemieux (38-3, 33KO) both weighed in at the Place Bell on Friday with tempers flaring as the pair made the 160lb limit.
(Photo credit: HBO Boxing)
Hometown hero Lemieux was forced to strip off after weighing in marginally over the limit at the first attempt. Chaos then temporarily reigned as Team Saunders animatedly queried whether the challenger actually made 160lbs at the second, naked, attempt and it took a third trip to the scales before all parties were satisfied.
The champion then voluntarily stripped off to weigh in as tensions rose ahead of Saturday night's 12-round showdown, which will be screened live on BoxNation in the UK and Ireland with HBO broadcasting the bout in the US and Canada.
Having continually attempted to push his rival's buttons in the build-up to the bout, MTK Global-managed Saunders believes he has the heavy-handed and aggressive Lemieux exactly where he wants him.
"The angrier you make the bull, the easier you can make it for yourself sometimes," said Saunders. "People know I like to get into opponent's minds sometimes by saying and doing little things.
"It helps – people say it doesn't but if I can make him try 10 per cent harder and blow himself out three rounds quicker then I've done my job.
"I know I've got to be on form though. It doesn't really matter what either one of us says, it just matters what we do in the ring on Saturday night."
While 28-year-old Saunders is putting his title and undefeated record on the line, 28-year-old former IBF champion Lemieux is seeking to claim his second world title.
Bookmakers, pundits and fight fans are finding it a tough fight to call, but the champion believes his slick skills will trump his opponent's vaunted power.
"I think he's probably been in with a lot bigger punchers than me, a lot bigger, but he hasn't been in the ring with someone as slick as me," said Saunders.
"He's used to an American style or even [Gennady] Golovkin's style, waiting for bombs to come, taking them and tucking up and then coming back.
"He won't be landing with none of them – he'll be missing with a load of them and then I'll be coming back and I'll break his heart."
WBO World Middleweight Champion Billy Joe Saunders (25-0, 12 KOs) and former IBF World Middleweight Champion David Lemieux (38-3, 33 KOs) hosted their final press conference today for their WBO World Middleweight Championship fight that will take place this upcoming Saturday, Dec. 16 at Place Bell in Laval, Québec. The co-main attraction will be a 10-round fight for the WBO Intercontinental Middleweight title between Antoine "Action" Douglas (22-1-1, 16 KOs) and Gary "Spike" O'Sullivan (26-2, 18 KOs). Also on the televised card will be Cletus "Hebrew Hammer" Seldin (21-0, 17 KOs) who will face Yves Ulysse Jr. (14-1, 9 KOs) for a 10-round super lightweight bout. The action will be televised by HBO World Championship Boxing beginning at 9:40 p.m. ET/PT.
Here is what the participants had to say:
BILLY JOE SAUNDERS, WBO World Middleweight Champion
"I've been in the ring 25 times now, and in a lot of those fights, I've been the underdog, bigtime. And in those fights, I was outboxed 60 per cent of the time. When you don't love boxing and you're still winning, and you look back and wonder, 'how did I do that? How did I get through that?' But when you do find a love for it, and you have good people working around you, people who make you happy – there's a saying, a happy fighter is a thankful fighter. And I haven't been this happy since my amateur days. For the last six or seven months, I've never been happier. I'm excited to get into the ring. I'm excited to get into the ring and eager to put on a classic display. Because not only am I mixing it with a boxer who is in the top-5, but I'll be fighting in front of great fighters I've watched as a kid, like Bernard Hopkins and Oscar De La Hoya."
"David has to come from round one and try to knock me out. Because when he's eating fresh air, he's very injury prone. But what I don't want from David's team are excuses. David is a good fighter, he's mixed it with Golovkin at a very elite level. But some boxers are not quite enough to be at that elite level. And David, you're not quite good enough. Am I good enough? We'll soon see. In my own mind, I know I can deal with it, and then with Golovkin or Canelo, we'll see where I really am."
DAVID LEMIEUX, Former IBF World Middleweight Champion
"The time to talk is over and now it's time to let the fists do the talk and show you who the real World Champion is. A lot of things are going to happen on Saturday, but my promise to you is that by the time I will leave Place Bell, I will have the WBO belt on me. I will be World Champion. I'm ready to give you guys a great evening of boxing. Saunders made a lot of promises, about his chin, about his purse, and that's something I haven't forgotten."
Let's see for how long you will be able to back up those words and put them together again this Saturday. I'm well aware of your abilities, I hope you are aware of mine. I'm not just a puncher. People like to see blood and big punches, and that's what they'll see on Saturday."
CAMILLE ESTEPHAN, President of Eye of the Tiger Management
"We promised, we delivered, the goal was to offer the best boxing card in Quebec, and that is what we will deliver. The ultimate goal and what we want to make sure of, is that David Lemieux becomes World Champion again. He's the real deal, he's a man who represents our team as well as the province of Quebec with pride. I am so proud of the person and the athlete that he is, and also of all the efforts he's put into this, inside the ring as well as outside."
ERIC GOMEZ, President of Golden Boy Promotions
"This really is a historic event. Four different promoters here in Montreal. I want to thank Billy Joe Saunders for coming out here, we have great respect for you. He truly wants to be great. We are really excited for David, to have this other opportunity to be champion again. The fact that he is now able to give the fans in Montreal, an exciting fight, another world title is truly exceptional. This promises to be a historic event."
PETER NELSON, Executive Vice president of HBO Sports
"It's always great having shows in Quebec. Media always shows up, true fight fans always shows up. It's truly wonderful when the sport works together to make great fights possible. There is no predetermined results in boxing. On Saturday night, we expect that all three fights are going to be 50/50 fights. I want to particularly thank the champion Billy Joe Saunders for stepping up and coming up into enemy territory to fight on David's turf. I want to thank David Lemieux who's never backed away from a great fight, who's always stepped up for great challenges that's been put in front of him like this one. We commend fighters like him, and we reward fighters like him. Sometimes, putting on events like this is complicated, but in this case, it was easy, because both fighters wanted to put on a great event. And that is, I think, what we are going to see on Saturday, from top to bottom of the show. "
BERNARD HOPKINS, Future Hall of Famer and Golden Boy Promotions Partner
"David Lemieux… Billy Joe Saunders… They both have the goods to carry on in the middleweight division, over the next year, 2018, with an excitement of what's going to happen next. I look at this fight… We have two guys whose styles really go together. When you have that type of skills and that type of matchup, you're going to have fireworks. Anyone that underestimates a fighter that Frank Warren brings over, from wherever he brings him from, you gotta take that seriously. I know from experience that he didn't come here to lay down, he didn't come here to give anything away. So David Lemieux has to know that he needs to be at his best. Both fighters now have the opportunity to become superstars in their weight division, but first they have to pass the test that comes Saturday. After the works that's been done so far, the best is to come. "
FRANK WARREN, President of Frank Warren Promotions
"I think you're in for something very special on Saturday. This is a great athlete I'm involved with, Billy Joe Saunders is a fantastic ambassador for British boxing, and he's done everything the hard way, all the titles he's won. He's here, he's in David's backyard, and I think we're going to see something very special, because we have two boxing styles that complement each other well. Billy's a very smart boxer, he's got a great chin, he's never been on the floor whether it be in the amateurs or the pros, he's gotten himself into a fantastic position at the moment. He's in top shape physically and mentally. I think this has the potential to be the fight of the year. "
DOMINIC INGLE, Trainer to Billy Joe Saunders
"It's going to be a great fight, it's a 50/50 fight. I've always said that Billy Joe can walk the talk and walk the walk. Interesting analogy of Bernard Hopkins of boxing being like a book and a story. I think he is right, I'm reading the first chapter of Billy Joe Saunders. But I think we're on the final chapter of David Lemieux. And he's not going to have a fairy tale ending. This is a classic Bull and Matador fight. David can punch, Billy can box. And I can tell you that on Saturday, Billy Joe Saunders will be leaving the ring still WBO World Middleweight Champion.
MARC RAMSAY, Trainer to David Lemieux
"David Lemieux, as he usually does, had a great training camp. He never takes shortcuts. He is in the best shape of his life. A lot of things were said over the last few weeks on social media, I will leave that to the fighters, and I'm comfortable with that. David has shown recently that he can talk, but the second that the bell will ring, he will show up, he will fight. We will see for Saunders. Like the expression says, you can talk the talk, but you also have to walk the walk."
ANTOINE DOUGLAS, Middleweight Contender
"It feels great to be here. I've had a beautiful training camp, I feel strong. I've never felt this great or this strong at 160 pounds, in my entire career. And I know it makes a big difference. I'm facing a great seasoned veteran in Gary O'Sullivan, a tough guy, we're in for a good fight. Like the Saunders-Lemieux fight, it will be a bull-matador fight on Saturday night. I plan to leave Canada as champion."
GARY O'SULLIVAN, Middleweight Contender
"It's been great so far here in Quebec, the people are lovely here. It's been cold, but it's gonna get very hot this Saturday night. I have no doubt I will be victorious. We've both been beaten in the past, we've had similar lessons, but the difference was that I didn't give in, my corner stopped me. As for Antoine, he was beaten in style but he gave up that night, and he's gonna have a similar experience on Saturday night. I look forward to returning to my home country as the champion."
JOE DEGUARDIA, President of Star Boxing
"It's spectacular to have a fighter joining the names of Roy Jones and Mike Tyson by being the third person to be on HBO on back to back consecutive months in a featured fight. It's a testament to my fighter. It's a great opportunity. If you haven't seen Seldin, he really is something special. You're in for a treat Saturday night. I expect fireworks. "
CLETUS SELDIN, Super Lightweight Contender
"I believe that if you sacrifice everything single thing possible, you have to do that to make yourself be a successful person. I don't live a luxurious life. The truth of working extremely hard and sacrificing everything that you have is the only way to accept your performance as a dream. It'll be a fun and exciting fight. I want to show that you don't need to have had a long amateur career to become a main-event fighter, that a refuse-to-lose attitude can go a long way."
YVES ULYSSE JUNIOR, Super Lightweight Contender
"It's time to shine. I've been doing this for 10 years, and it's my moment. Time to shine."
Saunders: I'll give Lemieux a boxing lesson
Billy Joe Saunders has insisted that a victory over David Lemieux in Quebec this weekend will guarantee him a super fight against one of boxing's biggest names.
WBO world middleweight champion Saunders has been chasing a showdown against 160lb kingpin Gennady Golovkin and superstar Canelo Alvarez for some time.
And the Hatfield native (25-0, 12KO) believes a successful title defence against hometown hero Lemieux (38-3, 33KO) at Place Bell, Laval on Saturday night, live on BoxNation in the UK and Ireland and on HBO across the Atlantic, will seal the deal.
Golden Boy promote this weekend's bout and with Oscar De La Hoya's promotional outfit also backing Canelo, a confident Saunders claimed at Thursday's final pre-fight press conference that he will stay in Canada to agree terms to fight the Mexican once he beats Lemieux.
The WBO champ later added: "It's a big step towards Golovkin and Canelo for me – the last step towards them in my eyes – so I'm ready to rock 'n' roll."
Reiterating his offer of a $500,000 (charity) sidebet to Lemieux ahead of the bout at Thursday's presser, MTK Global-backed Saunders insists he is not put out by the tight pre-fight odds as some bookies have only marginally priced the champion as the favorite.
"Not really because the way some are looking at it is that he's the home fighter," said Saunders on his rival. "For anyone who wants to make a few quid, I'll be giving him a boxing lesson and then I'll go home.
"But it doesn't really matter. We saw that James DeGale was about 1/100 the other day and got beaten. We can't really go on the bookies or anything else. We've just got to go on the way we're feeling and our previous performances.
"He's had a couple of good performances, I had a good performance last time out and I can only improve so hopefully that will happen and I'll be champion after," added the Frank Warren-promoted champion.