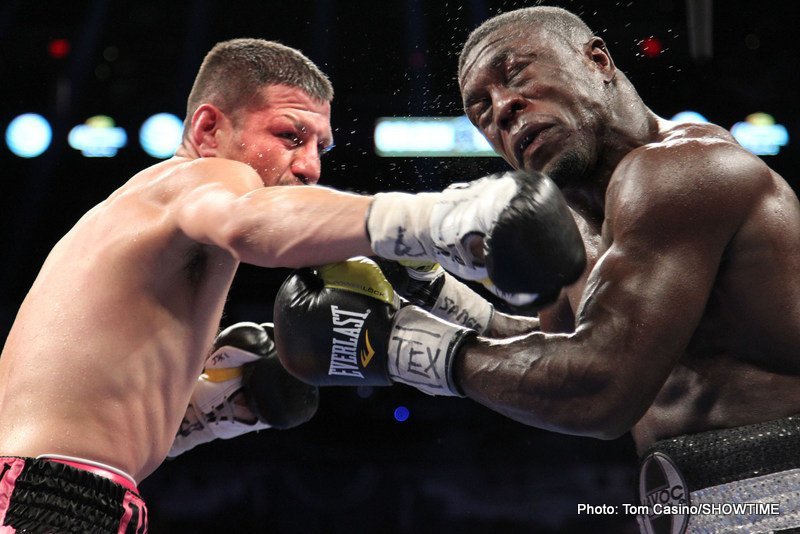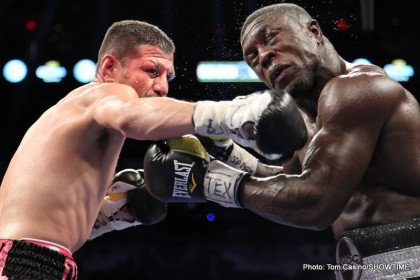 Kevin O. (Aventura, FL): Is it safe to say that Andre Berto is now done as a fighter? He has changed trainers and I don't know of a way that any one out there can rebuild him at this stage to make him a top contender. What are your thoughts?
Vivek W. (ESB): I've been asked this question by almost every fight fan that I know and to be very truthful, it's a very easy question to answer. For starters, when people ask me should he retire? I can address that one very easily in saying "NO". There are several fighters around the sport who one can argue should, but the reason that I argue he should not is because he has a ton of heart, which means win, lose, or draw, he will make for competitive fights. Fight fans want to see competitive fights. You may enter that competitive fight knowing what the outcome is when he's facing a perennial contender, but you know that he has just enough ability to land his shots and make it interesting before he ultimately gets bust up in the face and takes an "L".
That being said, me not thinking he should retire isn't to say I see a particularly bright future for him at this stage. You touched on the fact that he has changed trainers which is what many fans wanted, yet hasn't evolved the way one would like to see. When I look at the trainers out there, there's only one that I think would actually do him well. That trainer is Floyd Mayweather Sr. A few fights ago, Berto attempted to adopt the shoulder roll. Many fans laughed, but when you scan the individual attributes of his overall makeup, he is actually a good fighter to adopt it. He has relatively good speed, he's explosive, and he has a very good command of the offensive end of the game. Where he lacks in a major way is defense and footwork.
If he was in a system where he could train under a trainer that could give him a core base of defensive fundamentals – something he has never had – and implement that strategy to parallel his offense, he could be a dangerous fighter. The only issue then would be his ability to take a punch. But even when an opponent does land, he typically finds a way to keep fighting. So I really think he needs to shore up his defense primarily. He isn't a top notch fighter, but the kid isn't garbage. When I think of how fans celebrate many other fighters out there who literally are not talented and I think of him, I see two vastly different scenario's. I really think his defense and toughness are his only legitimate problems.
Someone like Mayweather Sr. would not only give him a certain level of toughness, but also the defensive disposition to fortify that toughness and make him more of a complete package. Hunter is a great trainer and I have found few trainers in the sport who understand the cerebral element of the game as well as he does. That being said, Berto has a different need. A more extensive need. Mayweather Sr. would demand a certain level of output and progression. And it wouldn't come in a passive way. I don't see anyone else really giving Berto much of a chance at this stage. Regarding who he should face next? I think Khan is a very good pick.
Both have very good skills but questionable defense and toughness. Khan is very good offensively, but oddly enough, I think Berto could actually give him problems. Berto can be hurt, but he can also fight that way. Wherein Khan is typically done when the beating becomes severe. I think it's a great litmus test for both men at this point in their respective careers. I would also support a fight with Judah or even Adrien Broner. The '47lb division has tons of options. Considering Berto's deep need for a confidence builder, I think his, however, are very limited. We'll have to stay tuned.
Javier B. (Oakland, CA): You have questioned how Keith Thurman would do many times before last Saturday night against an opponent who had skill and decent power. In the aftermath, what are your thoughts with his performance?
Vivek W. (ESB): I gave Thurman very mixed reviews on his performance last Saturday night. He got points from me for making a few in-ring adjustments and showing that he is a thinking fighter to a degree. The flipside of that argument was the fact that he also took more punishment than he could have and seemed to have subpar footwork. Despite his talk, I think we all have to be truthful in the assessment that he is still a very raw fighter. Very raw. And when you knockout practically every one you touch, there comes a point where you lose a sense of what you may need to do when you can't stop an opponent. Had he not been able to stop Chaves, I'm not so sure he wins that fight. Stamina at one point appeared to be an issue to.
I always tell fight fans that power is a double-edged sword. Both a curse and a blessing. Because the fans marvel it, but those same fans can't help the fighter who rarely knows how to win without it! Which has been the basis of my argument against guys like GGG, Matthysse, and others. You have to complete your skillset to the point where you can win with or without the stoppage. Right now, against a perennial contender, I'm not so sure Thurman does. The best thing his handlers can do is duplicate their recent effort. Props to his matchmaker for putting him in against a dangerous opponent who could not only give him rounds, but test him throughout those rounds. I think Thurman needs several more of these type fights, building him to a very comfortable level, mentally, and physically.
I don't know where they go next, but as a welterweight, options are plentiful. On a fan level, Alexander, Maidana, and Ortiz excite me. But when I think of the fact that he just needs some very good rounds against durable, powerful opposition, I like Guerrero and Ortiz best of all. Very good names and very solid fighters. The "B" side to that echelon would be Provodnikov or even Maidana. Hopefully we get to see one of those few guys against him soon. I'm certain he's ready for the challenge. And I think they could help him build his confidence well, as they are tough, but all winnable fights. Stay tuned.
David N. (Atlanta, GA): The legendary Roberto Duran came out with some very critical comments recently about Floyd Mayweather jr, stating that Mayweather would have been "just another guy in the bunch", and that Mayweather "is fighting in an era with no real boxers". What are your thoughts on his comments and the fact or fiction to them?
Vivek W. (ESB): Several things came to mind when I heard these comments. I'll start by saying that Duran is actually my favorite Latino fighter of his respective era and I will always respect him for his contributions to the sport. But that being said, I think we have to analyze this a bit closer – when we start to look at things from a "fact" or "fiction" standpoint. I think he has a good point when he says the previous era had a better crop of fighters, but that's somewhat a loaded statement, too. I personally hold the opinion that his era had the more accomplished fighters, but not necessarily the same depth. When you look at the welterweight division today, you can literally remove Mayweather from the division and take the top 10 fighters and do a tournament, and not know who the last man standing would be.
In Duran's era, you knew it would come down to a specific two or three men, only. So which era truly had the limitation of talent? I think we can go a division north or south of welterweight and hold the same type of tournament. At jr. welterweight, when you look at Matthysse, Garcia, Rios, Alvarado, and the list goes on, how the notion remains that this era lacks talent is beyond me. Not only is there far more talent today than any other era of the sport, but there's far more parity today. You don't have three of four key guys and a bunch of "B" side talent. In those days, you knew up front who the key talents were. Today, you can turn the television on and happen to see ESPN Friday Night Fights and by accident, stumble across someone like one of the Charlo brothers, or even a veteran like Lamont Peterson who can become champ overnight.
I really think people have it all backwards. There's far more talent today, but rather than 3 or 4 "greats" and a bunch of decent guys, you have maybe one great and a slew of potentially greats in the mix. Before, there was the top tier, and a drastic drop-off behind them. Mayweather has managed to stand out only because of a much more dynamic level of pure skills, which would have allowed him, like Duran and company, to compete in any era. The second thing I'd like to address is the "just another guy in the bunch" statement. I'm not so sure Mayweather would remain undefeated had he been in that era, but I will say this: statistics give him a very credible argument. Compubox numbers provide a very strong analysis when it comes to this very question. How does Mayweather's numbers measure in comparison to the greats of that era? Consider this…..
At Mayweather's peak he ran a solid +30 in the plus/minus category, which outlines the amount of times he hits an opponent as opposed to the amount of times they hit him. This is important because it tells us the probability of a fighter winning on the scorecards if he avoids the crushing KO defeat. To date, he remains at a +26. At the very peak of their primes, Hagler never achieved above +17, Leonard never achieved above +13, Duran capped out at +8, and Hearns at +6. Muhammad Ali was amazing to watch because of his heart and heroics, but he capped out at +4. This tells me these men could hit, but they were far easier to be hit, in comparison to Mayweather. To expand on the analysis, I would present this question to Duran and those who feel that era was so indomitable:
These numbers are essentially an average taken. Meaning they don't cover only one opponent, they cover ALL opponents these men faced. So if these great warriors were able to be hit this often by talent with footwork and ring generalship far less effective than what Mayweather typically operates with, how is one to believe that Mayweather would not have been able to find a similar level of success on the scorecards back then? The biggest challenge for Floyd would have been avoiding the KO. Had he been able to avoid the KO, I think statistically, he has every right to say he could have found equal success in that era. It's not to say I necessarily feel this. But it is to say that statistically, his numbers give him great leverage in that argument. These were all very hittable men. Floyd is not. If it goes to the scorecards, what gives?
All of these men are legendary figures. And with that comes a great deal of both pride and ego. I don't expect any of them to concede more greatness to the next. But this is why statistics become an underlying factor. 2+2=4 all day long, as numbers don't lie. So everyone is entitled to their opinion, but somehow I get the impression Mayweather will continue to point in the direction of the numbers to represent his. The best chance any of these men would have against Floyd would be the knockout. As he is too elusive and ring savvy to lose 7 of 12 rounds (or more) to almost anyone. The truth is an answer we'll never know. But numbers is a picture that will always show. Let the debates begin…..
(Vivek "Vito" Wallace can be heard every Monday night on "Left-Hook Lounge Radio" at 9ET/6PT. Also he can be reached at vivekwallace@ymail.com, FaceBook, Twitter (@vivekwallace747), and Instagram (ViveksView).