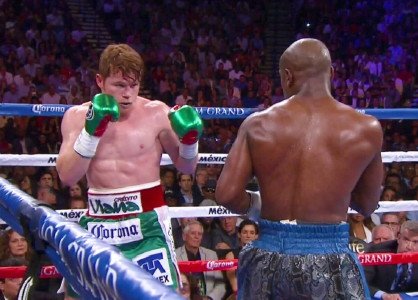 Ronnie Shields, the trainer for WBA junior middleweight champion Erislandy Lara (19-1-2, 12 KO's), says they've studied Saul "Canelo" Alvarez's fight against Floyd Mayweather Jr from last year and noticed some things that the 23-year-old Canelo did wrong in that fight. They plan on using some of the things that Mayweather did to the flat-footed Canelo to out-box him next month in their fight on July 12th at the MGM Grand, in Las Vegas, Nevada, USA.
"Lara is the master of making you adapt to his style," Shields said to esnewsreporting.com. "Canelo is going to say 'Ah oh, maybe I messed up; maybe I should have listened to my manager and not went to that fight. I should have gone to another fight.' We're going to take some of the things that Mayweather did and add it to our game plan for Canelo," Shields said.
The main thing that Lara will need to do is to make sure he focuses on being defensive the entire time, and not standing directly in front of the red-haired Canelo. If he can stay out of reach the entire fight, and get Canelo into just throwing single shots, Lara will easily win this fight.
Canelo doesn't have the hand speed or the mobility to beat a fighter like Lara in a pot shot type of contest. Canelo also can't fall back on the same game plan that he used against Austin Trout last year in April where Canelo retreated to the ropes and used head movement and occasional big punches to win the fight. That worked against Trout, but just barely despite the lopsided scoring given to Canelo for that fight.
Canelo can't run out of gas in this fight like he did against Trout, and he definitely can't retreat to the ropes for rest breaks if he wants to win. Canelo will need to put constant pressure on Lara and cut off the ring on him all night to win. Can he do this? I'm not sure that he can judging by his efforts against Mayweather and Trout. Canelo is just too flat-footed and slow on his feet. He looks great against slow guys that stand in front of him like Alfredo Angulo, but he's very average against fighters with speed that can move.