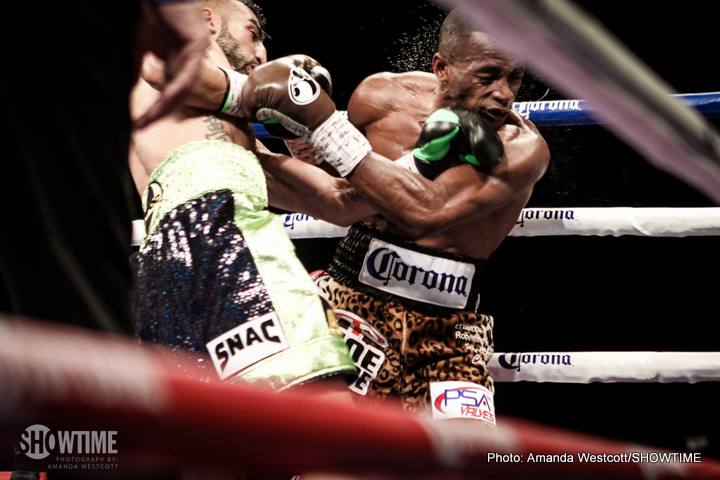 With the help of a blown call from referee Vic Drakulich, WBA World junior middleweight champion Erislandy Lara (23-2-2, 13 KO) was able to beat Vanes Martirosyan (36-2-1, 21 KOs) by a 12 round unanimous decision tonight at The Cosmopolitan of Las Vegas, Chelsea Ballroom, Las Vegas, Nevada, USA. The referee Drakulich ruled that a shot on the belt-line of Lara was considered a low blow in the 11th.
Drakulich then took a point of from Martirosyan. Lara had been looking to Drakulich all night long for belt-line shots, and it's surprising he chose to buy into it by taking the point off. It was sad actually because the point made Drakulich the decider in who won the fight because it came near the end of the fight. Even without the replay, it was clear that the shot was on the belt-line. Drakulich blew the call and Lara got the win.
The judges scored the fight 115-112, 116-111, 116-111. Many of the rounds were very boring to watch with Martirosyan waiting and waiting for an opening, and Lara doing a lot of holding and running. Martirosyan fought better when he wouldn't second guess himself and would just attack. Most of the night, Martirosyan looked tied in knots mentally and incapable of letting his hands go.
This was a rematch from their fight four years ago in 2012. It would have been a lot better if a higher quality opponent was picked out for Lara instead of Martirosyan, who is no longer a major player in the 154lb division at this point in his career. Lara vs. Demetrius Andrade would have been good. Lara against Martirosyan is a rematch that would have made sense years ago, but not in 2016. Hopefully rematches for Lara don't become a pattern because he really needs to step it up. Showtime should be the one insisting that Lara fight better opposition than fringe contenders like Martirosyan or fighters like Jan Zaveck and Delvin Rodriguez.