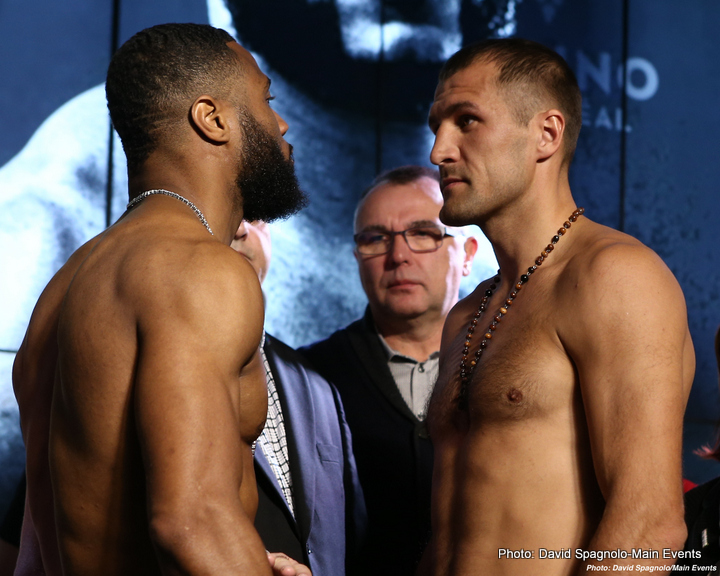 Bitter sweet feelings surround this rematch bout from last March have spoiled much of the anticipation for Saturday night's HBO main event fight between Sergey Kovalev and Jean Pascal. It's not as if it's a bad matchup per se, just bad timing considering the outcome of their first meeting and Pascal's last performance, which was underwhelming to say the least. Regardless, thankfully the Bell Centre in Montreal will be ready to make noise for this redux that should be fought in an entertaining style.
Last March, these two top-flight light heavyweights brawled just short of eight rounds. The ending was un-fulfilling to an extent because of what some in the boxing world saw as an early stoppage. Jean Pascal had never been down or stopped prior to his tussle with Kovalev. Many argued that a former lineal champion should have been given a fair shake and more time to recoup.
Sure, Pascal was still standing at the time of the stoppage, but that was due to the fact his chin is so durable. Some fighters, Pascal being one of them, have the gift of being able to sustain an immeasurable amount of punishment while remaining upright. Judging by his lack of defense and his inability to walk correctly, this scribe was more than okay with the technical stoppage.
Hopefully rematch remorse won't set in after another brutal beating by the hands of 'The Krusher'. Hopefully with Freddie Roach in his corner, Pascal will fight with a strategy rather than just winging haymakers in desperation. Unfortunately, boxing cannot be played and is often a truth teller in this type of situation.
The only reason why this bout is taking place is due to the lack of legitimate 175 pound opponents for Sergey. 2014 was a banner year for Kovalev but 2015 and the first half of 2016 the ongoing politics of boxing has reared its evil face once again. Luckily for Kovalev, Andre Ward has signed a contract to fight him this fall, as long as both pound-for-pounders keep winning.
It's likely that Pascal at his age isn't going to be taught any new tricks from hall of fame trainer Freddie Roach but surely it can't hurt. If Pascal uses a jab and amps up his activity somewhat it could make enough of a difference. Pascal took a beating the first 4 rounds and in the last two. However, Jean did manage to recoup fast and won rounds 5 and 6. Even in the last two rounds he was landing huge punches, albeit wildly, that definitely got Kovalev's attention.
Kovalev made the adjustment by jumping in and out after combinations. Prior to the change in strategy, Sergey waltz his way in searching for a knockout and got counter with hard punches in return. This rematch understandably so, isn't exactly igniting the fanbase, but once the bell rings the boxing faithful will be glued to the tube.
Expect this fight to take a little longer to warm up than the first one. Once the flame is lit two-way action will ensue and it could last longer than their March bout. The combination of Freddie Roach in Jean's corner and Pascal learning in general off the tape, should equate to a longer, less one-sided fight.
My official prediction is Sergey Kovalev by late TKO Stoppage.
Written by Chris Carlson Host of Rope A Dope Radio blogtalkradio.com/ropeadoperadio
Follow on Twitter @RopeADopeRadio