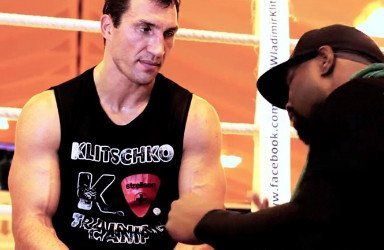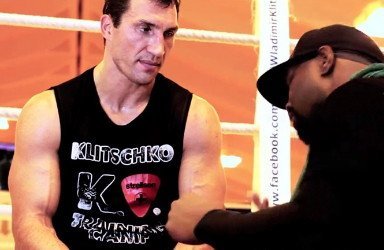 When you ask you will receive. In this case, IBF/IBO/WBA/WBO heavyweight champion Wladimir Klitschko (59-3, 50 KO's) asked the World Boxing Association for permission to fight his former sparring partner Francesco Pianeta (28-0-1, 15 KO's) and was given permission to take the fight instead of a fight with WBA champion Alexander Povetkin.
It's unclear whether Wladimir is doing this as a favor to Pianeta or if he just what it was like to spar him and figured it would be a nice safe fight for him. Whatever the reason, Wladimir will be fighting Pianeta this Saturday night at the SAP-Arena, Mannheim, Baden-Württemberg, Germany.
The fight would likely draw flies if it took place in the United States because it's considered a sick mismatch, but the German fans love the fight and the SAP-Arena is expected to be sold out for the fight.
Pianeta thinks he learned how to beat Wladimir in the time he was working as his sparring partner, saying, "I was in Wladimir's camp as a sparring partner last year. I saw his weaknesses and will use them for me."
What isn't known is how Pianeta, a weak puncher without hand speed, defense or stamina, is going to be able to do what he hasn't been doing against the less than stellar opposition he's been facing since he turned pro in 2005. Pianeta hasn't been dominating the weak opposition that his promoters have been feeding him to build up his resume.
This fight is interesting in that Pianeta is getting a title shot despite never having faced a real quality opponent before. Pianeta is going from fighting the likes of Frans Botha, Oliver McCall and someone named Nelson Dario Dominguez to getting a title shot against Wladimir. It's almost scary how big of a jump up in competition Pianeta will be making in this fight.
You don't like to see mismatches like this, and that's why it's so off putting that Wladimir is going out of his way to take this fight instead of someone else. It just gives the impression that he's taking easy fights to stay champion as long as possible.
Depending on whether Wladimir takes it easy on Pianeta and treats the fight like a sparring session, we could either see a brutal knockout or a boring 12 round unanimous decision for Wladimir. Pianeta has absolutely no chance of winning the fight because of his lack of power.