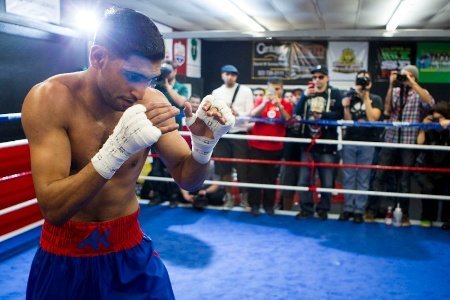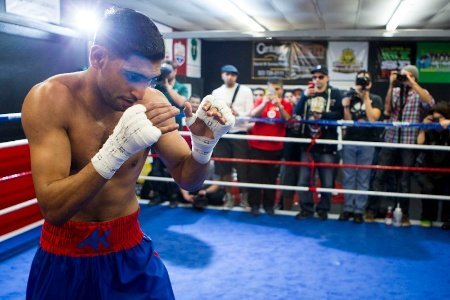 by Matthew Rhodes
So, the next opponent for Amir Khan has been announced.
Let me start out by saying that Julio Diaz is a clear improvement on the limited Carlos Molina who Khan comprehensively defeated in his return to action after his brutal loss to Danny Garcia. Yet he, on paper, shouldn't be a threat to Khan in his British return.
So who is Julio Diaz?
The headlines are he's a 33 year old Mexican boxer based in California with a record of 40 wins, seven losses and one draw, 29 of those wins coming by stoppage. The highlight of his career so far was probably a period between 2004 and 2007 when he held the IBF version of the World Lightweight title two times. On paper that's a solid enough record… but it's worth looking behind it.
Diaz has a tendency to lose to the best fighters he faces. In his first major bout he lost to a faded Angel Manfredy. He lost his first IBF World Title in his first defence when knocked out by Jose Luis Castillo. His second reign came to an end when he was broken down by Juan Diaz and many thought his career was essentially over when he was sensationally knocked out by the hard punching Kendal Holt at 140lbs.
That's not to say there's no depth to Diaz's record. He's scored wins over some decent opposition in his time; Ernesto Zepeda, Courtney Burton, Jesus Chavez, Ricky Quiles, David Torres and Herman Ngoudjo were all decent boxers on fairly good runs of form when Diaz beat them. That's not to say there weren't loses at that level as well… gatekeeper Victor Manuel Cayo beat him at 140lbs, Rolando Reyes beat him at the end of his 135lbs run and he was taken out in a round back in 2002 by Juan Valenzuela.
So overall what do we have?
The general picture is of a good boxer at 135lbs who was able to beat solid opposition but never quite managed to win "the big one". At 33 and having been in a number of wars he's probably past his best and as a guy who spent much of his career at 135lbs he's likely to be a little on the small side.
A ray of hope for Diaz comes in his recent form. Many thought his career was over with the above mentioned loss to Holt but he's rebuilt at 147lbs and actually found some good form, picking up two stoppage wins over fairly decent opponents and most impressively taking Shawn Porter… a very well regarded US prospect… to a draw in what was meant to be Porter's coming out party.
What of Diaz the boxer? One thing to note is that he can certainly punch a bit. 29 stoppages in 40 wins isn't shabby and it's certainly of importance that he carried his power up to 147lbs. However he's a little chinny himself, having been stopped in five of his seven losses. He's a well rounded boxer who can fight well on the inside or outside. He's not particularly technical and has a leaky defence but makes up for this with a busy style based around eye-catching combinations. When he puts it together offensively he looks like a world beater and he keeps himself in good shape, able to keep throwing those combinations for 12 rounds. The problem has always been the defence mentioned above.
So where does that leave him against Khan?
Khan is still in the early stages of his new relationship with Virgil Hunter having left Freddie Roach and as such he's likely still in the process of adjusting his style. Regardless of the changes Khan remains a boxer with immense physical talents, notably his speed, from which everything else builds. When on the front foot he generally relies on a jab followed by the straight right, leaping in and out using his speed to both open up opportunities and get him out on trouble. On the back foot he looks to counter, making an opponent reach for him before stepping in with single shots.
Khan's lanky frame, speed and power means he's found considerable success but there are… or at least have been… weaknesses. The most infamous one is his chin. While it may not be quite as bad as people sometimes describe it there's no doubt that it's fairly fragile. What makes this worse is a combination of Khan's mindset and technical skills. Technically he's limited… his footwork is average at best, he finds himself off-balance and his defence certainly isn't impenetrable. Those things combine together to mean that Khan can get hit… and when he does get hit he's often off balance.
However mindset may be the key issue. When hurt Khan doesn't clinch or cover up or try to spoil or even particularly try to survive. What he tries to do is bite down on his gumshield, plant his feet and try and punch his way out of trouble. While this makes bouts exciting it's not been good for Khan who never really gets a chance to recover and ends up eating shots. Nothing symbolises this more than the Garcia bout. Khan eats a monster counter shot but manages to make it back to his feet and survive the round. In the next round instead of getting his feet back under him he comes out swinging and keeps eating shots. Every time he eats a shot he backs away just a little but then tries to punch his way out of trouble. The result is he never recovers from that first blow and is eventually stopped. Khan also has difficulties on the inside. During his bout with Peterson Khan struggled whenever the American got near to him and eventually had to resort to pushing him away.
There weren't many drastic changes for Khan's first bout under Hunter and in truth Molina wasn't the sort of opponent that he needed to show improvement against. Khan was a bit more settled then he had been previously and fought with less of an unnecessary bounce in his step but after a single camp together one can't expect to see many differences in style. This is a better chance to see what the pairing can do.
Khan and Diaz mirror each other to an extent… both offensively dangerous, both defensively suspect and both with chins that can be cracked. That said, I think Khan has a clear edge. His speed means he should be able to hit Diaz without being hit himself and Diaz isn't a natural counter puncher. If they are drawn into exchanges then Khan's speed should again tell; Diaz leaves openings while punching.
Khan's chin means there will always be doubts and Diaz has the power to cause him difficulties. But I think Diaz's own weaknesses tell. Diaz will try hard and may even cause Khan some difficulties if he can regularly pin him down or get to the inside. I think Khan's speed tells however.
Khan TKO in eight rounds after an enjoyable bout.
I think however that there are also some business considerations to be kept in mind.
The key detail that has been released is that the bout will be held at the Motorpoint Arena in Sheffield. On paper there's little surprising about that. Khan is a British fighter and his hometown of Bolton isn't a vast distance from Sheffield. More, over recent years Sheffield has become a decent boxing city with potential future Khan opponent Kell Brook having had his recent UK bouts there.
What is perhaps surprising is that it doesn't appear to follow the promotional strategy that Khan has held to in the last few years.
Khan, understandably, fought exclusively in the UK after turning professional with his first 23 bouts (including his loss to Prescott detailed in this post and title win over Kotelnyk) all taking place in various arenas across England. However, once he split from his original promoter Frank Warren and signed with Golden Boy Promotions in early 2010 his attention moved across the Atlantic.
Of his next seven bouts, six have taken place in the US. These were not the sort of "showcase" bouts which British boxers sometimes travel to the US for as a way to get their name into wider circulation (as say Kell Brook's bout with Luis Galarza was), instead it was a deliberate effort to "make" Khan in the US. Golden Boy threw their entire promotional weight behind him and HBO were happy to follow; each of his bouts were shown on HBO.
I think it's fair to say it hasn't been a complete success.
His ratings on HBO have been moderate; generally in the 1.1-1.4 million category. These aren't poor but neither are they something I imagine the powers that be were vastly excited by. His live gates haven't been particularly special either; a typical Khan bout in Vegas often has just under half of the tickets given away for free. Better numbers came from his bouts in New York and Washington but in both cases that can be put down to the selling power of Malignaggi and Peterson respectively, who were boxing in their hometowns. The figures also indicate that Khan isn't a Hatton like boxer who can bring thousands of Brits with him for his bouts. In truth it appears that promoters in the US didn't understand the almost unique power Hatton had to bring fans with him; attempts to replicate it with Calzaghe in bouts with Hopkins and Roy Jones Jr failed badly.
Does the fact this bout is in Britain really change anything though? After all, Khan faced off with McCloskey in Manchester afterall?
I think it does.
The McCloskey bout was explicitly sold as a sort of "treat" for Khan's British fans (despite the fact it eventually ended up farcically being on PPV). It was a card built for Britain, featuring Khan against a popular Irish boxer (McCloskey apparently brought a few thousand fans with him). This doesn't strike me as that. I have no doubt the undercard will be filled with British talent but the opponent? Diaz isn't exactly a household name in the US, let alone in the UK and I doubt a single fan will be there to see him specifically. It would make more sense in many ways to hold the bout in California where Diaz could tap into the local Mexican-American population to sell tickets.
Golden Boy have a history of giving second chances to their talent but demanding performances from them. They swung their entire promotional support behind Victor Ortiz as his career started to heat up but when he lost against Maidana he was forced to build himself up on smaller shows and undercards. Following the draw with Peterson it appeared Golden Boy had virtually given up on him and that his bout with Berto would be a last throw of the dice… to the extent that Oscar de la Hoya, not one normally known for skipping a publicity opportunity, ended up in Manchester for Khan's underwhelming bout with McCloskey as opposed to Connecticut for Ortiz's fight of the year contender victory.
It seems to me that Golden Boy are going through the same stage with Khan. They threw their entire weight behind him and tried to make him a star in the US. From a business stand point this never quite happened and from a boxing point of view his loses to Peterson (however controversial) and Garcia ended his run of success. Khan will now have to rebuild and prove his worth to Golden Boy.
What makes it strange is how it compares to his comeback bout with Molina. This bout with Diaz holds some interest to a neutral and is on paper at least somewhat competitive. The bout with Molina was none of these things; it was a soft-touch opponent for Khan to gain some confidence back and as close to a certain win as one can get in boxing. It seems to me that having the Molina bout in the UK and the Diaz bout in the US would be more logical. It is this seemingly strange decision that makes me suspect Golden Boy are starting to lose patience with Khan and his ability to produce good financial numbers for them.
That said, there is one other possibility. Golden Boy have recently set in motion a move into the UK, notably signing ex-Olympian Anthony Ogogo, it could well be that they want Khan to spearhead that move. Despite his recent losses Khan is about as big a name left in UK boxing with Hatton and Calzaghe retiring and Haye semi-active (with all due respect to the likes of Froch, Fury and Brook). Having his name value in the UK is a way for Golden Boy to guarantee their prospects get both attention and TV time. That said, if this is the reasoning then I'd expect more to come from Golden Boy hyping it; so far they've been somewhat quiet.