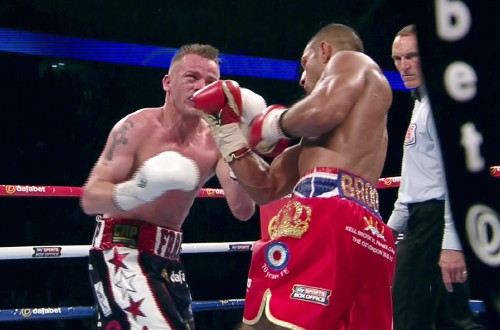 IBF welterweight champion Kell Brook (35-0, 24 KOs) wants to make sure that if he doesn't get the big fight against Amir Khan this summer that he's been longing for, then he'll at least wind up with one big name for him to fight at Wembley Stadium in London, UK. Brook says he wants to fight the winner of the Keith Thurman – Shawn Porter fight, Floyd Mayweather Jr., Danny Garcia or the winner of the Manny Pacquiao vs. Tim Bradley fight.
It shouldn't be a problem for Brook to get at least one of those names if his promoter Eddie Hearn is willing to give them the same $10 million payday that Amir Khan would be receiving if he agreed to a fight against Brook.
Brook could probably get someone like Danny Garcia or Brook for half that amount. However, those would be tough fights, especially Bradley. That would be a potentially bad match-up for Brook, because Bradley is faster and much more experienced in the pro game.
You hate to see Brook going from fighting the likes of Kevin Bizier, Jo Jo Dan, Frankie Gavin and Vyacheslav Senchenko into a tough fight against Bradley. It might be better if Hearn starts slowly matching Brook against increasingly better opposition the way he should have done from the start before looking to put him in with guys like Bradley, Mayweather, Pacquiao, Porter, Thurman or Garcia. Brook might not be ready for that experience.
"I'll enjoy myself that night and then look for a massive fight," Brook said. "If it's not that kid from Bolton [Khan], then it could be Garcia or Porter-Thurman winner, or winner of Pacquiao and Bradley or we might get Mayweather out of retirement. You never know," said Brook.
Pacquiao and Mayweather are probably not going to ever fight Brook. They need a name that American fans would recognize, and Brook has done nothing to increase his visibility in the United States by fighting over there. The money that Mayweather and Pacquiao would get from the UK money for fighting Brook would likely be lost in U.S PPV sales if they made the mistake of fighting him.
Brook is overlooking his March 26th opponent Kevin Bizier (25-2, 17 KOs) that he needs to take care of first before he can start looking at fighting the better opposition in the summer. Brook and Bizier will be facing each other at the Sheffield Arena in Sheffield, UK.