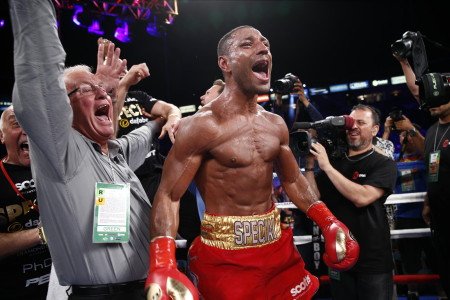 Flash back to mid-April 2013, when Kell Brook was cruelly forced to withdraw from his IBF World Welterweight title clash with then ruler Devon Alexander in Atlantic City with a stress fracture to the foot, you couldn't help but think that sadly that might have been it for the unbeaten Sheffield stylist. At that stage 29-0, Brook was forced to watch on from home as Golden Boy looked elsewhere, with no room for further postponements, with the fight being rescheduled twice already due to injuries on both sides. The game but ultimately outclassed Lee Purdy stepped in to fill the void, while Brook found himself seemingly at the back of the queue in what is widely understood as boxing's hottest division.
Only Brook and those close to him will know just how dark it got over those next couple of months, as everything he had worked so hard to achieve began to crumble around him. Not long after in a candid interview with former stable mate Johnny Nelson, Brook confided that at one stage he consider his future in the game. Thankfully, this never materialised, due to a mixture of family, friend and promotional support, but most of all due to a personal fortitude that would serve him so well in the future.
People always tell you that the difficult times are the making of most successful individuals, churning out tired clichés like, "What doesn't kill you' and so on, and as monotonous as it sounds in this case its application could not have been more appropriate.
On his return to the ring, what emerged was a focused, determined fighter coldly fixated on achieving his dreams, the past left behind and ready to patiently climb that mountain again. What followed was a dominant display against former nemesis Carson Jones and the destruction of former WBA World Welterweight Champion and Ricky Hatton conqueror Vyacheslav Senchenko.
The return against Jones, a man who gave him his first real gut check a barometer of the new Kell Brook, cool, composed and ruthless.
Flash forward to 16th August 2014, in the StubHub Center in Carson, USA, Kell Brook found himself within touching distance of his dreams once more, having regained his mandatory challenger status for the IBF World Welterweight title, this time against feared and in form American powerhouse Shawn Porter.
The bout approached without the fanfare, which would normally accompany a British assault on a World Title across the pond, with Shawn Porter heavily, fancied to retain his belt, following a classy performance to rip the title from Devon Alexander, followed by the chilling stoppage of the usually durable former World Champion Paulie Malignaggi.
A huge ask, in what was an all or nothing fight for Brook, a huge challenge, win and the enormous fights and paydays will be waiting, but lose and middle of the road obscurity beckons, destined to the cold of Amir Khan's shadow. As daunting as that may sound, especially to a man like Brook, who lets just say, is not Amir's biggest fan, retained his resolve. There was no talk of defeat from the camp, no talk of this being Brook's one and only chance, nothing negative of any sort, just the steely belief and focus of a man who trusts his ability and has already faced his darkest demons.
As expected, the fight was the toughest fight of Brook's career, forced to deal with a bullish Porter, rutting forward like an angry stag, loose with the head and physical beyond the normal application of the rules. Bringing back memories of a great night in Manchester when Ricky Hatton was afforded similar liberties against the great Kostya Tsyzu. Thankfully, for British fans the world over, Shawn Porter is not Ricky Hatton and Kell Brook is not a faded world king.
Brook was sensational in his powers of concentration and patience, maintaining his focus throughout. Round after round, listening intently to Dominic Ingle's instructions to keep his composure and the timing will come. Although not emphatically so, the timing came as he was assured, allowing Brook to pick the telling shots that mattered, a fact not lost upon the American judges and watching analysts that should be commended for the dispassionate calling of the fight.
Brook was the superior boxer, the fighter who produced not only the cleaner, but more telling work also. His ability to prove that under the strain a fighter like Porter puts his opponents under made this all the more impressive.
When the words "And the new…" reverberated around the arena, Brook and his team were euphoric. His journey complete, his mission accomplished and from the outside looking in, there is not a more deserving man in boxing. A real credit to the Ingle gym, which continues to produce not only some of the most talent boxers on these shores, but the most courageous.
Patience, persistence and courage under fire won out for Kell Brook on the night and gave meaning to a career, which for me knows no limits.
"What Doesn't Kill You" Hey!
Ryan Forde-Kelly, fksports.wordpress.com