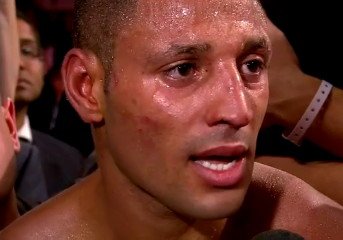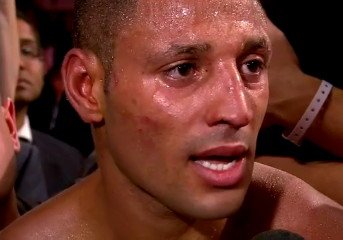 First off I will start in congratulating Kell Brook on decent performance against a very tough, strong and always game Carson Jones. Even though Kell was fighting at a catch weight of 152 lbs due to injuries preventing him from having a successful training camp he still managed to look good at a weight he is not ready move up to just yet!
As fan of blood and guts warriors i would like to mention a thank you to Carson Jones for taking the 2nd fight and even agreeing to fight at a higher weight this time to suit the bookies favourite fighter to win, if Jones had not taken this fight due to the added stipulations it would have raised numerous questions amongst the fans about Kell's desire to be a true champion and his promotional teams confidence regarding Kell's talent. I can only hope Jones got paid well for the fight and gets some good fights going forward to further his career.
As for the victor what is next for him? Kell's promotor Eddy Hearn of Matchroom Sports has declared there will be a big fight being announced this week for Kell and it is to take place in his home town of Sheffield at the Motorpoint Arena. rumours have been flying around that future hall of famer Shane Mosley will be the next opponent to possibly fall victim to the special one? would this be a good fight for Kell? Mosley showed he still has what it takes to fight at top level after beating a tough talented Pablo Caesar Cano via 12 rnd decision but will this be enough to give kell the credit or test that he needs to get him the big fights over seas? in my opinion its a definite no!
This fight is a high risk low reward fight that will do nothing but infringe on Kell's career, although Kell looked slower, uncomfortable and slightly less mobile then usual against Jones he still managed stop him in 8 rnds, we all know he is young and strong and at this stage he is more then capable of dispatching an old way past his prime Shane Mosley even on a day like he had against Jones.
What Kell needs is to truly be respected by his fans and capture as many new fans from abroad as possible before he makes the lunge to the big time in the USA and beating Mosley will just turn fans away, in my opinion he needs a minimum of 2 big names who are not champions before he makes a pitch for a world title bid. This is were an extremely interesting match up could take place!
on July 27th former world champion Andre Berto looks to put his career back on track against the warrior Jesus Soto Karass who also is using Berto to attempt to keep himself as one of the top contenders in the welterweight division. This should be an excellent fight as both boxers are aware this could be there last attempt at staying in the big time so we should expect them both to give it there all if they have anything left after the wars they have already been in. But for whoever comes out on top on July 27th it would pose an intriguing match up if they were to take on Brook as there next opponent as both of these fighters bring something unique in the form of a challenge to Brook.
Berto who is reasonably strong and would be the faster puncher of the two could give Kell fits and really test if Kell has the ability to adapt at this stage in his career to a physically more gifted fighter, there are many fighters who you could argue have faster and more refined boxing skills then Brook and if he could handily beat a guy like Berto then it would definitely raise some eyebrows but it is an absolute certainty that Kell must fight guys with undeniable skill if he wants to be considered on the top ten list, I unfortunately believe that if Kell would have taken the fight against Alexander even at full strength, Alexanders speed would have possibly overwhelmed kell and took him to waters he was not ready to be thrown in yet……..not yet anyway! but one thing the special one needs to consider is just getting a title via the easiest route necessary doesn't get you in an invite to the hall of fame!
as for Soto Karass this would be a serious test of grit and heart for Kell, we all know Brook is strong himself and possibly even stronger then Soto Karass but Soto's experience in wars and his ability to go all out in a tear up would be a fight just as hard if not harder then the fights he has had with Jones. I feel that in order for Kell to be truly respected and be totally sold to the boxing's fans and pundits to warrant him getting a title shot we need to see him in another war like the first fight with Jones but he must do better this time! there will be fights in Brooks undeniably prosperous future where he will be stepping in the ring with tougher guys from rougher upbringings who just want it more then Brook and we need to see that Brook can big deep, remain calm and use his talent and focus to prevail. If your views are the same as mine then you also will believe that the first fight with Jones although showed Kell can take a beating and remain standing against a warrior Like Carson this didn't answer the question on whether Kell can mix it with world class blood and guts warriors at welterweight and the weight classes above which he one day will have to face as this is boxing and in boxing there are a type of boxer called Mexicans! if Kell was to fight another guy like Jones in the form of a bigger Soto Karass then i believe this will answer that question as i don't believe that if these two fought Kell would be able to blitz a guy like Soto early, i would put my money on the fight going the distance. As for the second fight with Jones it seemed that even though the action was not as blistering as the first encounter it just felt like Kell had a much better and safer game plan which Carson just didn't have the answer for and for me this did not answer that over all question on whether Kell can make his fans proud in the same way the likes of fellow Brits Joe Calzaghe, Ricky Hatton and Amir Khan have.
This is technically still early days for Kell but after watching his career and seeing the undeniable technical and physical talent he possesses i truly believe that he has ability to go through every fighter at welterweight division bar floyd! all he needs is the right fighters to be put in front of him so he can add something new to his game, the right strategies by the coach to get him the wins and the right sparring to get him prepared for the task at hand.
when Hearn announces his next fight i hope it will be someone decent with a good record and reputation like Malignaggi, Bailey, Senchenko that can be used as a step up in the right direction to get Brook ready for the top fighters in the division but i sincerely hope Eddy Hearn is tuning in on July 27th and getting Kell the winner!
if you agree with what has been said then get on the social media sites and badger the promotors and fighters, make the fights happen the way the fans want it.