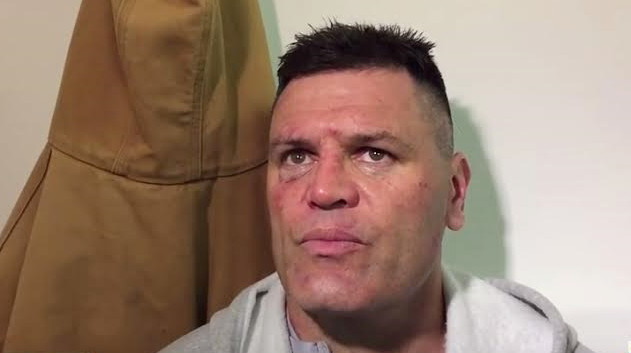 After a 19 year professional career that has propelled him all over the globe, former heavyweight world title challenger, Australian based New Zealander, Kali Meehan 42-6 (32 KOs), knows what qualities are required to reach the pinnacle of the sport. I recently spoke to "Mean Hands" Meehan, via telephone – from his home in Wyongah, New South Wales, Australia – to discuss both his colorful career, and to hear his assessment of his previous opponent, one of boxing's rising stars: Joseph Parker.
Hailing from Levuka town, on the Fijian island of Ovalau – an island on which rugby is virtually a way of life – Kali Meehan's mother would surely never have envisaged that her future son would one day become a successful prize-fighter, when she ventured to New Zealand half a century ago.
"Boxing came from a wayward youth," recalled Kali. I never really stuck at anything. The first gym I went to I ended up training with some really good friends of mine. My trainer (Latu Raeli) had made a gym for us in our neighborhood (in the suburb of Avonadale in Auckland, New Zealand), and had the agreement that any time you got into trouble at home, 'you could come and sleep here,' but he said, 'I've got one rule, you've got to train.' So I found myself there a number of times."
In May 1997, at the relatively advanced age of 27, Kali side-lined his other sporting passion, Rugby League, to concentrate on a career as a professional boxer. His decision was predominantly motivated by his respect for his former trainer. "As I saw this man getting older, I wanted to try and give something back to him, for all he had done for us."
Meehan fought three times in Auckland, before continuing his career in Australia, knocking out Bob Mirovic in the 4th round for the Australian title in June 1999, in just his 12th fight. Kali rebounded from a loss to Danny Williams in London, England, in 2001, by winning his next six contests, to set up a clash with WBO heavyweight champion, Lamon Brewster, at the Mandalay Bay Resort and Casino, Las Vegas, on September 4 2004. Brewster – who had stunningly stopped Wladimir Klitschko to win the title in his previous fight – was a heavy favorite.
"It means a lot to me that my trainer was still alive at that time and he got to see his protégé fight for a world title. He came over to Australia and his family bought him a brand new TV especially so that he could watch the fight," recalled Kali. "He was more like a father to me than a trainer."
Midway through round 8, the 6 foot 5 inch, 236 pound challenger, whipped a crunching right hand to the chin of the American which sent his adversary retreating to the ropes. For the remainder of the round Meehan emptied a torrent of vicious, powerful, punches to his opponent's head and body. Dozens and dozens of full blooded power punches rained in on the champion for the remaining 80 seconds of the round. "The way I hit him with those 10 ounce gloves, I think any other man on earth would have gone down," remembered Meehan. The ropes and incredible courage kept Brewster from crumpling to the canvas, but by the end of the round his jaw was broken. Remarkably, the fight lasted the full 12 rounds. One judge had Meehan winning, 114/113, but the other judges disagreed, scoring it for Brewster by 113/114 and 113/115.
Asked if he could have had a rematch with one fighter, Meehan answered without hesitation:
"Hasim Rahman. I always wish I could have fought him again." Three months after the Brewster fight, Hasim Rahman was in scintillating form – comparable to when he knocked out Lennox Lewis 3 years earlier – when he stopped Kali in the 4th round. "I don't want to go on about it, but I had a neck injury going into the fight. I wish I could have fought him at my best. It is what it is. He won, I lost."
After comeback victories in Germany, Fiji, and Australia, Kali fought the highly rated American, DaVarryl Williamson – a fight Kali said, is the proudest of his career. "Touch of Sleep" Williamson had recently beaten Oliver McCall, and lost close decisions to Wladimir Klitschko and IBF champion, Chris Byrd, when he faced Meehan in Madison Square Garden in October 2007. Meehan recalled the fight:
"I hadn't fought for a while and I got 9 days' notice and I'd just had the flu. I really looked into the history of Madison Square Garden. The day before the fight my wife's father passed away. He was a big fan of my boxing too. I'd had the worst preparation but I just told myself that my whole game plan is that I'm going to go out there and throw bombs at this man and whatever bombs he throws at me I'm going to walk through them. My mind was strong. My eyes were blacked up but I ended up stopping him at the end of the 5th. For me to be able to come back (to my wife) and just bring a little bit of joy to her (meant a lot)."
During the 8 years since that night, Kali has won 9 and lost 3, his last fight coming at the age of 45, when he was stopped in three rounds by the 6 foot 4 inch, 236 pound, undefeated New Zealander, Joseph Parker. Meehan remains the most experienced opponent the talented 24 year old heavyweight has faced.
How does Kali rate the young fighter's much vaunted hand-speed compared to the world class opposition he has encountered?
"He's fast, but it wasn't the speed that shocked me," explained Kali. "I really think a lot of it is his work ethic.
"He's an exciting fighter. He's an exciting prospect. Obviously he's fit and strong, he's got a good amateur background as well which does help. As an athlete, he has all the attributes.
"Consistently, he's fighting often, he's busy like Mike Tyson was. They're (management team) keeping him busy, and they're getting the crowd following. Everyone in New Zealand knows him, and that helps too."
Asked about Great Britain's Anthony Joshua, Meehan was also full of praise:
"He looks the part, he trains hard, and he's focused. I have the same questions everyone else has – 'is he too muscle-bound?' and 'how's he gonna go when he gets past 8 rounds?' – but hey, so far so good."
Meehan believes Joshua will KO IBF champion Charles Martin on April 9. "Yeah, Joshua will be too big, too strong, and too hungry at home. Too proud." Kali is not alone in his opinion, with many bookmakers currently listing the Briton as a 7-1 favourite. If Joshua does indeed win, and Parker is victorious in an IBF eliminator against Carlos Takam later this year, the two seem destined to clash in what would be a mouth-watering contest between unbeaten power punchers. How does Meehan foresee such a fight unfolding?
"Wow, a fight with Parker – that would be an awesome matchup. From what I've read in the forums, a lot of people think that Joshua will win that fight easily. Whether he wins it or not, it's not gonna be an easy fight.
"If I was a betting man I wouldn't be shy to bet money on Parker at all. Those attributes, that speed. I actually think he'll win, the more I think about it, and Joshua's a great fighter. Parker will be able to use the angles and the speed and will be able to hurt him, and in the later rounds I can see Joshua tiring. Knowing what I know about boxing and these two fighters, I'd go for Parker."
Time will soon reveal all.
Kali Meehan's battle hardened career stretches almost 20 years. The likes of Brewster and Williamson retired long ago. His last foe, Parker, looks set to be a force for years to come.
Is Kali planning on fighting again?
"No, I'm not planning, but then again, I've been not planning for a long time."